tuesday, december 4th

kelly hogan

@ johnny d's

---
thursday, december 6th

conor oberst

@ converse hall, tremont st.

---
thursday, december 6th

jason isbell &

the 400 unit

@ the sinclair

---
friday, december 7th

the weisstronauts 14th

annual holiday jubilee

with guests tsunami of sound

preacher jack, & the derangers

@ the midway cafe, jp

---
friday, december 7th

caspian

moving mountains

o'brother

@ the sinclair

---
saturday, december 8th

patrick watson

@ the sinclair

---
saturday, december 8th

the faint perform

"danse macabre"

trust

icky blossoms

@ the paradise

---
sunday, december 9th

band of horses

@ house of blues

---
sunday, december 9th

japandroids

diiv

@ the paradise

---
wednesday, december 12th

concrete blonde

jim bianco

@ the sinclair

---
thursday, december 13th

annual boston christmas cavalcade

benefit for the homeless

featuring tons of artists

(see fb event for details)

@ johnny d's

---
thursday, december 13th

nada surf

eternal summers

@ the paradise

---
thursday, december 13th

mates of state

in the valley below

@ brighton music hall

---
friday, december 14th

forgetters (blake from

jawbreaker's band)

& more tba

@ democracy center, harvard square

---
sunday, december 30th

sufjan stevens

sheila saputo

@ the royale

---
monday, december 31st

my morning jacket

@ agganis arena

---
monday, december 31st

deer tick

two gallants

@ the sinclair

---
monday, january 7th

quicksand

@ the paradise

---
tuesday, january 8th

hospitality

@ great scott

---
saturday, january 19th

mission of burma

@ the sinclair

---
sunday, january 20th

camper van beethoven

cracker

@ the middle east down

---
sunday, january 20th

soundgarden

@ the orpheum

---
sunday, january 20th

ra ra riot

@ the paradise

---
sunday, january 27th

widowspeak

@ great scott

---
tuesday, january 29th

kathleen edwards

sera cahoone

@ brighton music hall

---
wednesday, february 13th

yo la tengo

@ the paradise

---
saturday, march 2nd

unknown mortal orchestra

@ brighton music hall

---
tuesday, march 12th

tame impala

@ house of blues

---
thursday, march 14th

jukebox the ghost

matt pond pa

lighthouse and the whaler

@ brighton music hall

---
tuesday, march 26th

yo la tengo

@ the paradise

---
wednesday & thursday

april 3rd & 4th

they might be giants

@ the paradise

---
---

Sunday, December 23, 2012
Your Attention, kind readers...
The RSS Feed URL for Bradley's Almanac has changed. Please update to...
http://www.bradleysalmanac.com/index.php/feed/
The latest post can be found here...
http://www.bradleysalmanac.com/index.php/2012/12/23/last-thursdays-playlist-new-music-night-viii-at-river-gods/
Thank you kindly, and happy holidays...
-Brad


Wednesday, November 21, 2012
Greetings, and happy official-start-of-the-holidays, dear readers. All 12 of you. I keed, I keed... there are at least a couple dozen of you out there, I'm sure. One of these days I'll check my stats and find out.
I've got plenty of things in my life to be thankful for, though "blogging time" is not one of them. As I've said, I seem to be spending my non-work, non-being-a-dad hours seeing shows rather than writing about them. There was a time I could do both, but lately it's just not happening. Que sera, etc.
Thanks to my place of employment, I was set free a little early today, so I had a couple unexpected hours to spare. How did I spend it? Enjoying some
Kiwi Rising
and sharing up some songs. You're welcome.
David Bazan
, former
Pedro the Lion
focal point, current solo-but-with-a-band guy, and longtime personal fave, brought his
"Control" tour
to
Brighton Music Hall
last week, and it was maybe the best I'd ever seen him. That's saying a lot, because I've seen him oh so many times. The sound was great, the crowd was psyched, his 3-piece band (which includes
Andy Fitts on bass and Alex Wescoat on drums) was tight as hell. A well-oiled machine, as they say. And that machine was playing the entirety of what may be Pedro The Lion's best album, though "It's Hard To Find A Friend" holds a perfectly special place in my heart. First love and all.
The trio played "Control" side one, then a handful of other well-chosen Bazan-penned songs, and finished up the show with side two. No encore, as per usual, but there was one major bit of unusual: Dave's friend and former Pedro the Lion bandmate (and ace songwriter on his own) Tim "TW" Walsh took Alex's place behind the drum kit for a couple songs, including "When They Really Get To Know You They Will Run" from the aforementioned "It's Hard To Find A Friend". Considering they only ran through it once in soundcheck, he nailed it. Here it is...
Check out
the setlist
from the show, which gives (spoiler alert) the list of songs that Dave & co. draw from for the non-Control creamy filling of the set. The rest of my photos from that night
are here
.
Speaking of
TW
, his fans successfully (over-)funded a vinyl pressing of the the two fantastic Soft Drugs EPs he released in 2006 and 2008. They'll be joined together on one slab of undoubtedly-expertly-mastered colored wax (with bonus digital goodies), and you can get an early peek at the artwork on
the Kickstarter page
Want to know what "
When They Really Get To Know They Will Run
" would sound like without drums? Have a listen to this live version from a recent episode of the
Live Wire Radio
variety program podcast. Check out
the full stream of the show
for a live take on "
The Fleecing
" as well...
Can't remember the last time I had as much unfiltered fun at a show as I did at former
Fuzzy
member Chris Toppin's birthday bash at the
Midway Cafe
in Jamaica Plain a couple weeks back. She turned the big Five-Oh, and the place was packed with friends and fans to wish her a happy. Fuzzy reunited,
Buffalo Tom
rocked the smallest room they've played in awhile,
Tanya Donelly
sang a couple of
Belly
songs (with Buffalo Tom backing her), and a celebratory crowd was treated to some surprising covers. One of those was "
Stop Draggin' My Heart Around
", with Tanya playing Stevie Nicks and Buffalo Tom's Bill Janovitz channeling his best Tom Petty. Nailed it...
Photos from that special night
are here
.
The next day, during some random Fuzzy-related surfing, I happened upon
this short video
of Chris Toppin and her bandmate Hilken Mancini doing a bit of "
Pulp
", a Smudge song the band used to cover back in the day. The clip, however, is a recent one, recorded over the summer during an interview segment for an in-the-works music documentary called
"If It's Catchy, It Means You Stole It"
. The subject? Australian musician and
Half A Cow
record label founder Nic Dalton, a one-time member of Boston's own
Lemonheads
. The connection? Fuzzy and Smudge were Half A Cow labelmates. Here's the trailer...
When Chris Toppin's birthday party (above) was announced, I knew I'd be going, but I was bummed it went up against Now, Now's set at the Paradise, opening up for Motion City Soundtrack. While I'm no fan of MCS, I'm a longtime admirer of Now, Now (fka Now, Now Every Children), and they don't play around here often enough. Back in 2009 I wanted to see them play so badly that I set up and presented a rare Almanac show at TTs, the trio's first visit to Boston. I hadn't been able to catch them since, and the fact that I had conflicting plans was painful.


Fortunately, RadioBDC had the band on for a "Live In The Lab" acoustic session that I was able to attend that very afternoon. While I was there, I discovered they'd be playing early enough at the Paradise for me to catch their set before I headed to the Midway. The scheduling gods smiled on me, for once. Y'know what else I learned? That 2009 show was the first time the band met their latest bandmate, Jess, who came down from Maine for the show. Proud to have played a small part in their band history.

Here's one of
the stripped down songs they played at RBDC (and one of my favorite songs of the year)...
My photos from the Live in the Lab session, and a few from the Paradise show that night,
are right here
. You can watch & listen to the band perform their 3-song acoustic set, which also includes"Dead Oaks" and "But I Do",
over at RadioBDC
. Area music blog
They Will Rock You
reviewed their Paradise show
here
.
When Death Cab's
Ben Gibbard
stopped by the
Somerville Theatre
a couple weeks ago in support of his new solo record, "Former Lives", I figured we'd get a cover or two. What I didn't expect was an old Lemonheads number. Major kudos for the local hat tip, Mr. Gibbard...
Ben's setlist from that night pulled from all over his songwriting history...
Ben Gibbard live at the Somerville Theatre, Somerville, MA
11/4/2012

* from "Former Lives"

Shepherd's Bush Lullaby *
Such Great Heights [Postal Service]
Oh, Woe *
These Roads Don't Move [Farrar/Kerouac collaboration]
Dream Song *
Cath [DCFC]
When the Sun Goes Down ['Arthur' soundtrack]
Grapevine Fires [DCFC]
The Dream Of Evan & Chan [Dntel]
Something's Rattling (Cowpoke) *
Couches in Alleys [Styrofoam]
Passenger Seat [DCFC]
Duncan, Where Have You Gone? *
Unobstructed Views [DCFC]
My Drug Buddy [Lemonheads cover]
Soul Meets Body [DCFC]
Cleveland [All-Time Quarterback!]
Teardrop Windows *
Crooked Teeth [DCFC]
You Remind Me Of Home ['Home' EP w/Andrew Kenny]
The District Sleeps Alone Tonight [Postal Service]

encore...
Broken Yolk In A Western Sky *
A Movie Script Ending [DCFC]
I'm Building A Fire *
I Will Follow You Into The Dark [DCFC]
More photos from Ben's show
are here.
Alright, enough outta me. Gotta head home before the big Metz / Pile / Speedy Ortiz triple-punch at the
Middle East
tonight. Jeez, I can't remember the last time I was upstairs at the Middle East. Sad fact, that. Glad the
Bowery
has stepped in and given me a reason to go. See you there?


Wednesday, October 24, 2012
In keeping with the frequent squirrel appreciation reflected in my blog (and my life), I've decided to file these random "various & sundry" posts under "nutshells" from here on out. Just go with it...

Kristin Hersh
, the distinctive voice and guitar of both
Throwing Muses
&
50 Foot Wave
, let fly some seriously exciting news in her latest email update to fans, and I must share. Frankly, I can hardly contain myself.
First: "
The new Throwing Muses record -- four years in the making -- is finally mixed and mastered. We're now designing the book that it will be (like the Crooked book, but with a CD included).
" Kristin is supported, in large part, by regular contributions from fans (called "
Strange Angels
"), who get a variety of special perks and access to new songs in the making. One of those fringe benefits was an early listen to this upcoming 33-track (!) Muses record, not due out until early next year. It's titled
Purgatory/Paradise
, and it is absolutely
epic
. I'm overwhelmed by it, in the best way.
Next, Kristin says: "
I've just recorded basic tracks for what I believe is the best acoustic record I've ever made. And because of you, that record includes Martin McCarrick (cello) Rob Ahlers (drums) and Dave Narcizo (drums, too.)
" For those unaware,
Martin McCarrick
is the brilliant cellist who has contributed to a wealth of beautiful string sounds to songs from the likes of Siouxsie and the Banshees, This Mortal Coil, The Glove, Therapy?, Lush, and so many more. And those drummers? Naturally they're her bandmates from 50 Foot Wave and Throwing Muses, respectively. Both of them on the same record? Hot damn.
But wait, there's more: "
50 Foot Wave just finished another Ep with Mudrock. As soon as we find a spot in the release schedule where it will get the most attention -- from us and you -- we'll get it out there in the world where it can make friends.
" More 50'~? Yes, please.
Also?
"I'm writing a new book, with another two in the pipeline..."
I inhaled her written debut, "Rat Girl", and the promise of more thrills me.
As exciting as all that info is, she tops it with this corker: "
I've started a happifying new project called Outros, with Rob Ahlers and Chris Brady (Pond & Audio Learning Center), two of my favorite people and favorite musicians.
" Now this, I can hardly believe. Y'see, I'm basically a Chris Brady fanboy. I absolutely adore the songs he wrote with
Pond
and
ALC
, love his bass playing, voice, and lyrics, and have always hoped he'd get back to making new music. The fact that he's doing so with Kristin is a dream come true - a dream I never knew I had. This trio is the musical version of a comic book superhero team-up. The first time I heard a Chris Brady-penned song? 1992, just before (the real and only) Pond's debut album for Sub Pop was released, and just after they finished their first UK tour... opening for Throwing Muses. Full circle.

Work on
Ted Leo
& his Pharmacists' next full-lengther is well underway, and I'm assuming/hoping we'll get some news from Matador any day now on when we'll hear the results. While we wait, Ted's been touring solo with some truly talented ladies lately (the UK with
Rebecca Gates
last month, and a North American
tour with Aimee Mann
, that starts tonight - with
Boston on 11/3
), and I figure he'll kick into full-band mode once the record hits (in early 2013?). His personal
Soundcloud page
, where he shares the occasional self-recorded oddity, has been pretty quiet for the past few months, until he offered up
a little gem
a few days ago. As he says: "
Francesca Blumenthal's heart ripping torch song re-purposed for election season.
" Have a listen...

I've lamented this too many times, but one of the great disappointments of my band-loving life is the cancellation of Unwound's Boston-area show during the tour for their final (and my favorite) album, "Leaves Turn Inside You". The reason was more than understandable (the date? 9/11/2001), but the fact that they broke up shortly after was a tough pill to swallow. No future chances to see them, and worse, no new
Unwound
songs. Ever.
Which makes this year's unexpected arrival of
Survival Knife
all the more appreciated. It's Justin Trosper (vocals/guitar) and Brandt Sandeno (guitar) from Unwound, Meg Cunningham (bass/vocals) from Blues Druid, and Kris Cunningham (drums) from Western Hymn. The quartet made their debut in late March with a show in Olympia, Washington, and they were tight right out of the gate. According to
Facebook
, they'll start recording in November, and yes, they sound just enough like Unwound for me to love them immediately and intensely. Oh, how I've missed Justin's guitar playing and songwriting style. Feels like a long-empty void has been filled.
Gloriously, you can watch the entirety of their
first show on YouTube
. Here it is...
I first became aware of the band back in early May thanks to
Swan Fungus
, who shared up the setlist from that debut show along with a soundboard recording of one song, "
Thud of the Jackboot
" (it's since been removed). Rather than reshare that track, here's another live one. Tag team: Let's see another blog share
another song
, and so on...
Incidentally,
word is
there's an
Unwound archive
of live shows (audio & video) in the works. Right now the site is password protected, but here's hoping it opens up soon.

Next week
David Bazan
and his band will hit the road
for a month
to play
Pedro the Lion
's amazing
"Control"
album from front-to-back, and they'll be in Boston at
Brighton Music Hall
on November 13th.
Tickets here
. They'll no doubt be lugging boxes full of newly-remastered
Pedro the Lion vinyl releases
, so make sure you bring extra cash and hit the merch table. I couldn't quite pull the trigger on buying the beautiful box set of Sloan's "Twice Removed" LP for $90 when I was at their BMH show last week... but $70 to
pre-order
those 5 remastered Pedro LPs (Hard To Find a Friend, The Only Reason I Feel Secure, Control, Achilles Heel, and Winners Never Quit)? With bonus goodies that won't be sold individually? Yeah, I pre-ordered that sucker the day it was announced.
Bring it on, Mr. Mailman
. They have arrived!
Listen to the remastered "Control"...
... and one remastered track from each Pedro the Lion LP ...

Big weekend coming up... heading down to Brooklyn with Colin & Dana to play drums on some
Let's Whisper
recordings. Equal parts nervous and excited... hope the rust comes off easily. Keep an eye on
my Twitter account
for potential in-studio updates from within
Marlborough Farms
, if you're into that sort of thing.


Wednesday, October 10, 2012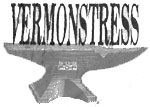 Back in 2008, on the occasion of Sub Pop's 20th anniversary, I wrote about the 1992 Vermonstress Festival, a 15-band, 2-day party the label threw in my hometown of Burlington, Vermont. Well, here we are in 2012, and I realized that today's date, October 10th, marks exactly two decades since that life-altering/affirming event went down. My first thought? I'm old. My second thought? I should re-share (almost all of) the ridiculously good full-set soundboard recordings from that very special weekend.
The positively stacked line-up:
Codeine, Velocity Girl, Come, Drop Nineteens, Beat Happening, Buffalo Tom, Six Finger Satellite, Eric's Trip, Barbara Manning, Giant Sand, Sloan, Green Magnet School, (the real) Pond, Crow, Chris Harford, HP Zinker and home-state invitees The World According To Steve.
129 live MP3s, and this time I've saved you some effort: Here they are in
one gigantic .zip file
.
As I mentioned when I first offered this up, the old Maxell XLII-90 cassette with Buffalo Tom and
The World According to Steve

's sets sadly disappeared ages ago. I think I've finally given up hope that it would find its way back to me one day. Apologies, fellow BT fans. And if anyone knows the missing titles of the HP Zinker tracks, speak up.
---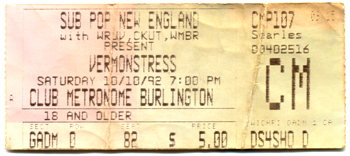 Vermonstress - Day 1
Saturday, October 10th, 1992
Codeine
01. Realize
02. Jr.
03. Barely Real
04. Cave-In
05. Hard to Find
06. D
07. Broken-Hearted Wine
Come
01. Dead Molly
02. William
03. Submerge
04. Last Mistake
05. Fast Piss Blues
06. Bell
07. Car
08. S.V.K.
Drop Nineteens
01. Delaware
02. Mayfield
03. Winona
04. Astral
05. Happen
06. My Aquarium
07. Reberrymemberer
08. Angel (Madonna cover)
Velocity Girl
01. Doesn't Matter
02. 57 Waltz
03. Copacetic
04. Pretty Sister
05. Stupid Thing
06. Warm/Crawl
07. My Forgotten Favorite
08. Creepy
09. Crazy Town
Crow
01. Eyes are Bruised
02. Railhead
03. Light
04. Prisoner
05. The Charley Horses
06. God-Fearing Shareholders of the World
07. EJ
Pond
01. Grinned
02. Young Splendor
03. Perfect Four
04. Wheel
05. Pretty Thing (Bo Diddley cover)
06. Spots
07. Agatha / Filler
Beat Happening
01. Tiger Trap
02. Teenage Caveman
03. Sleepyhead
04. Dreamy
05. banter
06. Red Head Walkin'
07. Other Side
08. Revolution Come and Gone
09. Nancy Sin
10. Noise
11. Godsend
12. Cry For A Shadow
13. Me Untamed
14. You Turn Me On
15. Crashing Through
---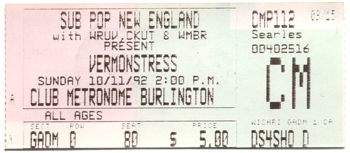 Vermonstress - Day 2
Sunday, October 11th, 1992
Six Finger Satellite
01. Sex Transistor
02. Niponese National Anthem
03. Laughing Larry
04. Polish the Shine (Satchmo)
05. Home for the Holy Day
06. Crippled Monster Bearing Malice
Green Magnet School
01. Sonic Exterminator
02. Noxin
03. Barmecide Room
04. Don't Cry (Neil Young)
05. Singed
06. 12 Guage
07. Penance
Sloan
01. Sleepover
02. Lucky For Me
03. Shame Shame
04. Ill-Placed Trust
05. Underwhelmed
06. Take It In
07. Marcus Said
08. Pretty Voice
Giant Sand
01. Neon Filler
02. Song 02
03. Sage Advice
04. Wearing the Robes of Bible Black
05. Solomon's Ride / Stuck
06. Unwed and Well Sped
Barbara Manning
01. Never Park
02. Breathe Lies
03. Someone Wants You Dead
04. Don't Rewind
05. Winter Song
06. On On and One
07. Smoking Her Wings (Bats cover)
08. Lock Yer Room (up tight)
09. Scissors
Eric's Trip
01. Kiss Me Baby / Smother
02. Listen
03. Haze
04. Belong
05. Happens All The Time
06. Float
07. Belly
08. My Chest Is Empty (part 2)
09. Blinded
10. Bring Down the Rain
11. Easier Last Time
12. Open Your Heart (Madonna cover)
Chris Harford
and the First Rays of the New Rising Sun
01. Swinging Bridge
02. Raise the Roof
03. Looking For Light
04. Road With You
05. If You Forget Me
06. Pop Life (Prince cover)
07. You Brains
08. The Living End
09. Gather Round / Sing, Breathe, and Be Merry
HP Zinker
01. Song 1
02. Song 2
03. Song 3
04. Trapped
05. Song 5
06. Song 6
07. Song 7
08. Song 8
09. Song 9
10. Warzone City
11. Song 11
---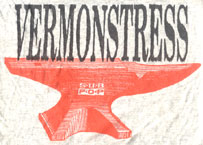 The Vermonstress t-shirt (click to enlarge)


Friday, October 05, 2012
In support of his achingly gorgeous new solo LP, "Palindrome Hunches",
Neil Halstead
returns to the scene of his last Boston-area appearance tomorrow night, Saturday, October 6th, for another intimate show at at the
Lizard Lounge
. Not sure who's traveling with him this time around, but 4 years ago the
Mojave 3
(and
ex?
-Slowdive) frontman was joined by bassist Ben Hall and guitar/mandolin player Adam Parfitt for most of that whiskey-fueled Cambridge set.
Below is the setlist from that November night in 2008, along with live MP3s of a few of the songs. Despite Neil's apologies, the performance was made no less entrancing by a mid-set coughing fit (
"I guess I'm not too healthy at the moment"
) , though he promised he'd be in a healthier state when he returned. Guess we'll find out tomorrow night (and if he's not, don't offer him more whiskey... he wasn't sure that helped). Get advance tickets
here
, but hurry. If there's any justice, it'll be a sell out.
Acidgalore
and
Nine Dots Boston
were both at the 2008 show, and shared their thoughts. More of my photos from that night are
here
.
Neil is at the very start of
a lengthy tour
across the US before he heads to the UK and Europe to finish out the year. Stream "Palindrome Hunches" below, where you'll also find the new video for "Hey Daydreamer", the beautiful piano-based track that closes the album, and a link to download a free 4-song tour EP.
Neil Halstead
with Ben Hall & Adam Parfitt
November 14th, 2008
at the
Lizard Lounge
in Cambridge, MA
01.
Martha's Mantra (For The Pain) [MP3]
02. Driving With Bert
03. Oh! Mighty Engine
04. Witless or Wise
05. Sometimes The Wheels
06. Yer Feet (Mojave 3)
07.
Sleeping on Roads [MP3]
08. Two Stones In My Pocket
09. Between The Bars (Mojave 3)
10. No Mercy For The Muse
11. Prayer For The Paranoid (Mojave 3)
12. See You On Rooftops
13. Who Do You Love? (Mojave 3)
14. Paint A Face
15. Elevenses
16. Hi-Lo and Inbetween
17.
A Gentle Heart [MP3]
18. unknown * (lyric - "
Jimmy Could You Lay Another On Me
")
19. Queen Bee
20. unknown * (lyric - "
She Won't Let You Cause Her No Pain
")
* Didn't recognize those two songs (cover songs, perhaps?), and a search let me down, so let me know if you think you do.
Download a
free 4-song Neil Halstead tour EP
courtesy of Noisetrade. Order "Palindrome Hunches" direct from
Brushfire Records
or digitally on
iTunes
. Catch Neil Halstead
on tour near you
.
Labels: livemp3s


Monday, October 01, 2012
The latest installment of our ongoing series of DJ gigs known as
NEW MUSIC NIGHT
happened on an evening when there was a whole lot of other stuff going on around Boston. Hell, if I wasn't up in the booth, there are at least 2 shows I'd have loved to check out. But I did my sonic duty, alternating hours with Jay
Clicky Clicky
, by playing a plethora of entirely new tracks for the patrons of beloved Central Square bar
River Gods
.
Check out Jay's playlists at
Clicky Clicky
.
Here's what went down during my sets, aurally speaking...
New Music Night mark VII
at
River Gods
, Cambridge, MA
September 27th, 2012
[ Grab the five freely-downloadable songs in one
.zip file
]
Set One
(9-10pm / Bradley's Almanac)
** = Boston-area band
01.
Benjamin Francis Leftwich
- "
Midnight City
" (M83 cover)
[ shared for streaming
at Soundcloud
]
02.
Mark Eitzel
- "
I Love You But You're Dead
"
[ from his new LP,
"Don't Be A Stranger" on Merge
/
stream at Soundcloud
]
03.
Wye Oak
- "
Spiral
[ released as part of the
Adult Swim 2012 Singles Series
/
stream at Soundcloud
]
04.
Ben Gibbard
- "
Bigger Than Love
" (with Aimee Mann)
[ from his upcoming solo album,
"Former Lives"
/ stream track
at NPR Music
]
05.
AC Newman
- "
Encyclopedia of Classic Takedowns
" (with Neko Case)
[ from his upcoming solo LP,
"Shut Down The Streets"
/
MP3
]
06. **
Doctors & Lawyers
- "
Running Around You
"
[ shared to stream
at Soundcloud
/
MP3
]
07.
Thee Oh Sees
- "Goodnight Baby"
[ from the just-released
"Putrifiers II" LP
/ stream track
at YouTube
]
08.
James Iha
- "
To Who Knows Where
"
[ from his new solo LP,
"Look To The Sky"
/ stream songs
at Soundcloud
]
09.
Cat Power
- "
Ruin
"
[ from the new LP,
"Sun"
/
MP3
]
10.
Pinback
- "
Proceed To Memory
"
[ from the upcoming
"Information Retrieved" LP
/ stream
at Soundcloud
]
11. **
Night Fruit
- "
Human Touch
"
[ new single &
video
/
MP3
]
12.
Snowden
- "
The Beat Comes
"
[ from their upcoming
"No One In Control" LP
/ stream song
at Soundcloud
]
13.
Hospitality
- "
Monkey
"
[ from their upcoming
Merge Records 7-inch
/ stream track
at Soundcloud
]
14.
The Mountain Goats
- "
The Diaz Brothers
"
[ from the upcoming
"Transcendental Youth" LP
/ stream another track
at Soundcloud
]
15.
Stars
- "
Backlines
"
[ from their newly-released LP,
"The North"
/ stream entire LP
at Soundcloud
]
16.
Wild Nothing
- "
Nocturne
"
[ title track from
their 2nd LP
/ stream song
at Soundcloud
]
Set Two
(11pm-12am / Bradley's Almanac)
17.
The Corin Tucker Band
- "
Neskowin
"
[ from the new
"Kill My Blues" LP
/
video
]
18.
seBADoh
- "
My Drugs
"
[ from the
"Secret" EP
/ stream song & buy EP
at Bandcamp
]
19.
Dinosaur Jr.
- "
Pierce The Morning Rain
"
[ from the new album,
"I Bet On Sky"
/ stream another track
at Soundcloud
]
20.
Bob Mould
- "
Silver Age
"
[ title track from
his latest record
/ stream a different track
at Soundcloud
]
21.
The Joy Formidable
- "
Cholla
"
[ advance single from their early-2013 sophomore LP /
video
]
22.
Pilot To Gunner
- "
LA
"
[ lead-off track from new album
"Guilty Guilty"
/ stream LP
at Soundcloud
]
23. **
Dear Leader
- "
Youngstown
"
[ new single made available
via Bandcamp
]
24.
The Pains of Being Pure at Heart
- "
Jeremy
" (Magnetic Fields cover)
[ from a new 7-inch
on Slumberland
/ stream song
on Soundcloud
]
25.
R. Ring
(
Kelley Deal & Mike Montgomery)
- "
See
"
[ b-side from their new
Misra 7-inch
/ stream the a-side
at Soundcloud
]
26.
Shrag
- "
Obscenity Begins At Home
"
[ latest release in the
WIAIWYA 7-inch singles club
/ stream song
at Soundcloud
]
27.
The James Rocket
- "
Shiny Dark Bar
"
[ from the debut LP
"Launch"
/ stream & order album
at Bandcamp
]
28.
Frightened Rabbit
- "
Home From War
"
[ from their new
"State Hospital" EP
/ stream
at Soundcloud
]
29.
Dowsing
- "
Lavender
"
[ from their
"It's Still Pretty Terrible" LP
/ stream
at Bandcamp
]
30.
Paul Westerberg
- "
My Road Home
"
[ new song released for free
on his site
/
MP3
]
31.
Withered Hand
- "
A New Case
"
[ from the
"Whatever Gets You Through The Night"
compilation / stream song
at Bandcamp
]
32.
Will Johnson
- "
Scorpion
"
[ Title track from his
just-released album
/ stream
at Soundcloud
]
33.
Neil Halstead
- "
Hey Daydreamer
"
[ last track on his new LP,
"Palindrome Hunches"
/ video / stream
at Soundcloud
]
34.
Yo La Tengo
- "
Stupid Things
"
[ from the new
"Stupid Things" EP on Matador
]
November brings the next one, and I'll announce the date when we've got it.


Monday, September 17, 2012
Cambridge-based writer
Robert B. Parker
, who passed away
in early 2010
, would have been 80 years old today. He died as he lived, sitting at his desk, no doubt working on his next story about mononymous Boston detective Spenser, or beleaguered Paradise police chief Jesse Stone, or maybe the next western in his Cole & Hitch series.
Parker became one of my favorite fiction writers the moment I finished the first (of
40
) of his Spenser novels, "The Godwulf Manuscript", originally published in 1973. I owe a great debt to University of Vermont English professor
Sidney Poger
, who assigned the book as part of his Detective Fiction course. Thanks to him, I developed an immediate RBP addiction, voraciously inhaling every available novel, often instead of the assigned reading from my other courses - it's a miracle my freshman year GPA didn't take a major hit. Apart from all the time I spent at campus radio station WRUV, I'm not sure what of real value I took from my UVM education - but a lifelong love of Robert B. Parker's work is real enough.
In fact, it's not an exaggeration to say that Parker's work, and his use of Boston as not just a setting but almost a character, is part of the reason I came to love and live in this town. While I'd already been coming down here from Vermont for a couple years to see my favorite bands, I remember very distinctly my first trip after my college Spenser binge, when I wandered down Marlborough Street, looking upwards to imagine where the detective's fictional office was located. I've read new books in certain hotel bars where Spenser drank, walked streets he tailed suspects, imagined the now-cleaned-up Combat Zone as he used to see it. Parker's love of the city and the surrounding areas drew me in, and as I followed Spenser's adventures I always got a tiny little thrill when I knew exactly the area the action was happening in. To be reading on the Charles River as he describes the character passing your exact spot is pretty special.
As the world goes further digital, as friends are deciding which books to donate or sell to used bookstores, I'm looking at two shelves of Parker paperbacks and hardcovers that I'll never let go of.
To mark Robert B. Parker's 80th birthday, I've transcribed his
March 27th, 2007 talk
at Boston University's
Howard Gotlieb Archival Research Center
, during which he spoke and conducted an audience Q&A. He was there to debut an
exhibit of his personal archives
, which he'd donated to the Gotlieb Center, and which you can still access today. It's a bittersweet appearance, as he reflects on his career and quips on growing older. When he speculated on going "to the great writer's workshop in the sky", no one in the room imagined it would be less than three years later.
Note: I didn't catch the identity of the man who provided the Parker's introduction, and an email to the Gotlieb went unanswered, so if anyone knows, please drop a note in the comments. Any other corrections are encouraged as well...
Introductory speaker:
Tonight we're pleased to have as our speaker, and guest of honor, a man acknowledged by many to be the "Dean of American Crime Fiction", prolific mystery writer Mr. Robert Parker. He's a Massachusetts native, he attended Colby College, and after serving in the army in Korea, he completed his PHD in English right here at Boston University. He was a professor of English at Northeastern, he also taught here, I believe, and his first novel, "The Godwulf Manuscript", was published. It followed the wise-cracking, street-smart Boston private eye Spenser and spawned an immensely popular and critically acclaimed series of books chronicling Spenser's escapades, as well as the television series Spenser, which was on ABC for 3 years, which is a long time in television. However, Spenser is just one of Mr. Parker's protagonists - with "Night Passage" in 1997, Mr. Parker introduced Jesse Stone as a big city cop who became a small town police chief in Paradise, Massachusetts. His latest book in the Stone series, "High Profile", was published just last month.
Mr. Parker's masterful writing has transcended his own characters to those of other distinguished authors. His classic style so impressed the estate of the famed writing Raymond Chandler that in 1989 it asked him to complete "Poodle Springs", and unfinished manuscript by Mr. Chandler. "Perchance To Dream", Mr. Parker's sequel to Chandler's "The Big Sleep", was published in 1991. Mr. Parker was named grand master of the 2002 Edgar Awards by the Mystery Writers of American, an honor bestowed previously on the great Alfred Hitchcock. Mr. Parker has two additional novels coming out this Spring, "Eatonville Owls, his first young adult novel, and "Spare Change", the next installment in the Sunny Randall series.
Mr. Parker is joined by his wife Joan - is Joan here? Yeah, stand up, Joan...
(Joan Parker stands up - applause)
Joan is a former teacher at Tufts University and Endicott College. She worked for the State Department of Education where she was director of curriculum and instruction for 88 communities in the commonwealth. I was doing a little research on the internet and saw a cute little story about Joan - you never know about internet stories, but this is a good one - She was working as director of curriculum for the state and, I guess, moonlighting doing some work for Warner Bros. on a script, and both checks came in one day at the same time. And she looked at the Warner Bros. check and the state check and said "Duh". Joan can tell us later if it's a true story or not...
Anyway, Joan's here, we're very happy to have her... we're very happy to have both of them here. So please welcome Mr. Robert Parker...
Robert B. Parker:
I agree with everything he said, thank you very much
(audience laughs)
. I always like it when Joan stands up and throughout the room they say "She's married to
him
?!" That's why I bring her... hah hah. Jess Cain
(sp?)
is here as well, he's been feeding me material. And after you hear my own stuff you'll wish I'd used it. But anyway, I am "The Dean of American Detective Stories", and I am a Grand Master, and both of those things mean one simple fact - I'm old. You ever meet a young "Grand Master"? Ever meet a 31-year-old "Dean of the American Detective Story"? Nahh...
Anyway, as is my custom, I will make a few flattering remarks about myself and my career, and then I will take the microphone off the stand and invite questions from the audience. If there are no questions from the audience... we can all go get a drink. Or I can go get a drink.
Other than my presence here, the big news is that "Appaloosa", which I wrote, has been greenlighted by New Line as a feature film starring Ed Harris and Viggo Mortenson, and probably Jennifer Connelly *
(applause)
. I was in line for the Jennifer Connelly role but they turned me down. There's many a slip twixt the cup and the lip, but "greenlight" is good.
[* note: The role would eventually go to Renée Zellweger.]
I was in L.A. last week with my son Dan, who is both an actor and a singer, and we are making an album called "Songs that Spenser Taught Me", on which he does all the singing but one. Wait 'til this one comes out, friends. On one track we harmonize - we do a duet on "Moon River" - and I'm certainly hoping that digital technology can fix it. It's an odd circumstance - I'm in a booth by myself, Dan is pre-recorded, the orchestra is already pre-recorded, Dan's singing his harmony, and I've gotta sing in such a way that Dan's harmony matches mine... sort of. They can fix it in the mix later. But it was an interesting experience - and it may be my breakout album.
I may not have to do this anymore for the money.

Jesse Stone will be on CBS on May 20th, sweeps week, at 10 o'clock, starring the winner of the Robert B. Parker look-a-like contest, Tom Selleck. Selleck always finds that somewhat less amusing than I do. It's a real experience to be 4 foot 4, 235 pounds, and to be walking around in public with Tom Selleck. People use me as a foot stool so they can stand there and shake his hand. Tom is 6-four or five, he's a very big man, and as good looking as you think he is. Oh well. But is he talented? Yeah. So that'll be on on the 20th of May, and the beat goes on. We are planning, for the foreseeable future, to do 3 books a year. I'm just now starting a sequel to "Appaloosa" - I'm not fool, they're gonna make that movie. And as long as I can keep my wind, I'll keep doing it.

That said, any questions you'd care to ask me? How does someone my age continue to stand upright?



Audience member (AUD): What's Spenser's first name?





RBP:

Spenser's first name is Seamus. Anyone else?

(crowd laughs)

I don't know what his first name is... I've never thought it up. I don't have it written on a piece of paper stuck with chewing gum to the bottom of my desk or anything. I don't know... it's just Spenser. And I have no intention of making one up and telling you. You will never know because I don't know.



AUD: Do you write plot for the most part with a major character in mind - do you plot out of the characters who add to that or do you work back from the plot to the characters.





RBP:

Oooooo... my chance to show off my PHD. (crowd laughs) Henry James once said "What is plot but the dramatization character, and what is character but the determinant of plot".

(crowd is impressed - RBP sings a bit of "Moon River...")

. It's character. I don't make up the plot ahead of time, so if I was working from the plot I'd be in fairly deep trouble. I don't know where I'm going when I start. I know Sammy Kahn, the great songwriter, was once asked "Where do you get your ideas for song?" and Sammy said "First there's a phone call... then there's a check."

(laughter)

I'm under contract, I have...

(microphone cuts out)





RBP:

This wouldn't have happened at

Harvard

.

(laughter)

Silver would never let me say I was from BU, I don't know what that was all about.

(tries to fix microphone)

How does this sound? Too much technology... can you hear me? You're the lucky ones in the back, if you can't. So, wherever I was, and whatever I was talking about, I don't have any idea where I'm going. That must be apparent by now. I write the first chapter, and then the second chapter grows out of the first and so forth. But primarily I'm interested in the characters and not the plot.



AUD: Did you do any prizefighting yourself?





RBP:

No, I never was a prizefighter, but I am, interestingly enough, fighting now. I am going for the Geezerweight Championship of Cambridge

(laughter)

. No, I have a trainer, he comes to the house, and we box twice a week. Don't screw with me, pal. I grew up in New Bedford. That may have given me little opportunity to box or run, but no, I've never a professional boxer. With this face, are you kidding?



AUD: What do you find more difficult - writing books or screenplays, and why?





RBP:

Oh, writing screenplays is infinitely more difficult because there's 55 idiots in your way, at least. You write a screenplay and the costume designer's girlfriend gets to have input on it. I was involved for the first six months or so on "Spenser: For Hire" in LA, working on scripts, and it was driving me crazy. I'd say "No, no, don't do that, do something else," and they'd say "What should I do?" and I'd say "I don't know, do something else." After awhile I realized they couldn't do something else, that was all they could do, and then I realized there's a reason why they're... (microphone cuts out)



AUD: There's a reason why they're writing episodic television...





RBP:

... you know, they just couldn't... sex scenes were a shower. Transitions were car chases. They didn't know what else to do. So I called up Joan after about six months of commuting - I'd go out on a Monday, come back on a Friday - and I called her up from LA and whined about how I didn't like it. And she said "Well, why don't you come home?". I didn't like to admit it, but I had never thought of that. Thank God she's... we've been married now, we're in our 51st year (applause). How come she looks so much better than I do. So I went home. Screenplays earn about a 10th as much money as novels, or at least my screenplays and my novels - I always make much more writing a novel than writing a screenplay. By the time you're done screwing around with it you've spent as much time as you do on a novel, for about 1/10th the money. As for the story about Joan, well, duh, that's a no brainer. But I don't like it. I don't like the whole business. So I don't do it. But is it more difficult artistically? No. Can I write them as well as I can write novels? Probably, but I don't like it. So they're harder.



AUD: What if they brought in their own screenwriter?





RBP:

Fine with me. If they're going to get a script, they have to. I haven't written a single thing in years that's been on. All the Jesse Stone movies are written by others, not me. They can bring in their screenwriters as often and as frequently as they want to, and make it as bad as they care to. I've already taken the check and put it in the bank, Joan has taken it out and spent it.



AUD: I don't want to take you off track of your writing, but I understand that your wife Joan is very active in community service, and you have a project coming up that will benefit community service, and if you could just explain how...





RBP:

You do "shill" so good, Jess.

(laughter)

You were an actor, I remember. Yeah, in order to raise money for Community Servings, which feeds people suffering with serious and life-threatening diseases - hot food, delivered at home - there's an annual auction Thursday night, an event called Life Saver, and at this auction one of the things you can buy is a book dedicated to you by me. I dedicate most of them to Joan, and all of them to somebody named Parker - Joan, my sons, and at least one to my parents, now long gone - and if you bid enough money, I'll dedicate one to you. Did I get that right, Joan? Thank you very much. She exploits me so...



AUD: The inscription in "High Profile", of Joan, brought tears to my wife's eyes.





RBP:

What's it say? I've written 60 books, the pressure gets on at about 61.



AUD: "For Joan, whom the eyes of mortals have no right to see".





RBP:

That's right. Stole it from a popular song

(sings that line)

You want me to sing more? Anyone want me to sing more?

(clapping)

Terrible audience. Yes, well, Joan is the girl of my dreams, and we've been together in thick and thin, for better or worse, since 1950. We celebrated our golden wedding anniversary last Fall... how did that happen? And Joan says she's getting to like me. And what that could lead to, God only knows.



AUD: Tell us about Hawk.





RBP:

Tell you about Hawk. Only if he agrees. Well, Hawk is, racial pun intended, the dark side of Spenser. When I did my doctoral dissertation here - well, I labored over the damn thing for two whole weeks. I know, it kills people - took me two weeks to write my doctoral dissertation. As Joan often says, "You're not very good, but you're quick!". My doctoral dissertation was about the kind of subject matter that Leslie Fiedler - I'm in the University, I figure I can throw these names around - Leslie Fielder and RWB Lewis and other people, in that the relationship between the Caucasian protagonist and the non-Caucasian companion is a very deep running river of subject matter in American literature, both popular and serious - I'm not lumping myself into either of those categories. Y'know, Ishmael and Queequeg, Chingachgook & Natty Bumppo, Cosby & Culp, the Lone Ranger & Tonto, Huckleberry Finn & Jim, etcetera. That's about all I'm gonna say about that, but that fact was in my head when I first started to come around with Hawk. He started out just to be a worthy adversary, then I found it worked to my advantage to do more. And so, here he is, and people like him.



AUD: Two questions if you would. The first is, would you consider Spenser cynical? The second is, how much is Susan Silverman based on Joan?





RBP:

Would I consider Spenser cynical? Cynical, and idealistic at the same time. I think what he is is a realist. He looks out there and he sees what's there, but that does not prevent him from trying to do as well as he can, and trying to make the best of it. Susan Silverman, if she improved greatly, might be like Joan.

(crowd "awwwwws")

There's no one-to-one equation. Joan's not a shrink - she has a heavy caseload with me - and she's not Jewish, and she's not been married and divorced, and she has children. I do, too

(crowd laughs)

. Certainly it's fair to say that the most significant event in my life has been the relationship with Joan and it would be hard pressed to write a bunch of books about a guy who had no such relationship.



AUD: Is there something significant in Spenser choosing to drink Johnny Walker Blue?





RBP:

Is there something significant in it? Yeah... they used to drink Dewars but then they got richer. No - there's nothing significant other than it's very expensive and I kind of like it. But if you were to take the books back from the year, say, 1973 when "The Godwulf Manuscript" came out - '74 actually, came out in '73 but is dated '74 - y'know, the level of dining and drinking and activities has upgraded some since then, and that has been coincident with the increase in my income. I was teaching freshman English nights in university college here, I was eating much less well. There's a serious question of if I ever taught anyone anything, but it was in a classroom.



AUD: What would it take for Susan and Spenser to get married?





RBP:

I don't know... maybe they will. I have no master plan. They are not married for two more books, because those are the books that are done and are "in the hopper" as they say. I mean, they aren't the kinds of people who would get married, they've tried living together, and it just seems so far to feel better leaving them as they are. But I don't guarantee that they won't, or that they will - I don't know. As they say, I don't know what I'm doing.



AUD: Do you have a dog like Pearl?





RBP:

I have a dog named Pearl, who is just like Pearl, yes. We've had three Pearls, and this is the third one. German short-haired pointer.



AUD: At what point in your life did you decide that you wanted to write, what triggered your motivation, and especially the character of Spenser.





RBP:

There was no point - I always wanted to write, since I was a little kid, probably, because I always had greater skill at it than most of the people I was associating with in the 4th grade

(crowd laughter)

. But I was a good writer for a fourth grader, and I liked to read, my father used to read to me. I liked to say home, and be left alone - I hate working for people. And it all sort of came together. I was working in the advertising business at Prudential Insurance of America

(mocks hitting his head with microphone)

- if I had a piece of the rock I'd hit myself with it - and didn't like it, but I had a wife and children to support - where was the woman's movement when I needed it? And I had to work. I'm not someone who can write in little bits and pieces in my spare time, and finally it was Joan who talked me into it. She said "Why don't you quit your job and go become a professor and you'd have a lot of time free to write?" Well, she was on the money with that, but I said, "I mean, well, I'd have to have a PHD and for God's sake it'll probably take me three years to get a PHD, so what am I going to do to support you?" And she said "Oh, well, do it anyway." So I did, took me 9 years - slow learner - and my father chipped in, I had the GI Bill reinstated, I worked nine jobs, and we got through. I went on to become a professor at Northeastern University, and got tenure. When I first went to work there they told me my "load" - apt phrase - my teaching load was nine hours. I thought they meant "a day". When I used to work at Raytheon or Curtis Wright Aircraft or Prudential Insurance Company of America

(mocks hitting his head again)

, I often worked nine hours a day. There may be some people in this room who has sometimes or other in their life worked 9 hours a day. But no, it was a week - nine hours teaching a week. When I left, as a full professor, I was teaching fiction writing from 12-3 on Wednesdays. Joan said "What are you quitting for? You're teaching fiction writing once a week on Wednesdays?" and I said "Yeah, but every Wednesday?"

(crowd laughs)

I was introduced once at an event not unlike this in Minneapolis, and I was introduced by a former student of mine, a reporter for the Minneapolis Star, and he said "I'm here to tell you that as a former student of Mr. Parkers, which is to say 'self-educated'..." That's about right. I was not Mr. Chips. I tried not to bother them, and I hoped they wouldn't bother me. I found it easier to give them all As, then they wouldn't come and annoy me about it. But I was typing away in there. I had a lot of time. When you're teaching from 12-3 many Wednesdays, there's a few minutes left over.



AUD: What are your thoughts that all the questions tonight are on Spenser?





RBP:

I have no thoughts. I don't think while I'm up here

(crowd laughter)

... I probably should. Well, he's the one that most people are most familiar with, and that's fine with me. All of that is irrelevant because at the end of day, we find out how many books we sold and how much money we make and who's going to buy the rights, and... I do this for money. Somebody asked me once "Why do you sell the right to your books to Hollywood?" And I said "For money! What other possible reason would there be?! Oooo... I think they're going to improve on it."

(crowd laughter)

But, y'know, I do this for a living. I don't think I would take money to stop, so if you were planning to take up a collection, it won't work. But it is also something that supports us all. I have a son who is an actor, and a son who is a modern dance choreographer. Income still matters,

(crowd laughter)

and Spenser has been paying the rent for a long time. I assume that eventually, if and when I go to the great writer's workshop in the sky, I'll probably be known, if for anything, for Spenser. That's fine... doesn't matter to me. I either have so much ego it doesn't matter, or I have no ego and it doesn't matter. I'm not sure which.



AUD: What authors do you like to read?





RBP:

I don't read very much. I don't have time. Also, there's a kind of busman's holiday aspect to it. I spend my day creating fiction, so I'm not so interested in reading other people's fiction in my evenings. I do read non-fiction, some. I not so long ago read Jonathan Lear's book on Freud and the classical philosophers called "Open Minded". I didn't understand that it would make such a great answer...

(crowd laughs)

. I read some non-fiction stuff, including Lear, but I don't read much fiction. Elmore Leonard is one of the two best alive today, and I read him whenever he has something I can read. But other than that, I don't read much.



AUD: Do you find it challenging to age a physical character like Spenser?





RBP:

Nope... I don't. It's mostly the hands. As I age, he ages. I mean, I don't specify his age, because it's hard to sell people on a 74 year old guy who jumps over fences and kicks in doors. Although it's quite possible to have a sexy wife when that happens. And you still can box. But no, it just happens. I really don't spend a lot of time on anything other than writing - I don't outline, I don't prepare. I don't think about issues like how old is Spenser. I think about not mentioning his age. He fought Joe Walcott, how old does he gotta be? He likes Miles Davis and John Coltrane, y'know, he ain't listening to Snoop Doggy Dogg. He was in Korea. So you can figure out his age, but I just don't mention it, and it doesn't seem to bother anyone. I know that Rex Stout, one of my faves, the first novel came out in 1932, and Archie Goodwin was 32. Then during the 2nd World War he was a Major in intelligence, and when he came back from the war he was 32. It never bothered me, I don't think it bothers people. So the aging is just as natural in the books as it is in life.



AUD: Who started studying dance first, your son or Paul?





RBP:

My son, my son studied dance first. And my other son was an actor in the Boston Children's Theatre. So I combined the skills, and... just as I couldn't write a bunch of books about a guy who has no relationship with a remarkable woman, I needed to create... my sons are the other major fact of my life, and I couldn't write about Spenser childless and single. So while he doesn't have biological children, that he's talking about, at least he has Paul, and I sort of merged things that they had both done. You write what you know about. I'll never write about a chess tourney. I don't know how to play chess. You'll never get a book from me about chess playing. You can fake it but only so much, so you write what you got.



AUD: Before you hit upon Spenser, you must have experimented in your early writing days with different characters, different kind of stories, different writing forms...





RBP:

I did everything wrong. The Godwulf Manuscript was the first full-length work of fiction I ever attempted, and in it I invented Spenser. And he has never been turned down since. I've never had a reject letter, I don't think. Well, actually, I had one. Alice Turner, who at that time was the fiction editor at Playboy, a number of years ago, asked me for a short story and I said "I don't do short stories, I have very little skill at it." and she said "Oh, pshaw... we'll pay you a zillion dollars and you can waltz with a bunny." and I said "Ok, I'll do it, on the condition that I don't have to discuss philosophy with Hef." And they stuck by that. But anyway, I wrote it, I sent it in, and they rejected it

(chuckles)

, thus demonstrating the validity of my argument - I have no skill at short stories. Well, we don't throw anything away, so it ended up in something called "Club Man", or "Club"... something like that. Y'know, it was a nudie, a girly magazine, a cheap imitation of Playboy, and the story started on page 7 or something like that, and then the jump way into the back, where there was one column of story and one column of ads, and there was my story, and next to it was a full-column ad for crotchless mouse suits

(crowd laughter)

. I didn't get to show that one to mum. I'm not a mouse, but I can't say what the value of a crotchless mouse suit would be, to tell you the truth. Joan refused to discuss it with me. Anyway, I have no rejections, I did no preparation other than to read Chandler and Hammett and a thousand pulp magazines in my youth, Black Mask, Dime Detective and so forth. It just sort of all came. The fact that my doctoral visitation included a section on the American private eye is far less meaningful than it would sound. I would have written the same book if I hadn't done the PhD. I think the PhD was good, I think it was very valuable - in no concrete way - it didn't teach me how to write. You have only to read a few doctoral dissertations to know that it doesn't teach you how to write. Raymond Chandler once talked about what he felt was lacking in Hammett, and one of the things was that Hammett lacked the "sound of music beyond the hill." Well, if I have any sound of music beyond the hill in my books, it comes from the extensive formal education. It gives me dimension that I might not otherwise have. It was a good PhD program, and I found it valuable, but it didn't make me a writer.



AUD: Do you ever overhear something, like in a restaurant, that you might use in a book?





RBP:

No, I don't think so. I don't do any of that stuff. When I was trying and failing badly to teach fiction writing, I failed either because the students were really bad, or... no, it was the students, it must have been

(laughter)

. Anyway, I had kids who were running around with tape recorders listening to people talk, and taping it, and I said "Stop that! Don't do that... dialog is not the way people talk." Read a transcript of a trial, or tapes of things, people say "um, uh huh, ummm"... so, no, I mean, I use life, because as someone once said, what else are you gonna use? But I make no effort to find stories or use things that I've heard. I just make it all up.



AUD: Is Robert Parker your real name, and have you ever published under any other name.





RBP:

It is my real name, Robert B. Parker. I just put B in because my father always used to sign his middle initial. Now I just sign my middle initial. I wish I hadn't. It's much more cumbersome to be "Robert B. Parker". And no, I've never used a pseudonym. Anything with my name on it is mine. Except the wine books, they're not mine. Works out well, though. We were in LA once, we had a house in LA for awhile when we were trying to storm the heights of Hollywood, and we had friends come out to visit us who had never been west of Worcester, so we wanted to give them something hip and swingin' and Hollywood-ish. So we wanted to take them to Spago, on the strip, not the new Spago which is just a big restaurant, but the old Spago was great. So Joan called up and said "I've got Robert B. Parker in town with a party of 5 and he'd like a table by the window." And there was a pause and the woman said "The wine guy?", and I heard the love of my life, deny me thrice, say "Yeah, that's right, the wine guy"

(crowd laughter)

. Right by the window, five at a table. They kept bringing me stuff, and I was drinking beer.



AUD: There are certain books were you put your characters through an extreme level of struggle, or when something life-changing happens, like when Paul arrived, or when Spenser got shot... when do you decide you're going to do something really major to one of your characters that will change things for the future?





RBP:

One line before it happens. I don't make those decisions. I cannot tell you how I do not plan, and how I just feel my way along. The closest I can come is sort of like a jazz musician improvising on a theme. Well, the theme is Spenser or Jesse Stone or Sunny Randall, or whatever else I may be doing. But, that's it, and I, as it were, hear the music and I improvise it.



AUD: Why did you make Susan Silverman Jewish?





RBP:

I don't know, seemed like a good idea at the time? I suppose I was doing my "He ain't heavy, he's my brother" thing, y'know, a Jewish girl, a black friend. It just was something interesting about her. And so she was. And it gives you material for years afterwards to play with.



AUD: Do you have a dog named Rosie?





RBP:

We had a dog named Rosie who has recently departed. And we still have Pearl.



AUD: Your Irish-American characters are so well-drawn, what are you able to draw on to write them so well?





RBP:

(sings)

"'Coz there's something in you Irish..." My mother's maiden name was Mary... Murphy. My grandmother came from Cork, her name was Mary Brown Kenneally. And then my mother married out of the faith, and all Hell broke loose. But yeah, I'm half Irish. The Irish clan was much bigger than my father's Yankee Belfast, Maine clan, so I mostly think of myself as Irish. I think we have time for one more question...



AUD: You were born at the height of the Depression...





RBP:

Probably

caused

it.

(crowd laughs)





AUD: ... does that give your writing a sensitivity towards people who live like rock stars, and so forth?





RBP:

I don't think so. I remember the times - my father had a job with the phone company, and he kept it through the Depression. He took a pay cut, but we were not living in shanty towns or anything. And I remember the WPA and all that. But I don't feel that it had the kind of impact on me that one might have thought. Whatever impacts have been mostly psychological, and mostly from my mum.

(sings)

"Did you mother come from Ireland..."



RBP:

So I'm going to say thank you very much now, and I think I'm going to be back there signing books until I drop. Thank you...

(crowd applause)

...



neil halstead

live in cambridge, ma

on november 14th, 2008
previously:
joy formidable - boston 2011
---
recent posts on the 'nac...
---
on the nightstand


---
boston-area music bloggers