A couple weeks ago I dragged my severely jetlagged self out to catch
The New Year
's return to Boston. I actually made sure I'd be back for it when my flights got scheduled... there was no way I was going to miss the Brothers Kadane & Co.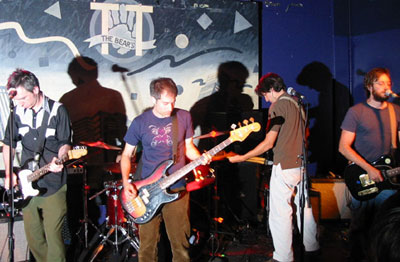 I'm a
Bedhead
fan from way back, and in my book these two guys can write no wrong... they've never released a record I haven't loved. The latest New Year record is no exception, and I was very psyched to see the new songs live...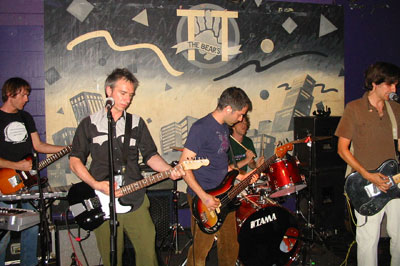 The New Year's setlist, from Friday, July 9th, at TT the Bears...
The End's Not Near
Half a Day
Reconstruction
Chinese Handcuffs
Plan B
Age of Conceit
Gasoline
Simple Life
One Plus One Minus One Equals One
18
Strangers to Kindness
-
Block That Doesn't Exist
Carne Levare
Bedside Table
Yes, that's right. They closed with Bedhead's very first single,
Bedside
freakin'
Table
. Matt Kadane introduced it, saying something like "We just worked this song out, so it's not our fault if it falls apart. This one goes out to that fuck in Modest Mouse." (pardon his french). Awwww, snap!
Got some pretty intense chills during their set, but none moreso than when those first few notes of Bedside Table hit me. They totally held it together, too. What an absolute gift. If you get a chance to see 'em, request it. Trust me.

Despite the fact that I'm not really in a financial position to blow seventy bucks at the record store, I just did that very thing. Curse you, lack of self-control!
As predicted, I picked up the new
Low
box set (killer design, btw) along with the first season of
Sealab 2021
on DVD. Didn't end there, though... on my way out I noticed that someone at
Newbury Comics
had put the new
Album Leaf
disc on the 'employee picks' board. I totally missed it's release when I was away, so back to the counter I went. Can't wait to put it on.
Oh, and another naughty Newbury employee put the not-even-out-yet
Interpol
disc '
Antics
' as their pick. You file-thieving tease! Ah, I kid because I did the same damn thing. But I'll still be buying it, because it's f'in brilliant. So there.

Since I haven't seen a complete online list of the episodes that the
Sealab Season One DVD set
contains, I'll post 'em here...
1. I, Robot
2. Happycake
3. Radio Free Sealab
4. Chickmate
5. Lost in Time
6. Predator
7. Little Orphan Angry
8. Waking Quinn
9. All That Jazz (the hilarious 'stuck-under-the-soda-machine' one)
10. Murphy Murph and the Feng Shui Bunch
11. In the Closet
12. Stimutacs
13. Swimming in Oblivion
bonus features include...
The Pitch Pilot
I, Robot: Alternate Endings
Radio Free Sealab: Uncensored
Little Orphan Angry: Deleted Scenes
I am so watching this tonight.

I just took a look at the latest tracklisting for the
Twilight Singers
upcoming covers disc, titled
'She Loves You'
, and I'm totally bummed. They've removed the song I was most excited about, a cover of
Kate Bush
's
'Cloudbusting'
. I saw 'em play it live and it blew me away, then found a live version that didn't quite do it justice, but was still awfully good. It's been recorded for sure, but has been yanked from the cd. I'll still be buying the sucker, but damn if I'm not disappointed. According to Lee, the hard-workin' webmaster over at
Summer's Kiss
, it was most likely a creative decision and not a legal one, so perhaps someday it'll be unearthed. Do it, Mr. Dulli,
do it
.

So, it's a much better day here in Boston... still kinda hot, but felt a lot less humid on my walk down Newbury Street when I went to grab my loot. The Sox are back in town tonight, Pedro's on the mound, and tomorrow's my last day in the office for awhile. Summertime rolls.
Oh, I'm trying something new with my links on the right... since I seem to have so little surfing time lately, I've separated my blog links depending on how often they get updated. Basically, the slackers got weeded out into the 'semi' section. It's ok, you can use the guilt as a motivator. Feel free. I'm one to talk, though.
Hey, speaking of my blog links, what the hell happened to
Miss Elaine's site
? I do so miss her british babblings.

I'll leave you with what is probably the cutest photo of all time, and guaranteed temporary relief for anyone's bad day. Seriously, if your heart doesn't flat-out melt at the sight of this, then you're missing a heart.
My friend
Jen's
mom's co-worker's friend (or something like that, whew) found a baby fawn in their backyard, and their ridgeback dog, Hogan, instantly adopted it. He's taken to it like a doggy daddy, like a deer's best friend. They sleep side by side. I mean, just look at this...
See, I toldja. They've named her Bella. Apparantly Hogan has become her guardian, at least until they get her to a friend who raises abandoned baby deer so they can be released into the wild. Take
that
, cynics everywhere!
Hey, I've still got a few more GMail invites left, so drop me an email or a comment. Get 'em while they're lukewarm.
Wait, did I actually just post on two days in a row? So freaky. Just don't get used to it.