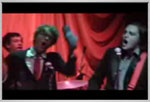 I've been holding onto this video for awhile now, waiting for permission from the director to share it up for other fans of
The Arcade Fire
. Well, this morning he gave the go ahead.
So
here it is
(file removed), a performance video set to the studio version of
The Arcade Fire's
'
Wake Up
', directed by Pete Ohs of
Toy Band
.
It's a 22mb quicktime file, so you could, do a little 'right-click-and-save-as' rather than streaming it from the site.
Brings me straight back to the show, and still gives me a little headbuzz, every single time. Thanks, Pete.