I've got a soft spot in my musical heart for
Blondie
, soft enough to overcome my usual aversion to some mainstream promotional action here on the 'Nac. I was raised on the radio-broadcasted voice of Debbie Harry, and remember very clearly when my dad would put the original
Best of Blondie
on the turntable. My 12 year-old self couldn't get enough, although due to that album's track selection I'd be unaware of their punkier early years until I was a bit older.
The Blondie marketing machine has been revving up big time, for a number of reasons: Their induction into the R&R Hall of Fame last night (the actual presentation of which was, some might say,
slightly uncomfortable
), last week's release of their new "
Greatest Hits: Sound & Vision
" CD/DVD collection (20 tracks on the cd, 16 videos on the DVD), and their just-announced
summer tour
of the U.S., which will supposedly be their last.
Which brings me straight to the point 'o the post: A contest to give a fortunate Almanac reader a couple of tickets to Blondie's Boston stop, which is happening on Wednesday, June 7th at the
Bank of America Pavilion
down on the waterfront. Five other entrants will get a copy of that new Greatest Hits collection, along with a disc from Blondie's summer tourmates, The New Cars. (an aside: Can't fault the ex-members of the Cars and Mr. Todd Rundgren for milking that nostalgia money-cow, but all those songs without either Ric Ocasek or the much-missed Ben Orr on vocals? Hmmm.)
Here's the official schpeel from the promo-peeps...
Celebrate Blondie's newest release Greatest Hits: Sound & Vision, and be a part of their last US tour EVER! 1 grand prize winner will receive a pair of tickets to the Blondie / The New Cars concert on 6/7 at the Bank of American Pavillion in Boston, MA. 5 runners up will receive Blondie "Greatest Hits: Sound and Vision", and "The New Cars It's Alive albums!"
... which is pretty much what I just said, but more excitedly.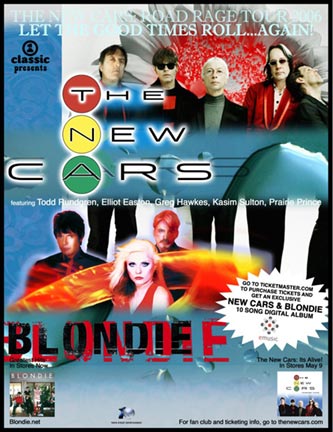 Not going to make you jump through hoops for this one: Just drop me an email (address is near the bottom of the column on the left) before 9am next Monday, March 20th. Make sure you put 'Blondie' as your email subject, and include your full name, email address, and just the town you live in. I'll pick one random person to get the tickets, and five others for the double-disc action. Winners will be announced next Tuesday morning (don't worry, I won't print yer last name) and contacted for mailing info. Prizes will be sent out straight from the promo folks to you sometime thereafter. Easy parcheesi.
Some links for ya:
Buy tickets for the show through Ticketmaster, and you'll be able to download a 10 song Blondie/New Cars digital album.


Head over here to join the Blondie/New Cars mailing list.


Stream the new video for 'Rapture Riders', a Blondie / Doors mash-up that was done especially for the greatest hits collection: Windows Media 100 / Windows Media 300 / RealAudio 100 / RealAudio 300 / Quicktime 100 / Quicktime 300 / Quicktime 750
Alright, start those emails comin'. My inbox awaits.
update 3-20-06: contest entry is officially closed, and winners will be announced tomorrow.
Labels: giveaways