Going to try and get one out the door before the weekend starts. Info on Ted Leo, Tanya Donelly, David Bazan, and, um, Borat lies below. But first...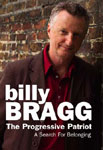 Billy Bragg
appeared on the
Late Late Show
last night, performing an always-updated version of his 1988 song "
Waiting For The Great Leap Forwards
". Sideman
Ian McLagan
helps out with keys and backing vocals, and host Craig Ferguson gushes appropriately during Billy's introduction.
The bard of Barking is out spreading the word about his new book, "
Billy Bragg: The Progressive Patriot - A Search For Belonging
", as well as his upcoming
Volume II Box Set
, which will be out on
Yep Roc
on October 17th.
Here's the
YouTube video
, along with a link to listen to the original version...


Stream:
Billy Bragg - "Waiting For The Great Leap Forwards"
(original from "Workers Playtime")
The timely lyrics to the live version...
Billy Bragg
"Waiting For The Great Leap Forwards"
live on October 5th, 2006

It may have been Camelot for Jack & Jacqueline
But on the Hugo Chavez highway, filling up with gasoline,
Little Donald Rumsfeld spies a rich lady who's crying
Over luxury's disappointments, so he goes over and he's trying
To sympathize with her, but he thinks that he should warn her
To prepare to be bombed back into the Stone Age

In the former Soviet Union, the citizens demand
To know why they're still the target of Strategic Air Command
And they shake their fists in anger and respectfully suggest
We take the money from our missiles and spend it on our hospitals instead

The Cold War now is over, but the stakes are getting higher
I'm frightened of collateral damage, and of friendly fire
and I don't believe we can defeat no axis of evil
but putting smart bombs in the hands of dumb people

Mixing pop and politics, they ask me what the use is
I offer 'em my acupuncturist and my masseuses
While looking down the corridor out to where my ego is waiting
I'm looking for the New World Order

Jumble sales are organized, all my mates got fat
Even after all this time, y'know you can still send me a fax
You can be active with the activists, or sleeping with the media
While you're waiting for the Great Leap Forwards

One leap forwards, two leaps back,
Will YouTube give MTV the sack?
Waiting for the Great Leap Forwards

Well here comes the future, and you can't run from it
If you've got a website, I wanna be on it
Waiting for the Great Leap Forwards

In a perfect world, we'd all sing in tune,
But this is reality, not American Idol
Waiting for the Great Leap Forwards

So join the struggle while you may
The revolution's just an ethical haircut away
When you're waiting for the Great Leap Forwards
This past Monday, KEXP radio also aired a live Bragg appearance at the Triple Door in Seattle. To listen to the performance, head over to the
KEXP Stream Archive
, and in the 'listen by time' section, choose Monday, October 2nd and 3pm. For now, here's a sample of the goodness you're in for...
Mp3
:
Billy Bragg - "Saturday Boy" (KEXP / live at the Triple Door)

Speaking of mixing pop & politics, it's exciting to hear that
Ted Leo
is finally in the studio, laying down all those great songs we've been hearing him play for the past few months with his Pharmacists. The trio is holed up somewhere in a Massachusetts barn, and rumor has it that the one and only
Brendan Canty
is at the helm. According to Ted's manager,
Molly Nueman
, "...it is sounding so incredible and uplifting and danceable and smart and important." Of that, I have no doubt (molly link via
bvegan
)

Former
Belly
leading lady and
Throwing Muse
Tanya Donelly
has a disc on deck, also due out on October 17th. It's an album of new material called "
This Hungry Life
" that was actually recorded at a live performance up at The Windham (
rip
) in Bellows Falls, Vermont. She's joined by an amazing cast of players for the recording, too, including ex-
Dambuilder
Joan Wasser on vocals & violin, Buffalo Tom/Crown Victoria frontman
Bill Janovitz
on vocals, Tanya's hubby Dean Fisher on guitar, journeymen Boston-area players
Rich Gilbert
(pedal steel) &
Joe McMahon
(upright bass), and ex-
Come
drummer Arthur Johnson. That's one hell of a band, and I can't wait to hear the disc. Check out some song excerts and pre-order it
here
, or at the
Eleven Thirty Records
site.
update 10/9
- an exclusive track from Tanya's "This Hungry Life", and it's a great one...
Mp3: Tanya Donelly - "Kundalini Slide"
Tanya will be making a rare live appearance at the Government Center location of
Newbury Comics
in downtown Boston on the release day, Tuesday, October 17th at 12:30pm. Looks like a long lunch break for me that afternoon...

While it's waaaaaaay too early to put up any Christmas decorations, it's not too early to pre-order
David Bazan
's fourth Christmas single from
Suicide Squeeze
. This time around, Bazan (aka
Pedro the Lion
&
Headphones
) brings us his takes on classic carols "
Away In A Manger
" and "
O Little Town of Bethlehem
". It's limited to 1,000 marble-vinyl copies, with just 200 set aside for online orders, so click
over here
to spend your six bucks. Orders will ship on October 25th, but if you miss the online action, it should be available in finer record stores on November 7th.

And lastly, because I can't resist gloating a bit: I was lucky enough to get into a preview screening of
Sacha Baron Cohen's
"
BORAT: Cultural Learnings of America for Make Benefit Glorious Nation of Kazakhstan
", and my stomach still hurts from laughing so damn hard. I've been waiting for this movie for what feels like forever, and it ends up being the funniest film I've seen in years. Amie and I can't stop recalling bits of it for each other, and we laugh again every single time. There are moments that you can't believe you didn't hear about in the news, scenes that will leave you wondering how Sacha escaped some jail-time. Cohen & co. deserve to make a hundred bajillion
Tenge
off this thing, and I know I'll be contributing when I see it again on opening weekend, November 3rd. I think I missed some good stuff while the audience was dying around me.
I'm slightly hesitant to spread this link around, but what the hell, here you go: If you're in the Boston, Providence, or Hartford areas and want to see a free Borat screening,
go here
. To prepare yourself, check out this collection of "
The 10 Best Borat Skits of All Time
", compliments of
Cracked
. And because I'm always thinking of you, here's my favorite
Bruno bit
. Pure joy.

Alright, I'm outta here. A glorious New England autumn weekend awaits me. If you haven't yet, take some time and enter the
Portastatic contest
below before Monday morning. Until then...