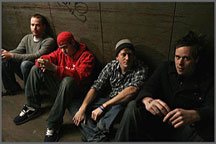 I nearly titled this post "
Oh Caspian, My Caspian
", but it set off my internal cheeze-o-meter, and I needed to be a bit more direct with this one. Because your attention is needed.
Boston's own
Caspian
released one of the most stunning (and remarkably mature) instrumental debuts I've ever heard in 2005's
"You Are The Conductor" EP
. The fact that it existed for over a year before I became aware of it bothers me a bit (right under my nose!), but it means that I hardly had to wait any time at all for the full-length follow-up. Minimal patience needed.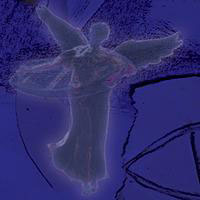 On April 10th, courtesy of
Dopamine Records
, it arrives: Caspian's first full-length disc, titled
"The Four Trees"
. Eleven songs over 60 dynamic minutes. And here, with the band's kind permission, is track ten from the album, the first official mp3 made available for download. And it delivers...
U.S. pre-orders via the
Dopamine site
might even get it a little early (and will receive a free poster). The disc sees a Japanese release on May 2nd (via
Xtal
), and a hand-assembled limited edition should be available at some point as well.
To mark the album's arrival,
Caspian
will stage their biggest show yet, at the Paradise on Friday night, April 13th at
the Paradise
. They'll be playing with the excellent
On Fire
and
Constants
, and tickets are available at the box office or
right here
.
To stream "
Crawlspace
" and "
Some Are White Light
", two other excellent tracks from
"The Four Trees"
, visit
Caspian's MySpace page
, where you can also hear a couple from that 2005 EP. Their own
music page
also has more mp3s, including a demo, live track, and some loops. There's even an entire live set from last fall shared up over at the indepensable
Live Music Archive
.
Caspian's
upcoming road trip starts on April 19th at the
Lit Lounge
in NYC, and after crossing the U.S. and back, winds up a month later in the very same city (in other words, you New Yorkers are a lucky bunch). Check their
MySpace page
for all 27 dates, and catch 'em if you can.