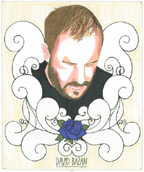 There's not a single weak link in the lineup for next Saturday night's show at
TT the Bears
in Cambridge, what with ex-Pedro the Lion frontman
David Bazan
being supported by
All Smiles
(the musical vehicle of
Grandaddy
's Jim Fairchild),
The Soft Drugs
(their first area full-band show, and fronted by David's former bandmate
TW Walsh
), and lead-off hitter
Drew O'Doherty
(ex-
Ivory Coast
-er and
Pharmacist
). A start-to-finish good time, and I've got a couple of guest list spots for one fortunate reader, courtesy of the kind crew at
Undertow Music
.
Let's see, how to give 'em away? If you're free that night and can make it to the show, send an email with a subject of "BAZAN!" to giveaways(-at-)bradleysalmanac.com with your full name and the town you live in. Enter by the end of the day on Wednesday, October 24th, and I'll pick a random winner the next morning, on Thursday the 25th. That name will wind up on the guestlist at TTs door with a +1 on Saturday, and I'll be there to make sure everything's cool.
Again, the details:
Saturday, October 27th, 2007 @ 9pm sharp
David Bazan, All Smiles, The Soft Drugs, & Drew O'Doherty
at TT the Bears in Cambridge, MA
Given that lineup and the night of the week, a sell-out is likely, so regardless of my little contest, you might wanna grab yourself tickets of your own
right here
, and be there by 9 o'clock to not miss a single note.
Here are all the dates from the David Bazan / All Smiles tour, which kicks off this Tuesday...
10/23 - Pontiac, MI - The Pike Room #2
10/24 - Cleveland OH - The Grog Shop
10/25 - Pittsburgh PA - Garfield Artworks
10/26 - Buffalo NY - Mohawk Place
10/27 - Cambridge MA - T.T. the Bear's
10/29 - New York NY - Mercury Lounge
10/30 - Brooklyn NY - Southpaw
10/31 - Philadelphia PA - Johnny Brenda's
11/01 - Washington DC - Black Cat
11/03 - Durham NC - Duke Coffeehouse
11/04 - Asheville, NC - The Grey Eagle
11/05 - West Columbia SC - New Brookland Tavern
11/06 - St. Augustine FL - Cafe Eleven
11/07 - Orlando FL - The Social
11/08 - Tallahassee FL - The Moon (with Spoon)
11/09 - Birmingham AL - BottleTree
11/10 - Atlanta GA - The Earl
11/12 - Nashville TN - Exit In
11/13 - Newport KY - Southgate House
After a Thanksgiving break, DB heads back out for another couple weeks in December with
J. Tillman
. Check out all those dates (with ticket-buying links)
right here
.
Labels: giveaways