Well, this is a very welcome surprise. Just found out that tonight in Asbury Park, NJ, and tomorrow evening right here in Cambridge, MA, the
very-long-awaited
Boston rock documentary
"Counting Backwards"
(which pulls its title from a 1991
Throwing Muses
song) will make its debut U.S. screenings.
From
MySpace
, here's a description of the film...
"...UK produced documentary about the explosion of Boston rock in the late 80's/early 90's featuring music and interviews with the Pixies, Mission of Burma, Juliana Hatfield, Throwing Muses, and Dinosaur Jr., plus a very nice segment on Fort Apache..."
The very definition of "right up my alley", and my ticket has officially been purchased.
Doors for tomorrow night's Cambridge screening (that's Saturday, January 5th) will open at 7pm at the
Middle East Upstairs
, where doc co-producer Dan Kramer will be on hand for a pre-film music trivia contest. And following the movie, several acts will help the
Joe Harvard Band
celebrate their leader's birthday, including some belly dancing from Zareena,
Asa Brebner
and the
Family Jewels
,
Rick Barry
, and lastly, the J.H. Band themselves.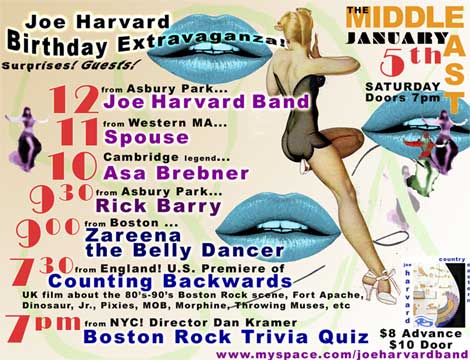 Come for the film, stay for the music. Or come for the music, arrive early for the film. Either way.
View the trailer for "Counting Backwards"
here
. Tickets for tomorrow's Boston-area screening can be had
here
. Information on tonight's Asbury, NJ screening can be found
here
.