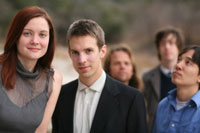 While
Shearwater
doesn't release
"Rook"
(their Matador-released follow-up to 2006's brilliant
"Palo Santo"
) until June 3rd, they'll undoubtedly be playing songs from it at
the Paradise
in Boston this Friday night, May the 9th. The band (who are fronted by the golden-throated Jonathan Meiberg, himself on leave from keyboard duties in
Okkervil River
) is opening for Liverpool's
Clinic
, who themselves are out promoting their latest disc
"Do It!"
.
I'm fortunate to have a pair of guest list spots to dole out to an Almanac reader, so if you'd like them, simply email your full name and the town you live in to
giveaways [at] bradleysalmanac [dot] com
, and put
Shearwater
in the subject line. Make sure you do so before Thursday morning at 9AM, and as usual, I'll then pick a random name out of my virtual hat. And on Thursday afternoon you'll find out via email if you'll on the guest list with a +1 at the Paradise on Friday.