So here we are, well into the month of May, the traditional New England transition from Spring to Summer when ridiculously humid days are intertwined with painfully chilly ones, when Mother Nature can't decide what kind the hell kind of mood she's in, so the fickle bitch often just ends up crying on us. No matter the weather, if it's a mid-weekday you'll be able to take safe shelter inside one of three cozy local venues as three of our finest area songwriters set up shop and share not only their solo sets, but the music of friends they invite along for the ride. Here's much of your potential show-going month ahead...

Tuesday Nights in May at the Lizard Lounge in Cambridge...

You've got two more May chances to catch
John Shade
backed by the gorgeous sounds of the
Neave String Quartet
down in
the Lizard Lounge
in Cambridge. I've been fortunate enough to see him a few times in recent months, twice at the Armory and most recently outside in Harvard Square, and every time has been totally transportive. Even train bells, crying babies, and popping kettle corn couldn't detract from the beauty of their
Mayfair set
last weekend.
His remaining two LL Residency dates are tomorrow night, May 11th (word is that the combo will be joined once again by
Clap Your Hands Say Yeah
drummer Sean Greenhalgh), with support from
Vikesh Kapoor
and
Margaret Glaspy
, and again next Tuesday the 18th (when guests include Jocie Adams from
The Low Anthem
and
Laura Cortese
).
Want to attend the final night, next Tuesday the 18th? Well, John has been gracious enough to offer up a pair to a random Almanac reader, so drop an email to
giveaways [at] bradleysalmanac [dot] com
titled "
Shade in the Lounge
" before Monday the 17th at Noon, and let me know which town you live in. I'll pick a winner and let them know shortly after.
Buy advance tickets of your own
right here
, and be sure to visit the
John Shade
site, where you can download the entirety of his "All You Love Is Need" album, along with a new song backed by the Neave Quartet. Also worth a checking out - A new
JS write-up over at the Phoenix
.

Wednesday Nights in May at O'Briens in Allston...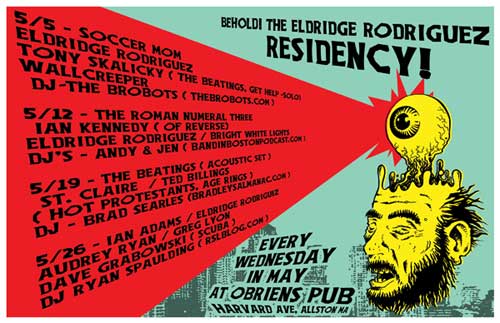 Officially known as "
The Eldridge Rodriguez 100 Percent Natural Good-Time Family Band Solution Residency
",
the Beatings
frontman kicked off his month-long, Wednesday-night O'Brien's occupation last week, making the second installment a couple days away. As the title says, E.R. is keeping it family-flavored, inviting along
Midriff Records
labelmate
Ian Adams
(opening on 5/26), his Beatings bandmate Tony Skalicky (who opened last week), and even his own band as an acoustic opener next week, on the 19th.
Each evening also brings a different DJ to spin songs between each set, and I'm fortunate enough to be one of 'em. Last week was
The Brobots
,
this Wednesday
will be the wonderful Jen + Andy from
Band In Boston
, the
3rd week
is yours truly (that's when
the Beatings
play acoustic, with openers
St. Clair
and Ted Billings of
Hot Protestants
... so psyched!), and batting cleanup
on 5/26
is Ryan from
Ryan's Smashing Life
. Pretty honored to have been invited, although I'd probably be at this show regardless (and hey, I can almost see O'Brien's from my house).

Thursday Nights in May at the Armory in Somerville...

A bit further away from my home base, but well worth the journey, is
Brendan Boogie
's
May residency
at the
Somerville Armory
. Sir Boogie and friends take over every Thursday night this month in the turret room, and the next one looks pretty sweet: Joining Brendan on the bill are Jason Dunn from
the Luxury
and Magen Tracy of
St. Helena
. Good bands, both, and as far as I know it's not often that either of them step out for solo sets. Check out the
Armory calendar
for the rest of the BB lineups, head over to
Boston Band Crush
for a far more punctual write-up on the residency, and hop to
The Dig
where Brendan attempts to defend himself.