Finally, it's back.
As promised, the programmers at
MusicLivesOnline
have just delivered the fully-functional (and still completely free) version 3.0 of my favorite WinAMP plug-in,
SpinAMP
.
Download it, make sure you have
WinAMP version 5.0
or higher (earlier versions will work, but with a new .dll that SpinAMP provides), and install away. Instant access to about
200
channels of streaming radio. Choose your favorite stations, and with a couple clicks you can find out what's playing on each one, with another click you can see what's coming up, one more and you're listening to whatever you're in the mood for. Hear something new you like? One click adds the song info to a notepad file that you can check out later. It just plain rocks.
It basically jacks into
Radio@Netscape's
music streams, which were lamely locked down a couple months ago and made available only to AOL subscribers, and with a horrible user interface. Now, I love their content, but not enough to join AOHell and use a crappy, memory-hogging, unintuitive player to hear it.
SpinAMP makes it easy. All you need is the free WinAMP player, the latest version of SpinAMP, and you're set. Couldn't be simpler.
As I type this, here's what's playing on my faves ...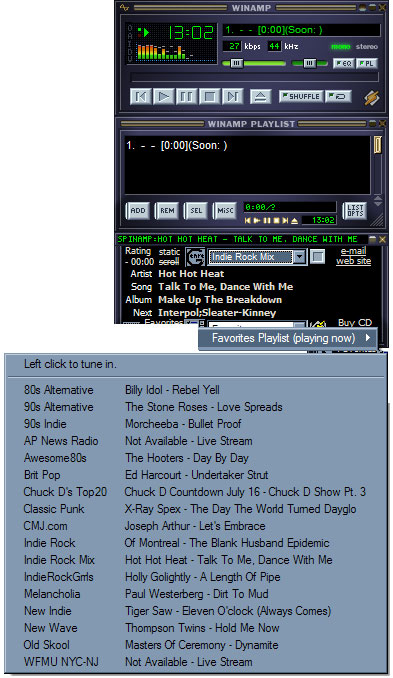 and here's what's up next ...
That's just the tip of the aural iceberg. I've found so much great new stuff (and old stuff I'd missed), and randomly heard relatively obscure bands I never thought I'd find on there. Hell, I've even heard
my own bands
on there. Almost fell out of my chair. I don't know who programs R@N's indie stations, but I owe them a beer.
When SpinAMP programmer HJ was asked about the difference in audio quality of the streams, and about AOL's knowledge of SpinAMP, here's what he had to say...
"The audio format is now AAC (they use the LC [low complexity] streams because those can be used without licensing fees), and it is at the same bitrate as the previous Real Audio streams. It sounds about the same to me, but I'm not too picky.

There never has been any agreement with AOL/TW/Spinner/Nullsoft, but they know about SpinAmp... @5 years ago when I sent them a copy of SpinAmp they loved it (put it as the featured plugin on Winamp.com) and were going to buy it (but of course, they never did)."
Well, hopefully they won't block access from this new version like they did with the last one. Fingers are crossed and headphones are on.
Hey, Ted Leo just came on the Indie Rock Mix channel. Convinced yet?
Go get it
.