Are any other Red Sox fans feeling sort of, well, lost? I honestly don't know what to do with myself... my brain has absolutely no idea how to deal with what's occurring in the wake of last week's stressful, then depressing, then cautiously optimistic, then completely unbelievable Yankee smackdown. This so-far-too-easy World Series can't really be happening, can it? It's highly possible that I'm in some kind of sports-induced state of shock. Seriously.
So I'm getting an overwhelming amount of traffic from people searching for "Red Sox Parade Route", thanks to
this post
I made just over one year ago, which included this map...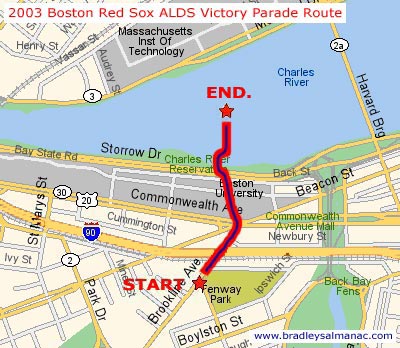 Eleven days ago, on Saturday, October 16th, 2004, the Yanks had just humiliated us 19-8 in Game 3 of the ALDS, and that was exactly one year after Grady got himself fired. We were down three games to none and like many, I'd lost hope. I came real close to opening up photoshop and crossing out the '3' in '2003' and replacing it with a '4' on that map up there. But thanks to one swing by Ortiz and the games that followed, I damn well didn't needed to.
And barring what could only be called an "Old-School-Red-Sox-Style" collapse (I just knocked on wood several times), we might actually have a
real
parade route to follow pretty soon. One that doesn't end up at the bottom of the Charles River. How 'bout
that
?