Friday, glorious springtime Friday. Another hell week of work nearly behind me, and it's gonna be nuts right up until quittin' time. Given that, I'm just gonna dive in and rattle off a bunch of stuff, so hold on there...

Many thanks to RSL over at
Swimcommunity
for pointing out that Damon from the
Swirlies
has just posted some
live Swirlies tracks
. 4 songs buried in 30 minutes of expected aural weirdness on WBCN's Nocturnal Emissions show back in May of '95. Grab 'em soon, because they're gone in early May, hopefully to be replaced by even more free downloads.

Did anyone else catch
Sealab 2021
this past Sunday? One of the funniest in awhile, what with
Public Enemy's
(and now
ex-Air America employee
) Chuck D providing the voice of a cancer-stricken, suicidal whale (who had tried beaching himself, but "f'in hippies" kept putting him back in the water). Would have loved to have heard him rap a bit with Hesh (aka
MC Chris
), though. I've been digging the recent, and relatively minor, changes: Tornado Shanks losing the accent, the upped presence of Erik Estrada's Marco, and ending some shows with bizarre voice-loop outtakes. Gets me laughin' out loud every single time.
Season 3
will be out on DVD July 12th, and damn if the packaging isn't
super-stylin'
. Thought they couldn't top the design of Season 2, but it looks like they may have.

I missed all the (unstoppably overblown) Sox-Yanks shenanigans last night, as I was deep down in a basement for some band practice, but I trust no one more than
Surviving Grady
to deliver the straight skinny. Red was there, fifteen rows behind the drunken nutjob who slapped Sheffield, and has a good eye for detail on all the replay action. Check out
his take
... I'm guessin' it's the most right-on and reasoned one out there (bookmark him while you're at it). So is the national sports media so starved for stories that this mess rates constant repitition? Movin' on...

I'm loving this
Google Sightseeing
site, a blog that pulls together notable satellite images of random landmarks, buildings, and strangeness all over the world from the new
Google Maps
feature. Hello,
Fenway
.

If you missed the live broadcast of that streaming
Wedding Present
gig over at
Fabchannel.com
last week (as I did, thanks to work), well, good news. They've now got it
archived and viewable
for all. Gonna check out that sucker this weekend to get even more psyched up for their Boston stop in a couple weeks.

Don't forget to set the ol' TiVo: The reunited
Dinosaur Jr.
is on the
Late Late Show
tonight (ok, technically tomorrow mornin'). My money's on
Freak Scene
. Oh, and their reunion
tour dates
were just announced, with Boston on July 15th at Avalon. I'm so going.

Summer at Shatter Creek
just finished up a little West Coast jaunt, and wrote up some comments in a mini
tour diary
. Comin' east yet, Craig?

The
nominations
for this year's Eisner awards are out, and there's comic-book related congrats to pass around. While I highly agree with the inclusion of
Bill Willingham's
Fables
,
Brian K. Vaughan's
books,
Warren Ellis'
work, and
DC: The New Frontier
, I'm most psyched to see
Brian Wood
&
Becky Cloonan's
12-issue
DEMO series
get recognized in two categories. I've mentioned it a few times here, so my enthusiasm should come as no surprise to regulars. And because everyone is required to whine about something not getting nominated that should have, where is the love for
Jock's
striking cover work on
The Losers
. Love 'em. Hell, I love everything about that book.
For random creator reaction,
read this
, and as long as I'm mentioning Mr. Wood, head over to
his site
to check out the newly revealed redesign.

In the "ask and ye shall surprisingly receive" department: For over three years I've been silently (and barely) annoyed by the fact that there's no place to easily pick up a copy of the free
Boston Phoenix
weekly near my office here on Huntington Ave. Not a big deal, but a couple weeks ago, possibly in a fit of surfing boredom, I dropped the Phoenix an email asking if they might throw a distribution box outside the Copley Mall, across from the Shaws supermarket. Well, much to my surprise... a couple days ago one actually showed up. Hey, they listened! Probably didn't hurt that I mentioned their competition,
The Weekly Dig
, already had a box there. Nice to be able to snag a copy of both on my way into work every Thursday morning now.

Speakin' of my walk to work, on certain days I cut through the mall (if it's either super-cold, or I'm craving an early-morning coffee... which is lately every day), and on Wednesday I noticed a certain out-of-place-someone standing in the line at Dunkies. Then I noticed another, and another. What made them out of place? Let's just say they were all dressed up like "ladies of the night". Working girls, and not the business suit wearin' kind. Don't know if they were getting an early start or a late end to their shift, but you rarely see them early at the Copley.
As I grabbed my medium regular and continued on, I saw a sign that explained it all: "Auditions for America's Next Top Model Today!", and a very long line of scantily-clad, overly-made up girls waiting for their shot at so-called stardom. Now, I've never seen the show, but can whoring it up really help? Needless to say, once I spread the word at work, lots of my co-workers suddenly got coffee cravings of their own. I think one guy made six or seven trips, and thought about bringing a clipboard for his own 'personal auditions'. Yikes.

So I've got a favor to ask. If anyone in California catches
The Album Leaf
on
tour
this coming week, can you pick me up a copy of their new
tour-only EP
? It's a must have for me, and I'll compensate ya accordingly.

Today ain't just tax day... more importantly it's my cat's birthday. Yeah, go ahead and laugh, but I don't know what I'd do without crazy Hazel around...
She's 11 now, marking her b-day just a few days after our dog Nina, who turned 2 this past Sunday...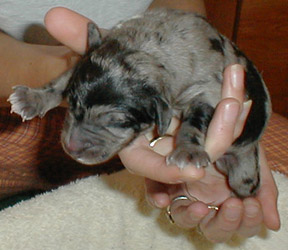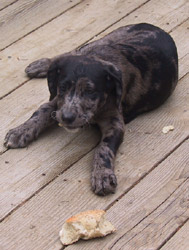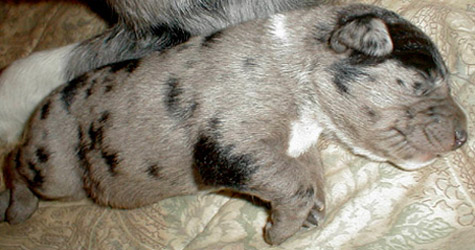 (Just had to mention it, in case either of them reads this, y'know).

Busy weekend ahead, starting this evening when I head straight from another band practice over to
PA's Lounge
in Somerville for
Shumai
,
the Icicles
, and my Vermont pals in
the Smittens
. Tomorrow it's more music making and hopefully a viewing of the South Korean film
Oldboy
, which I've been waiting awhile for. Sunday: more practice, and hopefully some relaxin'.
Why so much practice? Well, we (meaning
Charlene
) have a couple shows next week, the first on Tuesday night opening up for
Mary Timony
and Noll at
TT the Bears
. I'm not sure if I'm more excited just to share a bill with her and her band, or to just hold her new album in my hand when it's released that day. Cannot wait.
On Wednesday we drive up to Portsmouth, New Hampshire to play a place called
Muddy River Smoke House
, which I guess was a blues club that's been trying to change it's lineup a bit with more alt-indie type stuff. Dunno the details, but I do know that we're sharing the night with our friend Adam and his
Broken River Prophet
... which I'm supposedly playing in? Considering it's a few days away, you'd think I know for sure. I'm just looking forward to playing a place with the words "Smoke House" in it's name. That's definitely a first.

Be sure to stop back on Monday for next week's
Mp3s of the Week
, which will be... actually, I have no idea. We'll see if I can dig up something special over the weekend. Enjoy yours ...