Ok, so how the hell did I not know until now that
POND
is freakin' reuniting?! It may just be for
a one-off show
this coming weekend in Portland, OR... but it's huge news for me nonetheless.
I bow down at the altar of
Pond
, a trio who released three excellent records between '93 and '97, the first two on
Sub Pop
and the final on Sony/Work Records. Bassist/singer Chris Brady went on to form
Audio Learning Center
(with guitarist Steven Birch from the stellar
Sprinkler
, who are also reuniting this weekend). Guitarist/singer
Charlie Campbell
has been recording songs for tv and film, and released a disc under the moniker
Goldcard
. As far as I know, drummer Dave Triebwasser focused on school and a day job after Pond's breakup in '98. For an interesting post-Pond interview with Charlie, go
here
. And after reading it, Pond's impending on-stage reunion will seem like even more of a minor miracle.
Hot damn, I wish I could be there. Not just for Pond, not just for Sprinkler, but Hazel and Crackerbash, too. A night full of reunions. Plus, you get a whole
festival full
of current artists including Crooked Fingers, Colin Meloy, Quasi, and Robyn Hitchcock. You lucky, lucky Northwesterners.
In honor of Pond's return to the stage, I've gathered together all their rarities that I have for your downloading pleasure...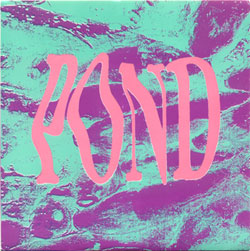 Pond
collected rarities
1991-1994
from their 1991 debut 7" on T/K records...
Young Splendor (original version)
Tree (original version)
their 1992 John Peel Session...
Cinders (live)
Snowing (live)
Pretty Thing (Bo Diddley cover - live)
Spots (live)
from the 1992 'Wheel' cd ep...
11x17
Cinders
Snowing
from the 1992 'Wheel' German import 12"...
Ebner
from the 1994 'Moth' 7" single...
Moth
You Don't Quite Get It Do You But You're Thinking Hard
And for the love of Pond, if anyone is going to see them play this weekend, you've just gotta record it. Share it with me, and I will give you shiny, shiny things.
Labels: livemp3s