As DC Berman said from the stage when he and his
Silver Jews
came to town a few weeks back: "
It's not a once in a lifetime thing...
". Before this first ever Joos tour, most of us figured it'd be a "
not in our lifetime
" thing, but Berman, his wife Cassie, and some musical friends made it happen. Only took him 15 years or so, and he even promised they'd return to these parts again.
Until then, or until another Silver Jews album arrives, here's something to hold onto... the entire set from their show at
The Middle East
in Cambridge, MA. It was the 8th night of the tour, and according to someone there who'd also seen the two previous NY shows, it was a night that they really came together as a 'band'. I've got nothing to compare it to, but it all worked for me.
The only real drawback? People, of course. While most of the sold-out crowd was there to see and hear the something special, there seemed to be a disproportionate number who were there to be seen and heard, who'd read that it was 'the place to be', and spent the set both jibbering and jabbering. You'll hear what I mean when you listen to the mp3s... there's a constant buzz of conversation throughout.
Fortunately the mix helps mightily. The usual difficulty of mixing in the confines of the low-ceilinged Middle East downstairs was overcome by their touring soundman, who just happened to be Pavement drummer Steve West. I thought I recognized him when checking to see if it was cool to record the show (and of course, it was), and sure enough, he was along for the trip. Definitely explains why the drum sounds, which can be the first things to get lost in a sometimes-muddy MidEast mix, come through pretty damn clear. This equal-parts Joos & Pavement fan got a little kick out of seeing West behind the board when his ex-bandmate (and now tour manager) Bob Nostanovich came on stage to drum on a couple songs. I've loved "
Trains Across The Sea
" for what seems like forever, and having him play his original part was a real treat.
Here's the show, more links below...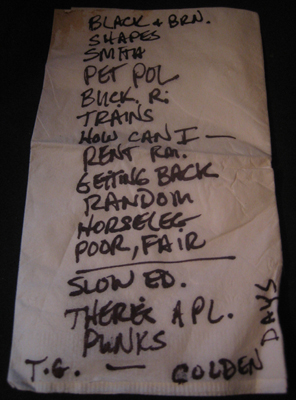 The Silver Jews
Live at
The Middle East Downstairs
Cambridge, MA
Sunday, March 19th, 2006
(note: files removed on 10/1/2006)
01.
intro
02.
Black & Brown Blues
03.
Animal Shapes
04.
banter 1
05.
Smith & Jones Forever
06.
Pet Politics
07.
Buckingham Rabbit
08.
Trains Across The Sea
09.
How Can I Love You If You Won't Lie Down
10.
How To Rent A Room
11.
I'm Getting Back Into Getting Back Into You
12.
Random Rules
13.
Horseleg Swastikas
14.
banter 2
15.
The Poor, The Fair, & The Good
16.
Slow Education
17.
There Is A Place
18.
Punks In The Beerlight
19.
I've Loved Them Every One
(
TG Sheppard cover
)
Although the setlist indicated they'd close with "
Inside the Golden Days of Missing You
", they decided against it...