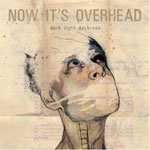 Athens, Georgia-based
Now It's Overhead
come to town next Tuesday, November 7th, as part of a stellar triple-bill with
The Album Leaf
and
The Lymbyc System
at the
Middle East Downstairs
in Cambridge. While I'm a longtime Album Leaf fan, my recent fascination with NIO's just-released third album, "
Dark Light Daybreak
", has me all the more excited for the show. Top that off with an emailed heads-up from a discerning Almanac reader that The Lymbyc System (who release their own full-length, "
Love Your Abuser
" on
Mush Records
in January) are a solid "do not miss", and there's no doubt I'll be there from the first note to the last.
Saddle Creek Records
, who have released all three of Now It's Overhead's records, have generously offered up some some freebies for me to dole out ahead of the show. Here's the deets...
1st place: An autographed copy of Now It's Overhead's "Dark Light Daybreak", an autographed poster, and 2 tickets to the show at the Middle East next Tuesday.

2nd: An autographed disc and poster.

3rd: An autographed poster
To enter, just drop an email to [giveaways-at-bradleysalmanac-dot-com], write "NIO" in the subject line, and let me know your mailing address. Anyone can enter, although I'll randomly choose from Boston-area readers for the 1st place prize.
I'll take entries through Thursday evening, November 2nd, and announce the winners on Friday morning.
Until then, here's some related links for ya...
Hit up Now It's Overhead's audio page at Saddle Creek to stream the entirety of "Dark Light Daybreak" and grab a few mp3s, their MySpace page for a download and four streams, or grab a couple here...
Mp3s: Now It's Overhead - "Walls" / "Let Up"
Listen to some Album Leaf and Lymbyc Systym at their MySpace pages, or check out these tracks...
Mp3: The Album Leaf - "Always For You"
Mp3: The Lymbyc Systym - "Truth Skull"
Now It's Overhead is in the midst of an extensive U.S. tour, and they'll be heading over the Atlantic in January, so keep an eye out, wherever you may be.


The Album Leaf and The Lymbyc System continue on their fall tour through the end of November, and they'll be joined by Dirty on Purpose for most dates after the Boston show.

Labels: giveaways