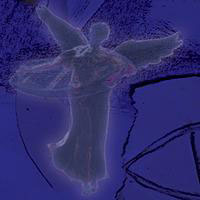 It's a big week for the boys in the Beverly-based band
Caspian
, as their long-awaited first full-length,
"The Four Trees"
, officially arrives this Tuesday. To mark the release, the guys will be on
WFNX
tonight, appearing on the weekly
New England Product
program at 10pm, and will be hanging out at
River Gods
in Cambridge tomorrow night for an album listening party (and playing some of their owns faves). The week peaks with a bound-to-be-great Friday night headlining show at
the Paradise
in Allston, which launches the band into a month-long
national tour
, delivering the sounds of "The Four Trees" to our west and south.
Having spent a solid week with my pre-order copy of the disc, I'm so glad to discover that it delivers on the promise of their lauded 2005
"You Are The Conductor" EP
, and much more. They've expanded on the balanced sides of their sound, adding depth in both directions, from pure power to remarkable fragility. There are moments of massive near-metal (the good kind), and others that are too beautiful for words (so to speak). The effects-laden dual-guitar interplay is more intricate, aided even by the occasional acoustic lull, and the rhythm section is even more dynamic, two facts that set them above and apart from other like-minded instrumental artists.
Y'know, it almost seems a slight disservice to categorize Caspian as an "instrumental" band, although there's no denying that's what they are. Unfortunately some more passive music fans stick modern instrumental acts in a box, labeling them "post-rock", and moving on to others with lyrics and singers that serve 'em up (the same types might skip an amazing foreign film just because of subtitles). But the fact that Caspian offers no words, and therefore no easily-uncovered meanings behind their music, for me only adds to the emotional impact of what they create: it is what you make it, it brings to you what you bring to it. Critics will use easy words like "cinematic" to describe their sound, and the songs may find their way onto soundtracks (which has brought cash and exposure to some of their categorical peers), but it can't be dismissed as "background music". It demands your attention, and in fact, it's driving me to distraction as I'm trying to write this. I'm taking long breaks just listening, getting even more psyched for the Paradise show on Friday.
With the band's permission, here's a set they played back in January, just down the street at
Great Scott
. The night was a benefit for those impacted by the fire at the
Pan9 art collective space
in Allston (and despite the passage of time, I'm sure they could still use your help if you've got a little cash
to spare
). While the sound quality of this set is pretty good, it still doesn't do the band's live shows justice, doesn't recreate what it's like to stand in front of them with eyes closed and ears open...
Caspian
Live at
Great Scott
in Allston, Massachusetts
on Tuesday, January 9th, 2007
01.
Some Are White Light
02.
Crawlspace
03.
Quovis
04.
Further Up / Further In
05.
Last Rites
06.
Moksha
07.
Brombie
Buy Caspian's "The Four Trees" from
Dopamine Records
, for a mere $8 at
Newbury Comics
, or digitally via
eMusic
. You can also pick it up at Friday's show at the 'Dise, so grab tickets to that
over here
, or cheaper at their box office. Joining Caspian will be the excellent
On Fire
and
Constants
.
Some Caspian links...

the very fine print...
Recorded with a Sony ECM-719 mic and a Sony MZ-RH10 minidisc, converted to .wav and then edited to 192kbps mp3s. Mp3s are made available for a limited time, and are not reposted once removed.
Labels: livemp3s