It's not often that I devote a single post to a specific show announcement, but this one means enough for me to do exactly that...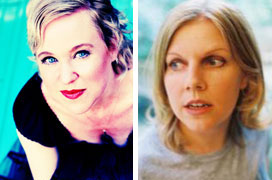 On Saturday, October 6th, 2007,
Throwing Muses
co-founders (and stepsisters)
Kristin Hersh
and
Tanya Donelly
will perform together on stage at our beloved
Brattle Theatre
here in Cambridge, Massachusetts. For two separate shows, each will play a solo set, followed by a set together, which will no doubt include old (and maybe new?) Muses songs. Amazing.
For those not aware, a bit of history: Kristin and Tanya started Throwing Muses with drummer David Narcizo and bassist Leslie Langston well over 20 years ago in Newport, Rhode Island, and were the very first American band signed to the
4AD
record label. After releasing several brilliant albums and EPs (my fave:
"The Real Ramona"
), and after Tanya spent some time playing in
the Breeders
, she departed in 1991 to focus on her new band,
Belly
, and the Muses soldiered on as a trio. While they released four more full-lengthers (the most recent being a self-titled 2003 disc), Kristin put out some softer, but no less magical, solo albums, and more recently started up
50 Foot Wave
as an outlet for her harder stuff.
When Belly officially split in '97, Tanya started releasing solo albums of her own, including the gorgeous
"This Hungry Life"
, which came out late last year. Kristin's newest,
"Learn to Sing Like a Star"
, was released just a few months ago, and is her strongest in years, with more layered production that echoes her time in the Muses more than ever.
Throughout it all, Kristin has never said that Throwing Muses had stopped existing... and for at least one night in October, we get them back again.