Been a little while since I've done one of these info-blasts, and as usual I've got lots to share...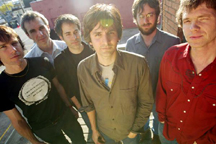 Touch & Go
has shared the
track listing
for
The New Year
's upcoming self-titled 3rd album, due out on September 9th. The ten track disc will include: "
Folios
", "
The Company I Can Get
", "
X Off Days
", "
The Door Opens
", "
MMV
", "
Seven Days and Seven Nights
", "
Wages of Sleep
", "
Body and Soul
", "
My Neighborhood
", and "
The Idea of You
". If the title "
MMV
" sounds familiar, that's because it's a song the band unveiled at the
2006 Middle East Upstairs
show that I shared on the 'Nac awhile back.
Read what the band has to say about the album
here
, and check out an all-too-brief hi-hat laden
teaser video right here
. The mailing list message that shared the video was titled "The Door Opens", so I'm guessing that hi-hat is from that song... but who knows? The band has also shared a
video for "

The End's Not Near

"
(
quicktime
), which was started years ago, but only recently completed. Details
here
.
While the full band won't be touring until the record is out in the fall, the core duo of the Kadane Brothers will be playing a
bunch of shows
with
Bottomless Pit
(ex-Silkworm/Seam members) in late June and July, including a stop at the
Middle East
on Saturday, July 12th. New Year drummer
Chris Brokaw
will be pulling double duty, performing an opening set of his own solo material, and since Matt 'Biznono' Kadane was also a Silkworm member in their later days, perhaps he'll be joining the Pit on stage for a keyboard assist or two? Regardless, it'll be a can't-miss, friend-filled night, and on a Saturday, no less. No excuses on this one.

Speaking of
Bottomless Pit
, they already have an EP in the pipeline that follows last fall's release of their debut long-player,
"Hammer of the Gods"
. The four-song
"Congress" EP
will be available digitally at the
Comedy Minus One
label page on June 1st, and in July the band will release a vinyl version (cd included) on their own, which we'll hopefully be able to grab at
those shows
with the Kadane Brothers. You can download one song from the EP ("Fish Eyes") courtesy of the label, or stream two others ("
Red Pen
" and "
Angry Swan
") at the
Bottomless Pit MySpace page
. I'll share "Fish Eyes" here as well, to save C-1 a little bandwidth and get it into the Hype Machine...
Mp3

: Bottomless Pit - "

Fish Eyes

"

The
Comedy Minus One
label has also done the Silkworm legacy proud with the digital releases of a whole bunch of out-of-print SKWM and SKWM-related music earlier this month. Not only did the label make available Silkworm's 1994 masterpiece
"Libertine"
, and their swan song
"Chokes" EP
, but they've also digitally released a 2002
Tim Midgett solo EP
along with the 1997
Ein Heit
album (the original Silkworm briefly reactivating their first band name) and a 1997
Crust Brothers live recording
(Stephen Malkmus and the Silkworm trio). This is all until-now rare gold, and well worth downloading from either iTunes or emusic. Head to
Comedy Minus One
for the purchase links and an mp3 from each of those releases. (thanks to
Jay @ Clicky Clicky
for the tip on that one)

Also issuing an EP this summer is
Ida
, who will release
"My Fair, My Dark"
on August 5th via
Polyvinyl
. The 7-track disc (and 8-track vinyl) will feature two brand new Ida songs, "
Don't Wreck It
" and "
Still Life
", along with a live version of "
Late Blues
" that features none other than the legendary Levon Helm of the Band. The other four tracks are covers of songs by Anne Briggs, Dolly Parton ("The Pain of Loving You", also featuring Levon Helm on Mandolin), David Schickele, His Name Is Alive (the bonus vinyl track), and this version of John & Beverley Martyn's "
Road To Ruin
"...
Mp3

: Ida - "

Road To Ruin

" (J. & B. Martyn)
P4K premiered the gorgeous Dolly Parton cover a few days back...
Mp3

: Ida - "

The Pain of Loving You

" (Dolly Parton)
Ida has a few East Coast shows coming up, including five with
Michael Hurley
(one of which is a June 1st stop at Somerville's
Nave Gallery
), and another with Alan Sparhawk's
Retribution Gospel Choir
on June 17th at Brooklyn's
Union Hall
. Detail on all dates
here
.
And in case you haven't noticed yet, Ida's revamped
website
has an
audio archive
where you can download a bunch of free live tracks. I wholeheartedly endorse that product and/or service.

Huge Boston-area show news:
The Notwist
are coming to town. I was assured by their manager that 2008 would be the year of the Notwist, and he was not kidding. First their new album arrives on our shores June 17th (it's already out overseas, and it's ace), and in the fall we'll get a full North American tour, including a Sunday, October 12th stop at the Roxy in Boston. Now, that's not exactly the venue I'd have preferred, but nothing's going to keep me away. Tickets are already
available here
, and in fact, they're the only tickets listed at Ticketb@st@rd for the tour so far. So go get 'em, and keep an eye out there if you're in a different city.

Here's something that surprised the hell out of me: A new album from German/Danish trio
18th Dye
. I had no idea the band was back together after 10 years apart, but I was a huge fan of 1995's Matador-released, Albini-recorded
"Tribute To A Bus"
, as well as that year's "Crayon" EP and their 1994 debut disc, "Done". They've been so long off the radar that I was very surprised to see a May 6th release date for a new album titled
"Amorine Queen"
. Now, I've searched in vain for it in shops around Boston, and emails to their Danish label
Crunchy Frog
have gone unanswered, so I resorted to a third party Amazon reseller. Hope it shows up soon, and more importantly, I hope it's even half as good as the old stuff.

Another (semi) reunion that has me extremely excited is the return of
Six Finger Satellite
. While only two of the longtime members remain (singer J. Ryan and drummer Rick Pelletier, who will supposedly play guitar live), I'm still game for whatever those guys do, including the upcoming 8-song
Load Records
disc. Not sure of an exact release date for that sucker, but maybe they'll have it for sale when they hit Allston's
Great Scott
on August 10th as part of a killer line-up that includes
Ho-Ag
,
The In Out
, and
Certainly, Sir
. Um, there's a sell-out for ya. Tickets
here
. Catch up with Six Finger Satellite by reading this recent
J. Ryan interview
at the Providence Daily Dose.

Full streams of a few new albums you should be made aware of...
The Wedding Present - "El Rey"
(@ AOL's Spinner for a week)


Out yesterday, May 20th




Spiritualized - "Songs in A & E"
(full album stream @ MySpace)


Out May 27th




The Futureheads - "This Is Not The World"
(@ MTV UK, which requires you to enter your email addy)


Out June 3rd

I'm loving that
Wedding Present
album so far (no surprise there), as well as
Death Cab For Cutie
's new one, which I also picked up this week. Better than "Plans", for my money.
Naturally the boys from DCFC have been everywhere over the past couple weeks, working the album like champs (resulting in their first-ever freakin' #1 debut), but I haven't yet seen this
video interview
posted elsewhere. It's a feature called
"iNterview"
, hosted at relatively new multi-media site
Sly-Fi
, a part of
Hobnox.com
. The both goofy and informative piece, which features Ben Gibbard and Nick Harmer, was put together by sending the guys some prerecorded questions on a MacBook, which they'd use to record their answers before shipping it back. The Sly-Fi content can be embedded, so let me give that a shot right here...

Hrishikesh Hirway, aka
The One AM Radio
, is writing songs for a follow-up to last year's excellent
"This Too Will Pass"
, but in the meantime he has
offered up
a little something to help ease the waiting: A cover of country song
"

The Wayward Wind

"
(which has seen many versions, including ones from Patsy Cline and Neil Young). You can download the track here...
Mp3

: The One AM Radio - "

The Wayward Wind

"

Allston's own
Thalia Zedek
just gifted us with a new full-length,
"Liars and Prayers"
, via Thrill Jockey on April 22nd, and it's easily the best of her solo albms so far. This is the first of the former Come/Live Skull frontwoman's releases put out under the "Thalia Zedek Band" name instead of just her own, and the expansion of that band to a five-piece has added major depth to the instrumentation. In addition to the viola work of David Michael Curry and the drumming of Daniel Coughlin, Thalia has filled out the low end with Fuzzy/Consonant (and one-time Come) bass player Winston Braman and former Victory at Sea-man Mel Lederman on piano. Beautifully powerful stuff, and you can stream a couple of the new songs
at MySpace
, or grab a track here...
Mp3

: Thalia Zedek Band - "

Lower Allston

"
The Phoenix
has a great write-up on Thalia and the album, and the band also performed live on WMBR's esteemed
Pipeline!
program on April 22nd, which you can stream
here
or download via the
Pipeline! Podcast
.
The Thalia Zedek Band plays this Friday night, May 23rd, upstairs at the
Middle East
in Cambridge with Fugazi's
Joe Lally
and his trio, as well as openers
Drew O'Doherty
and Geoff Farina's
Glorytellers
. Nice lineup, indeed.

Author
Neil Gaiman
will be speaking at
MIT's Kresge Auditorium
this Friday evening, but hopefully you already know that, as it's already very sold out. The event is the first-ever
"Julius Schwartz Lecture"
, which will be an annual event held to "honor an individual who has made significant contributions to the culture, creativity and community of comics and popular entertainment". It was founded and named in honor of longtime DC Comics editor
Julius "Julie" Schwartz
, who passed away in February, 2004. Read
Harlan Ellison's
and
Alan Moore's
posthumous words on the man to get an idea of what a giant he was in the industry.
If you can't be there, know that it's being recorded for a DVD release (which means I won't be sharing a recording here on the 'Nac), so keep an eye on
this page
for release details.

It's ridiculous how many more things I have to share, but I'll save the rest for the next miscellaneous post. Before I go, here are a couple of self-promo bits...
I've started writing mini-previews of upcoming Boston-area shows for the new international live gig listing site Songkick. For each of the major cities the site covers (London, NYC, LA, Boston, many more), they pick one local music blogger to hand-pick and shine spotlights on a bunch of shows each month, and I'm their Boston boy. Head here to read a little introductory interview with yours truly, and here to read ones from my fellow contributors, including LA's The Rawking Refuses to Stop! and NYC's The Catbirdseat.


The new episode of the Blog Fresh Radio is up, and once again they invited me along to ramble on, this time about that aforementioned new Thalia Zedek Band album.
I'm ending this post on a very sad note, as this has been much in my thoughts this week...

Rory Root
, beloved proprietor of
Comic Relief
(which many call the best comic bookstore in the country),
passed away
earlier this week, and while I'd never met the man in person, I feel like I've known him for many years. We frequented some of the same internet forums, chatting about comics, tv, and books (in other words, life), and while it's generally hard to get a sense of tone from digital text, you could always feel the kindness behind Rory's messages. He was a goldmine of recommendations, feedback, and enthusiasm for good literature, and it's insane that he's gone at the far-too-young age of 50. I always figured I'd end up at his shop in Berkeley someday so I could shake his hand (and spend too much money on his recommendations), but now my trip will be to check out the retail monument he built to the medium (and to probably spend lots of money anyway).
Tributes to Rory's influence and impact, both personally and professionally, are spreading all over the internet, and links to most of them are being
gathered here
. If you've never heard of the man, read up, and pick up a comic in his honor someday soon. The man will be missed by so many. Rest in peace, Rory.