Tonight brings another official "
Bradley's Almanac presents...
" event: A pre-release listening party for
Stereolab
's upcoming
"Chemical Chords"
album, which doesn't hit shelves until next week. Starting at 9pm at
River Gods
in Cambridge, I'll be up in the DJ booth playing a bunch of my favorite songs released so far this year, along with some Stereolab oldies and the new disc in its entirety. I'll also be giving away a pile of free stuff (including tickets to the 'Labs
October 6th show at the Paradise
, copies of the album, their new 7", and some posters). More info below...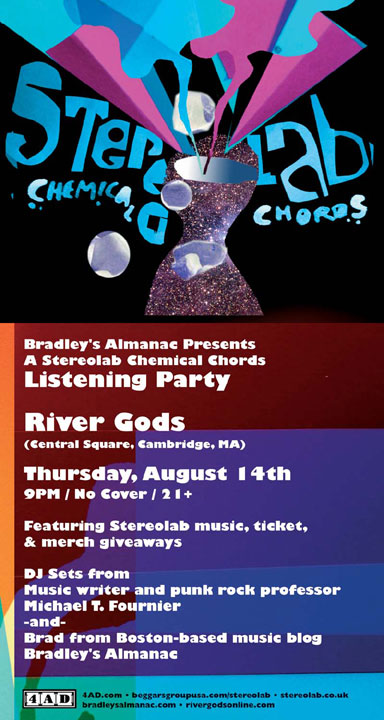 Joining me as host and song-spinner will be the esteemed
Michael T. Fournier
, author of the excellent
33 1/3 series
installment that peels apart the
Minutemen
's seminal
"Double Nickels on the Dime"
LP, as well as the man behind the Tufts
"History of Punk Rock"
class. This will be one of the last chances you'll have to see Mike before he leaves Boston for the slightly north very soon. Can't wait to hear the playlist he's pulled together to bid Boston adieu.