A friendly reminder:
Entries for this giveaway must be received by midnight tomorrow, Wednesday, September 10th. Also, fans of the Lymbyc Systym and This Will Destroy you should tune into the internet stream of
WERS
after the show (1am on Monday the 15th) for a dual interview and a live L.S. performance. Read on for show and contest details...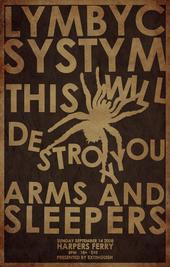 Tempe, Arizona instrumental duo
The Lymbyc Systym
just kicked off a two week tour with the mighty
This Will Destroy You
in TWDY's hometown of Austin, Texas, and their journey will bring them here to Boston on Sunday night, September 14th. Also on the bill at
Harper's Ferry
that night are Cambridge's own
Arms and Sleepers
, fresh off their own North American tour, and gearing up for a UK trip later this month.
Courtesy of local promotion/flyering company
Extinguish Boston
, I've got a pair of spots on the show's guest list to award one fortunate Almanac reader. If you're game, drop an email to
giveaways [at] bradleysalmanac [dot] com
with your full name, the town you live in, and "LYMBYC!" in the subject line (and yes, spelling counts). Send your entry before midnight this Wednesday, September 10th, and I'll choose and notify the winner Thursday morning. Easy enough.
For your education and listening pleasure...