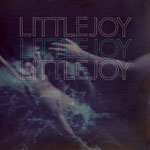 So,
Little Joy
is
Strokes
drummer Fab Moretti's new band with girlfriend Binki Shapiro and Rodrigo Amarante of
Los Hermanos
, and their self-titled debut disc arrived last week via
Rough Trade
. Given how much I dug
Albert Hammond Jr.
's two solo albums, I was curious to hear what Moretti and co. had to offer as well. And while it hasn't immediately struck as catchy a chord as Hammond Jr.'s stuff did, what's remarkable is how much more it has in common sonically with the Strokes. You wouldn't think a drummer's side-project would resemble his other band as much as a guitarist's, but there it is. I do need to spend more time with it, but after the first few listens, it feels like the post-"First Impressions Of Earth" offshoot albums are 3 for 3 so far. We'll see if bassist Nikolai Fraiture's
Nickel Eye
project makes it a perfect 4 come January, but our ears have been well served by the Strokes' time off so far.
The LA-based Little Joy kicked off a month-long tour last week in Minnesota, and they'll hit
TT the Bears
this coming Sunday night, November 16th. I've been given a pair of guest list spots for the show, as well as a copy of that debut disc, to dole out to a couple of 'Nac readers, so if you're interested in either seeing the show or hearing the album, drop an email to
giveaways [at] bradleysalmanac [dot] com
before 9AM this Friday the 14th. Make the subject "Give Me Joy" and be sure to include the city you live in (anyone in the continental U.S. can take part). I'll pick and notify two winners Friday morning: One in the Boston area for those two Sunday spots on the TT's guest list, and another (local or non-local) for that copy of the album. If you live near here and would prefer the disc to the show, just let me know when you enter.
While you pull together that email, listen to some Little Joy at
their MySpace
page, and check out the other bands on the bill that night as well: Boston's own
Buttercup
and former locals
The Dead Trees
, who picked up and moved to Portland, Oregon last year. To grab tickets of your own, hit up
Ticketweb
.
Labels: giveaways