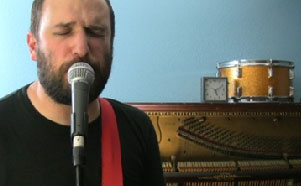 First official 'Nac post of the new year, and it's a gift for one of you.
There are many scheduled releases I look forward to in '09 (and I'll write about them in another post soon), but one I anticipate the most is
David Bazan's Black Cloud
, which should be arriving on
Barsuk
sometime this Spring. The former
Pedro the Lion
frontman has been sharing several new songs on stage for awhile now, and simply stripped down you can tell they're some of his best.
To help ease the long wait for "Black Cloud" (technically his first official solo full-lengther), David and the crew at
Undertow
released the
"Bazan: Alone At The Microphone" DVD
in October. Documented last summer, the intimate, hour-long offering sprinkles revealing interview segments among 10 bare-bones performances. These run-throughs cover of a wide variety of David's work, including PtL songs, some
Headphones
tracks (remarkable in these very different guitar-based versions), and the disc closes with the new "
Please Baby Please
", a live favorite for awhile now.
So, thanks to the generosity of Undertow, I've got a copy of the David Bazan DVD to give away to a random Almanac reader. With the holiday season wrapping up, and surfing having slowed waaaaay down, the odds of your snagging this sucker is that much greater. So if you want to take a shot, drop a quick email to me at
giveaways [at] bradleysalmanac [dot] com
before 9am next Friday, January 9th, and I'll let you know if it's yours that afternoon. Throw "Bazan DVD" in the subject line, and include the city you live in (North Americans only, unfortunately).
If the chips don't fall your way, you can pick up your own copy of the DVD
via Undertow
,
Barsuk
, or at
Insound
. Check out a couple interview segments from the DVD
right here
, some bonus material
over at Elbows
, and these clips via YouTube...
Also well worth noting is that David recently released a couple new tracks
via iTunes
, the politically-charged "
American Flags
" and his version of "
Please Baby Please
" from the DVD. For those who hanker for something to hold in your hands (as I do), both tracks will also be found on a
7" version
that arrives later this month from Barsuk.
Alright, get those emails coming and keep those fingers crossed.
Labels: giveaways