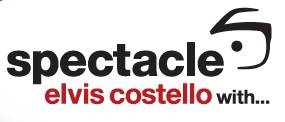 The first season of the
Elvis Costello
-hosted
"Spectacle"
series on the
Sundance Channel
has been a curious thing. In aiming to appeal to a fairly broad range of music-fans (and not just devotees of Mr. Dynamite),
the lineup
of interviewees includes more than just Costello's aging contemporaries (
The Police
,
James Taylor
,
Lou Reed
,
Elton John
), but a few more, um, how shall I say, 'relevant' songwriters (
M. Ward
,
Jenny Lewis
,
Rufus Wainwright
), along with some utterly random non-musicians (director/painter
Julian Schnabel
and...
Bill Clinton
?). Some of the chats have been fascinating, others fairly run-of-the-mill, but all watchable, usually due to Costello's obvious respect and familiarity (and sometimes kinship) with his subjects, who invariably reciprocate. And even if the shared reflections aren't your thing, Elvis and his guests usually make up for it by sharing the stage for a song or two (well, except Clinton, thank goodness).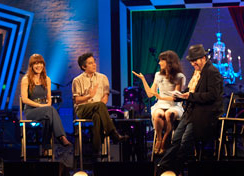 This week sees the debut of Elvis' sit-down with opera singer
Renee Fleming
(and if there's a musical collaboration, it's sure to be... interesting), followed by a spotlight on Herbie Hancock next week. But it's the
February 11th episode
I'm most looking forward to, when Mr. MacManus hosts a group discussion with M. Ward & Zooey Deschanel (aka
She & Him
) and Jenny Lewis. According to
Elvis' site
, he'll join Jenny to recreate "
Pretty Bird
" as well as "
Carpetbaggers
" (which he contributes to on her latest album) with Deschanel on backing vocals, then Jenny will return the favor by performing on his "
Go Away
". She & Him also do their own "
Change Is Hard
", and Costello teams up with
Jakob Dylan
to cover
The Clash
's "
Straight To Hell
" before all the guests hit the stage to tackle Elvis' classic (and Nick Lowe-penned) "
(What's So Funny 'Bout) Peace, Love And Understanding?
". My DVR is already set.
The promote
Spectacle
, the PR folks behind the show are offering up a bunch of eco-friendly
"Spectacle/Sundance Prize Packs"
, which includes: A Keen/Sundance totebag, a t-shirt, notebook, a Sigg /Sundance thermos, and most intriguingly, a pair of desktop speakers. Here, have a look...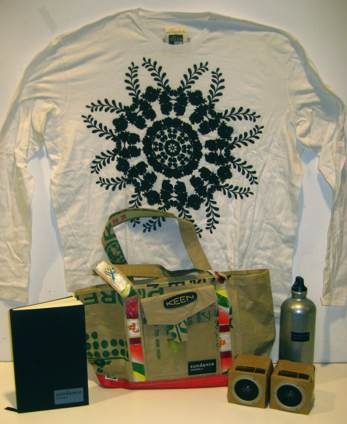 Want it? Just send an email (subject: "Spectacle!") to
giveaways [at] bradleysalmanac [dot] com
before noon this coming Monday, February 2nd, and I'll randomly pick one winner. And just for the hell of it (and to see if you're reading closely), include the title of your favorite Elvis Costello song as well. Since everybody must have one. U.S. residents only, please, and if I pick your name on Monday, I'll contact you that afternoon to get your snail-mailing address.