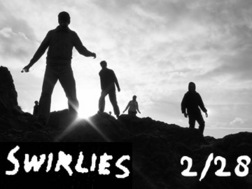 News of the
Swirlies
' reemergence from a lengthy hibernation for three strictly East Coast (sneaky flute) shows a few weeks back was a more than welcome surprise, and was instantly one of my most
anticipated musical happenings
of the new year. I'd seen the Boston-based band many times back in the day ("the day" being the early-90s), but somehow not once after the release of what would become my favorite Swirlies album - 1996's brilliant
"They Spent their Wild Youthful Days in the Glittering World of the Salons"
. Considering how much I worshipped their earlier work, the fact that they could unexpectedly peak so many years after my first exposure in '92 impressed the hell outta me. Subsequent releases were sporadic and spotty... a remix album, some hard-to-find compilation appearances, a bit of slightly less-focused material under the Yes Girls banner, and eventually 2003's
"Cats of the Wild: Volume Two"
album on
Bubblecore
. Live shows followed that release, but since then, nary a word, until... a trio of late-February dates dubbed the "Scituate or Bust" tour.
I had no expectations when I first heard about their return - I figured the lineup would include at least founders Damon Tutunjian and Andy Bernick, but beyond that who knew? They'd been through many personnel changes over the years, losing and gaining some great drummers, replacing the sadly-departed
Seana Carmody
(who went on to form the excellent
Syrup USA
,
Shenzou 5
, and do solo stuff) with the wonderful
Christina Files
(it was she who helped make "TSTWYDITGWOTS" so stellar), and shuffling through some ace second guitarists. So when I heard exactly who else the reconstituted Swirlies would include, I was pretty psyched: Longtime member (and former
Wicked Farleys
' guitarist) Rob Laasko, drummer Adam Pierce (from
Mice Parade
, who joined up post-"TSTWYDITGWOTS"), and the newest Swirlie, Deb Warfield (also ex-
Shenzou 5
and current
Broken River Prophet
) on guitar/keys/and gorgeous vocals. All the pieces would be in place, great players all... but still, any Swirlies show is a gamble: You can witness either unerring precision, or a ramshackle, almost-off-the-rails affair (often both, at once). I'll say this, though - watching them perform, I've never had anything other than
fun
.
So, despite that lack of expectations, I did hold out hope that finally, 13 years after the fact, I'd get a chance to maybe, just maaaaybe, hear some of the songs from "Wild Youthful Days..." played live on a stage in front of me. When I first mentioned the scheduled
Middle East
upstairs show on the 'Nac, I even threw my humble request for the song "
Sunn
" out into the void, certainly not expecting it to be heard, or to my total delight, actually honored. But yes, they re-learned it, and played it, along with an abundance of other tracks off that album. Oh, the joy.
Their 16-song set including many perfect moments, a few shaky bits, some serious rocking, some goofy meanderings, some ultra-tight action, and some wild, youthful transgressions. In other words, it a full-on Swirlies show. And most importantly,
it was fun
. Powerful classics like "
Jeremy Parker
" and "
Bell
" ("
Tall Ships
" was setlisted but skipped) alongside late-era songs like "
Le Bag
" and "
Rare Moment
". Just when you were worried the set was almost
too
cohesive, then came the encore - a request for a meandering "
Jack Buckey's Theme
" was granted, into the brief, stripped down oldie "
His Life Of Academic Freedom
", and finally an enthusiastic cover of
Flipper
's "
Sex Bomb
", with
Bullpen Catchers
/
Kudgel
singer/guitarist Mark Erdody (and random fans in the front row) on guest vocals.
The full setlist...
Swirlies
Live at
the Middle East Upstairs
in Cambridge, MA
on Saturday, February 28th, 2009
01. In Harmony Newfound Freedom
02. Vigilant Always
03. Le Bag
04. One Light Flashing I Love You
05. Jeremy Parker
06. Sounds of Sebring
07. Two Girls Kissing
08. You Can't Be Told It, You Must Behold It
09. Rare Moment
10. Sunn
11. Bell
12. The Vehicle Is Invisible
13. San Cristobal De Las Casas
encore...
14. Jack Buckey's Theme
15. His Life Of Academic Freedom
16. Sex Bomb (Flipper cover)
For those keeping score, songs 1, 6, 7, 8, 10, 12, & 13 were from "Salons"; 2, 5, 11, & 15 were on 1993's "Blonder Tongue Audio Baton"; 3 & 9 can be found on "Cats of the Wild: Volume Two"; and tracks 4 and 14 are Yes Girls numbers.
A few Swirlies links...
Their official site, MySpace page, Wikipedia entry, and old Taang! label page.


Audio: One of the reasons that Damon rules - he shares a butt-load of Swirlies audio for free on his site. You can grab most of the albums I've mentioned in this post over there. Also of note - the band was giving out free (and mysteriously labeled) cds at the show, and it ends up that they were copies of the 2003 "Thirty Minutes On The World Map" compilation, a 38-track hodge-podge of limited-edition randomness on the RCA Archives imprint. Score. I grabbed a couple extras, so keep an eye out for the next Almanac-presented show, where I'll be handing them out with other free stuff.



Additional Audio

: Along with Bullpen Catchers (and a surprise mini-set by the reunited Kudgel! Chimp Rock 4EVA!), the other opener was Gregory & the Hawk. I knew nothing of 'them', and 'them' ended up being 'her', namely Meredith Godreau from New York. I mentioned on Friday how much I enjoyed her short, sweet set, and managed to record her last three songs (on which she was joined by Swirlies drummer Adam Pierce on second guitar). With her kind say-so, here they are, including the brand new, and stunningly beautiful, "

Red Cross With Silver Shine

"...




Photos

: My Flickr-hosted shots are here. Check out a Swirlies Flickr tag search, which includes Landon's shots from the show (fyi, that's him guesting on keys in one of my pics).



Video

: Check out a full Swirlies YouTube search.


A total aside, and only a couple of my former bandmates might find this at all interesting (and maybe a Swirlie or two): Many, many years ago, the very first band I was in was lucky enough to open for the Swirlies and Spore at Middlebury College in Vermont. The whole show is a bit hazy -- I recall that my humble, wide-eyed little VT pop band was horribly out-gunned by the aural assault of the Swirlies, and especially Spore (holy loudness!) -- but I remember one thing very specifically: when we broke into a late-set cover of the Go-Go's "

Head Over Heels

", most of the Swirlies came to their feet and gave us their smiling attention. Cut to last month, 15 years later, I'm reading about the Swirlies' early days in some pre-show press, and I learn this: They started out as a Go-Go's cover band. Ah ha!.
I can only hope these shows are signs of more activity to come, 'cuz I've got a couple more requests to make. Hey, I'm allowed to be a little greedy, aren't I?