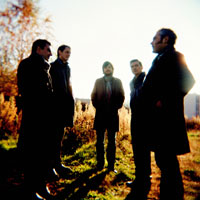 It's been five long years since
Tindersticks
have graced U.S. stages, and the intervening time brought the first-major shakeup to the Nottingham-based band's lineup since their formation in 1991. In 2006, a few years after the release of their sixth album (
"Waiting For The Moon"
), multi-instrumentalist and founding member Dickon Hinchliffe departed the sextet along with the rhythm section of Al Macaulay and Mark Colwill. Some fans suspected, with the release of solo albums from frontman/guitarist Stuart Staples', that the band had unofficially split, but last year those fears were squashed with the release of their seventh long-player,
"The Hungry Saw"
. Original members Staples, guitarist Neil Fraser, and keyboardist David Boulter remained, welcoming a new rhythm section and a new European tour plans for 2008.
And so 2009 brings them to our shores at last, but for a relatively short stretch of just nine shows, kicking off tonight in Philly (at
World Cafe Live
) and winding up in San Francisco on March 15th. Fortunately for us here in the Boston area, one of those dates is this Saturday night at the
Somerville Theatre
(with opener
Dawn Landes
), and thanks to
WORLD MUSIC/CRASHarts
, I have a
two
pairs of tickets to give away to a couple of Almanac readers.
Hopefully you know the routine by now -- just drop an email (
subject
: "Tindersticks!") to me at
giveaways [at] bradleysalmanac [dot] com
. Include the city you live in, and get it to my
before 2pm this Friday
, when I'll fire up the ol' random number generator and pick two winners. Those fortunate souls will be emailed that afternoon and will each have a pair of tickets waiting for them at the
Somerville Theatre box office
on Saturday night. But I wouldn't leave your attendance in the hands of fate -- pick up tix of your own through the
WORLD MUSIC/CRASHarts
site, where you'll pay far less without those convenient Ticketb@st@rd fees.
Stream some
Tindersticks
at their
official MySpace page
, or listen to three songs from "The Hungry Saw" on
their website
.