As detailed
earlier
, I'm pretty well thrilled to play a part in bringing Minneapolis'
Now, Now Every Children
to town for the very first time this Friday, May 1st. After a couple of promising EPs, the duo (and touring trio) delivered a stunning debut album titled
"Cars"
in February, and I obsessed enough over it to make it my mission to see them play live. That'll happen in just a few days at
TT the Bears
, where the band will be joined by a couple of my local faves (
The Hush Now
&
You Can Be A Wesley
) and my Vermont-based pals
Let's Whisper
. Tickets can be had
right here
, or at TTs to skip the service charge.
NNEC's Cacie Dalager and Bradley Hale are back home in Minneapolis after finishing up their first European tour, getting ready to head out for a
string of dates
that kicks off with an all-ages
Abbey Pub
gig in Chicago on Wednesday and includes Friday's Cambridge show along with
The Bamboozle
fest in NJ on Sunday and a stop at NYC's
Mercury Lounge
a few days later.
Cacie took some time to answer some quick email questions, and their label (
Afternoon Records
) graciously gave me permission to share my very favorite song from "Cars". Here you go, but grab the Mp3 soon, since I'll only be sharing it up until the
TTs show
on Friday night...
[Mp3]
:
Now, Now Every Children - "

Have You Tried

"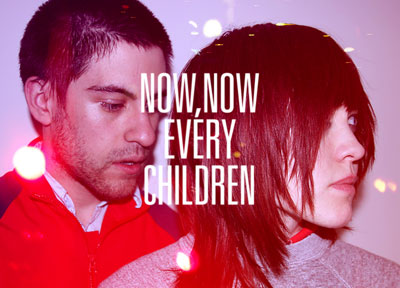 an email interview with...
Cacie Dalager
of
Now, Now Every Children



Bradley's Almanac

: So you recently finished up your first-ever trip overseas. How did the shows go overall? Was it everyone's first time over there? What people/places/happenings stand out as highlights? (You can cover what is probably the lowlight in the next question).



Cacie

: The shows went really really well! They've been more fun than the majority of our US shows so far. Yep, that was the first time for all of us. I think one of our favorite moments was seeing the Eiffel Tower. We totally weren't even that into seeing it, but when we got there we literally all started peeing ourselves. And we had kind of been wanting to see it sparkle (did you know it sparkles?) but we went there at like 1am thinking we'd missed our chance. But then it did and we all started running around and screaming like maniacs. There are videos of it. It was so ridiculous, but super awesome. It was also really nice to meet everyone at our german label Tapete Records. They are seriously some of the coolest people I've ever met. We also just made some really great friends over there. I think the whole trip was a highlight haha.



BA

: So I was pretty bummed to see your April 9th Twitter message say "DENIED ACCESS TO THE UK". Can you share a bit about what happened? Were you able to take advantage of your downtime stuck in France?



Cacie

: Yeah, it was a tottaaallllllll bummer. I can't even explain how bummed we were. I hate to be the punk kid who says "they just didn't like us", but no joke they just didn't like us. They stopped us initially for the wrong reason saying we needed a work permit. But you actually don't need a work permit unless you're going to be there for over three months. What ended up happening was we needed to be on a list of some sort saying we could be playing over there. It was super technical and stupid. It wouldn't have been so bad if they weren't so rude about it you know? They said unless we were as known as Frank Sinatra. It was so ridiculous. So we were detained for 4 and a half hours in a detainment room. And got our fingerprints taken and our stuff searched and things of that awesome nature. But whatever, we know what to do now. So HOPEFULLY they'll let us in next time. France was still pretty fun. Our friend Charley came from the UK to keep us company since we didn't make it in. So we just hung out with her and went running back to the Eiffel Tower to make ourselves feel better. We also went to a super dumb amusement park. But I'd like to pretend that never happened haha.



BA

: So "Cars" has been out for a few months, but is seeing a bit of a re-release in July. Got any solid plans for a national tour? How about taking another crack at the UK?



Cacie

: I'm hoping we'll do a pretty extensive tour this summer. But I really don't know what's going on yet. We'll see what happens when we get back from this next little tour to Bamboozle. Dude of course! We'll plow through those suckers like red rover.



BA

: Is it too early to talk about a second album? Any super-new songs in the works, or are you just focusing on playing the "Cars" stuff live?



Cacie

: Nope definitely not too early. Of course! We've been working on one all night actually haha. It's good to focus on what you have and get good at it, but it's also good to keep the creative juices flowing. I can't wait to start demoing again.



BA

: You guys are technically a duo, although you tour as a trio... can you talk a bit about making that decision, and if adding someone has made you debate remaining a duo when you record again? Do you find the duo thing more liberating or at all restrictive?



Cacie

: When you go through lineup changes (as we have many times) it's kind of confusing to the kids who listen to you. Because then they're like "oh dude where's so and so?". It's hard to explain what happened over and over. Especially if it's something that you can't really talk about. It's mainly just to keep things simple. I think Brad and I will always record as a duo. We know how each other's brains work. I think it's the best match for our situation.



BA

: And lastly, an entirely selfish question... you play "

Have You Tried

" live, right? Just checkin'.



Cacie

: Haha, yep! We do. It's one of my favorites to play. I don't think we're playing it much on our next tour though. We'll see.
Thanks to Cacie for the answers, and here's hoping that song does indeed make it into their setlist on
Friday night at TTs
. Do join us, won't you?