This Tuesday, July 27th, I'm pretty damn proud to be one of the few-dozen worldwide music sites hosting the live-streamed premiere of the new concert film from Scottish instrumental post-rock pioneers
MOGWAI
. Been a fan of the lads since the very first date of their initial U.S. tour back in '97, opening for
Pavement
in Burlington, Vermont at the much-missed
Club Toast
. Blew my mind then, still blow me away to this day... my love is unwavering. I never miss a chance to see them play, and have been waiting to see "BURNING" (directed by Vincent Moon & Nathanael Le Scouarnac, the visual minds behind the top-notch
"Take Away Shows" at La Blogotheque
) since I first heard whisper of it, and this Tuesday, the waiting ends. Here are the details...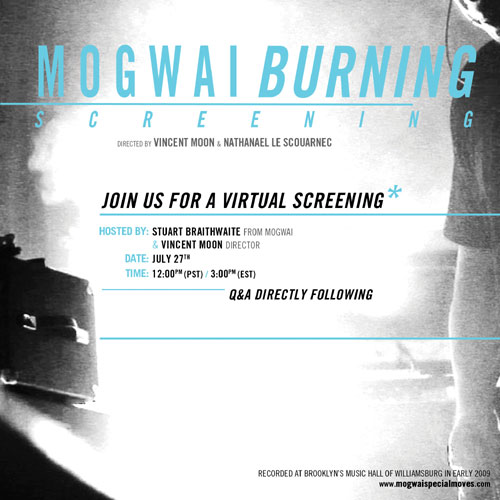 On Tuesday morning, I'll throw up a new post that will contain an embedded UStream window, and it's there that you'll be able to view the entire film starting at 3pm Eastern (12pm on the left coast). There will also be an embedded chat window (y'know, for realtime "OMG! This song rules!" sharing), which will be used to host a post-screening virtual Q&A with Mogwai's Stuart Braithwaite and co-director Vincent Moon.
While I'm certainly looking forward to watching the live-stream, it won't stop me from catching the film on the big screen when it hits
the Brattle Theatre
in Cambridge on August 26th (
tickets here
). Check back with the 'Nac as that date gets closer for screening ticket and DVD giveaways, as well as a chance to win Mogwai's
"Special Moves"
, the live album that's being released alongside the film.
Here's the full list of
North American "Burning" screenings
happening over the next couple months...
Aug. 24th - Brooklyn, NY @ Music Hall of Williamsburg

Aug. 24th - Vancouver, BC @ Pacific Cinematheque

Aug. 26th - Lawrence, KS @ Liberty Hall

Aug. 28th - Long Beach, CA @ Art Theatre of Long Beach
Aug. 28th - Cambridge, MA @ Brattle Theatre

Sept. 2nd - Pontiac, MI @ The Crofoot

Sept. 4th - San Francisco @ Roxie Theater

Sept. 10th- Portland, OR @ Bagdad Theater

Sept. 12th - Los Angeles @ Echoplex

Sept. 14th - Toronto, ON @ The Drake Underground (2 showings)

Sept. 23th - Denver, CO @ Bluebird Theater
To download a free live version of "
New Paths to Helicon Pt. 1
" from the vinyl version of "Special Moves",
head here
. You can pre-order the live album
over here
, in a variety of packages (including a deluxe bundle with the triple LP, CD + DVD, poster, patch, + more). I'll leave you with a few "Burning" teaser videos. Keep an eye out for me in the chat room on Tuesday afternoon...