A quick one, Boston-style, before I head up north for the weekend...
I became a bonafide
Night Fruit
fan about 1 minute into a crowded
Allston basement show
back in January (RIP live music @
Wadzilla
), which is how long it took to decide I'd be sticking around for the trio's entire set. And within a few minutes of getting home that night, despite severe sleepiness, I was online searching for recordings, discovering their 2010
"Triangles" EP
(name-your-price download
here
). It captured the dreamy reverb-soaked pop I'd just witnessed, and while I made sure I saw them play live a couple more times this year, I've had a hankering for news of fresh studio action for awhile now.
Well, the new goods have arrived in the form of the
"Dark Horse" 7-inch
, which sees an official release tonight at esteemed
Great Scott
dance night
The Pill
. Just a few blocks from the very place I first saw 'em play. Here's track two of three, "
Paper Thin
"...
Buy the "Dark Horse" 7-inch
at Bandcamp
, or pick one up
at the show tonight
.

If you put waited on picking up tickets to one of the two remaining
Kingsley Flood
"Colder Still" EP
release shows already-in-progress at the
Lizard Lounge
in Cambridge, well, you're not
completely
out of luck, but you're close. Yes, all advance tickets to their intimate 3-night-stand sold out, but the Lizard always keeps a small stash for procrastinators at the door - you just have to show up pretty early
tonight or tomorrow
, wait outside in line, and keep your freezing fingers crossed as the temps nosedive. This is where I use a bit of wordplay to tie the title of the EP to the winter weather, but my coffee hasn't quite kicked in.
Head to The Phoenix's
On The Download
to grab the KF track "
Black Boots
", or to
AOL's Spinner
to stream "
Mannequin Man
", both from the new EP. Here's the song that kicks the collection off...
If you miss out on these shows, fear not, you can always spend your
New Year's Eve
with
Kingsley Flood
,
Mean Creek
, and
Freezepop
at
Brighton Music Hall
. Tickets
here
, or in person (and fee free) at the
Paradise box office
.

Heads up, Figgs fans:
Peterwalkee Records
is releasing a brand new, super-limited-edition live Figgs vinyl LP titled
"The Figgs - 3.28.01 Kansas City, MO"
today
at Noon EST. Yeah, that's less than 2 hours from the moment I posted this news, so get your
browsers ready
. 100 copies on white vinyl, hand screened/hand numbered LP jackets, with a poster and a T-shirt thrown in for $35 bucks. It's a no-brainer for loyal Figgs followers, especially if you've ever seen the band live. Stream a sample track
right here
if you're not convinced.
And in case you missed it, the trio also released a new 7-inch back in September on
Q Division Records
as part of their "Q​-​Dee Rock and Soul Series". The limited-to-500, white vinyl single has two tracks, "
All The World Will Fail
" and "
The Central Stumble
", which you can download immediately when you
order up
. And fyi, they're referring to "Central Avenue", not "Central Square", otherwise that track would cut very close to home for some of us fellow stumblers. Go on and stream it...
Also big news in Figgs-land? Bass player
Pete Donnelly
has a brand solo record titled "When You Come Home", which you can grab at
his website
(Paypal link in lower right). It includes the four songs previously available on his
Soundcloud page
, although the new album version of the track "
Careful
" features none other than Britta Phillips ( of Dean & Britta / Luna). Here's that non-Britta version for ya, a sweet little slice of soulful pop...
Pete has a couple of album launch shows and a January/February weekly residency planned, but they're all down in Jersey and Philly (closer to his homebase). Check out his
Facebook page
for the deets. Here's hoping he plans a little release party up here in the Boston area.

The Beatings
frontman
Eldridge Rodriguez
stands ready on the frontlines of the
War On Christmas
with a brand new EP,
"Christmas on the Allston-Brighton Line"
. No generic "
Holidays on...
" to be found here... this year, he's on defense for December 25th. The 3-song digital-only offering will arrive officially this Monday the 12th, and is the first in a series of "seasonal singles" he'll be releasing over the next few years. So maybe he'll get to the other holidays down the road? Only ER can say for sure.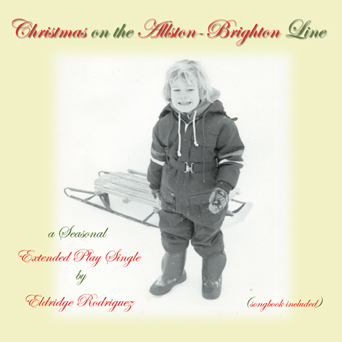 Actually, you can ask him next Friday, December 16th, when he plays
Porter Belly
's in Brighton as part of the
Cradles to Crayons
benefit show. It's a pretty fantastic charity, providing children in need with clothes, school supplies, and toys for free, and according to ER, he'll be doing "a special acoustic performance which will include, and probably be the only performance of, tracks from the new holiday Ep." So go and get your giving spirit on.

Also in a festive mood:
The Hush Now
. The quintet has gifted us with another free holiday track, this time a melancholy New Year's Eve number titled
"Happy New Year, Dear"
. It follows on the heels of their
Halloween track
, and keeps the December streak going after starting the tradition with 2009's
"

Wishing You A Happy Christmas

"
. Here's a stream of the new one. Head
to Bandcamp
to download direct...

... and to the old man with the snow-white, Santa-sized beard who nearly ran me down yesterday at the intersection of Cambridge & North Harvard in his Jeep, well, I've got a big ol' lump of coal with your name on it. A near-death experience was definitely
not
on my wish list.