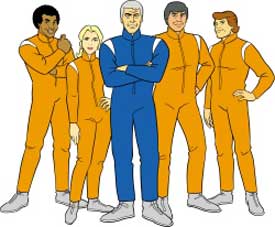 This past Sunday night, my favorite animated television fix went to a watery grave... yeah,
Adult Swim's
Sealab 2021
unexpectedly aired it's last episode, and boy am I bummed out. The guys at
70/30 studios
(who create the show for
Cartoon Network's
Williams Street
crew) decided it was time to shut it down, and with no announcement or foreshadowing.
It wasn't so much that it ended... all good things, etc... but the fact that the show had finally rediscovered its sealegs this season after faltering with the loss of
Harry Goz
and his brilliant character
Captain Murphy
in 2003. I was full-on loving it again, and was really glad to see the pre-show white text on black background (a 'bump') that announced 13 new Sealab episodes later this year. Now, I'm no comedian, but putting that up before what winds up being the final ep ain't so funny. Just another tease that made the end a bit tougher to take.
Sealab 2021
was my 'gateway toon' into the Adult Swim block of shows... I'd enjoyed
Space Ghost Coast to Coast
, but was never totally hooked on it. From the moment I saw my first Sealab, though, I was in like Quinn. It opened up my brain to other A.S. stuff like
Aqua Teen Hunger Force
,
The Brak Show
, and
Harvey Birdman
... all good shows, but to me, always in the shadow of Sealab. I was slightly sad when The Brak Show's last episode aired on New Year's Eve 2003, but given that there was zero warning on the end of that one, either, I shouldn't be surprised by the way Sealab went down.
Damn glad they're offering the series up on DVD, 'cuz I'll no doubt be grabbing the
upcoming Season 3
and eventual Season 4 to go alongside the first two sets. Wonder what will become of the planned
Sealab videogame
from Midway, though? Hard to believe they'd produce that now. Well, at least we've got
this
, although I've yet to buy the full version. Maybe next week when I'm missing new episodes.
In the meantime, set the TiVo to record G4's '
Attack of the Show
', who are airing segments from a recent visit to the Williams Street offices on all of their shows this week. Tonight, coincidentally, they'll be focusing on Sealab 2021, along with Harvey Birdman. Wonder if Pereira will be on top of things enough to mention Sealab's demise tonight? Or comment on what might replace it? I'm guessing the Williams Street brass kept quiet on the matter when he was there, but we'll see. I can only hope that the 70/30 crew comes up with something half as hilarious as the 'Lab, and that it shows up on
Adult Swim
sooner rather than later. My Sunday nights just got a whole lot less sillier.
Here's a little treat.... after Sunday's episode, Brett Butler (who brilliantly voiced Sealab's Dr. Quinn, and no, it's not the comedienne) stopped by the
Adult Swim Forums
to say goodbye. While he was there, he graciously took questions from a few shocked fans. For the original conversation, check out
this thread
over at the boards, but to make things easier, I've grabbed the questions and answers and put 'em in order here. Oh, and the *bleep* *bleep* censor stuff is, of course, from the Adult Swim boards, not me. I ain't afraid of no potty mouth. Enjoy...
---


Wassup all. Brett Butler (AKA Dr. Quinn) here. Guess you all know by now that Sealab 2021 is no more. Just want to take a moment and say thanks. This was the first real VO job I ever had and it was, without question, one of the greatest things that ever happened to me. I don't want to get all sappy here, but it truly was a blast. Matt and Adam rock and they're gonna come back with something even more ridiculous. Count on that. Also I want to thank all of you guys who watched faithfully every week. Especially after Harry was gone (that was harder than you'll ever know. He was one of the classiest men I ever met. And funny as hell!). I know it wasn't funny all the time but...that wasn't my fault!! I don't write the stuff. I just yell into a mic. Seriously though, thanks everyone. The last five years were amazing. You guys rock (even you guys who said we **bleep**.) Later!

Brett Butler AKA Dr. Quinn

P.S. I know NO one is gonna believe this is actually me. But that's OK. Just wanted to say something.

P.S.S. I'm not Frylock.



---


Mindtooken: Would you be willing to submit yourself to fan questions?

BB: Sure, why not. What do you want to know?



---


Mindtooken: What is your fondest memory of the show?

BB: One of the coolest things was when we first started recording, everyone (sans Erik Estrada) was in the studio together. So it was like an old school radio program. We did the first two episodes like that. (Chickmate and Happycake were the first ones we recorded). It got too hard to schedule everyone at the same time, so that stopped. But that was fun.

By the way, never met Erik.



---


Worship: Plans on saddling up on another project?

BB: Working on it, Worship. My VO career is just starting up, so we'll see.



---


enlightenedspartan: What was your favorite episode?

BB: Favorite episodes: In the Closet, I Robot Really, Bizarro, Lost in Time, All That Jazz. I also liked the one recently that ripped off Seinfeld (it was shown in reverse) but I don't remember what that one was called.



---


Mindtooken: So when Bill Lobely (Sparks) says "never met him" that's the truth? nobody has actually met Erik?

BB: None of us have met Erik except Matt and Adam. We all record in NYC. He's in LA



---


Mindtooken: How many times have you been asked if you're the female comedian or baseball player? (since the DVD)

BB: The Brett Butler thing has haunted me all my life. I originally asked Matt and Adam to use my middle inital "J" in the credits...but they forgot. And I forgot to tell them. So there ya go



---


omega_nights: What about Der Dieb? Happy Birthday Quinn...

Mindtooken: Best Quinn performance... A S H D TV!!!!!!!!!!!!!!!!!!!!!!

BB: Forgot abdot ASHDTV and Quinn's B-day. I said **bleep** and **bleep** so many times. It was ridiculous



---


disco-chew: real quick question, Brett. The Shocker. Were you guys saving that one for the last episode? Cause that pushed the envelope even for Sealab.

I mean, I figure... last episode, not too worried about the censors.

BB: Yeah, according to Adam, they good folks at AS let them do whatever they wanted for the last couple of episodes, so they went to town on this one. Thus the couple of jabs (friendly jabs! everyone likes everyone else!) at ATHF. And of course, the shocker!



---


grim53: why is there not going to be another season? the show was just starting to get really funny again.

this just seems so sudden. and sad

BB: I think they're just making room for the new shows that are coming up. Sealab had a great run. But all things come to an end. The thing I'll really miss is...all that cash! I mean come on! Women and booze cost money! ;)



---


Mindtooken: Last little question from me, Are you glad you didnt have Ellis's (Stormy) line of "I gotta have that **bleep**!"?

BB: Yeah, glad that wasn't me. "Gotta have that **bleep**!" Yeah. I dodged a bullet on that one



---


Nightswimming2K4: How many times were you drunk on the show, were you worried they were turning you into an alcoholic, I was always worried about you losing brain cells and being as dumb as Stormy by the end!

BB: Thanks everyone. I'm glad to get a chance to talk with you guys too. This is cool.

As far as being drunk, Adam just wanted to mess with Quinn a bit. He thought he was getting to big in the head. I LOVED doing the drunk stuff. It was fun. By the way, on the 3rd season dvd, check out Quinnmas Carol. It was a rejected episode, but I thought it was hysterical. I'm drunk a lot!



---


omega_nights: Here's a question. Did "MY EYE! WHAT DID YOU DO TO MY EYE!?" have any basis besides some writer thinking it was funny?

BB: The eye thing was just me **bleep**ing around in the booth. Matt and Adam were always very cool about letting us play around with stuff they wrote. I just went off on the eye thing. I think the line was just "Ow! My eye!". I did variations of that until Adam told me to stop.



---


askewview: what will you miss the most from the show?

BB: I'm going to miss reading Adam and Matt's scripts. They always had me cracking up and they were always fun to read and mess around with. They really are amazingly talented mutha **bleep**as.

Oh and all the ciz-ash!

Not gonna miss all the yelling. I yelled a lot.



---


Merco: So Mr. Butler, does the character Dr. Quinn represent you at all? Like, how is he similar to you, and did you somehow design any aspect of him at all?

BB: Merco, I like to think we all have a little Quinn in all of us. And if there are any ladies out there, you come out to Brooklyn and you can have some Quinn in you too!!

I'm playin. Seriously, Quinn's way cooler than me. Not that I'm not cool, he's just cooler.



---


Nightswimming2K4: Yeah, it almost sounds like they torture you in the booth to do takes over and over. Ellis sounds like he gets taken advantage of, while they are snickering off in the corner at him. Did you ever just tell them enuff with the yelling and repeated lines!

BB: Nope. I knew yelling was just part of the deal.



---


disco-chew: I just want to say that your doing this Q&A is really cool of you. I'm sure the rest of the cast is really cool, but what are some of your favorite traits of your (ex)cast members? If im puttin you on the spot, just say so.

BB: The cast was great, man. It's funny because we were this ensemble cast and none of us are like our characters. But everyone is just really cool and fun to work with. Not bad for a bunch of white folks! lol (except for Debbie Love. She was black. And Chuck D. He played a whale.)



---


MasterPun: Good work man, lots of great shows. How does it feel to know you've most likely played a large part in what will become a groundbreaking era of Television history?

BB: I don't know Masterpun. I don't think it's quite sunk in yet. But I'm glad to be part of it. I can go to my High School reunion with my head held high!



---


brakfan23: How hard was it to keep going when Harry Goz passed away?

BB: Like I said, Harry was the best. Seriously, one of the kindest men you'd ever want to meet. He was really sick, yet he still made it in to record. A Class act and a true professional. It was tough. But having his son take over as Captain was really cool. And I liked Shanks. I thought he was great. I especially liked it when he just decided not to have an accent anymore.



---


Executrix: Just out of curiosity Brett...What other Adult Swim shows...if any, do u watch besides Sealab 2021?

BB: I like ATHF (especially anything with the Mooninites. Actually that's me yelling Mooninites in the final episode). Still like Home movies. Family Guy. Tom Goes to the Mayor is growing on me. But I gotta say (and now that I'm fired I can speak freely) I just don't get Robot Chicken. Hasn't made me laugh. Sorry.



---


disco-chew: well, I want to thank you again for the Q&A, and let you know ill be killin a 40 with my roommate in honor of Sealab. But seriously, keep us up to date on your career, either in Adult Swim or elsewhere.

BB: Thanks Disco-Chew! That 40 better be OE or at least Colt 45!

disco-chew: don't worry, it'll be OE, definately.



---


CodeguruX: I guess I'll kick in with a last bit of praise too. I gotta say thanks for working so well with Ellis to make the "Cavemen" episode. It brought back a great feeling from the old seasons that had just been lost for so long. Plus, Quinn and Stormy together always made a nice buddy comedy. Hope you have nothing but success in your voice acting career...

BB: Thanks Codeguru! I liked that epsiode for the exact same reason. It was more like the first season. Lots of pauses and awkward moments.



---


askewview: Hey Brett do you have a website so we can see what your gonna be up to?

BB: No website yet, but I'll post something when I have one.



---


MasterShakesChair (in regards to people guessing gender on the internet): Everyone assumes what they want anyway...even I do sometimes...it's human nature...like, I thought you were black until the "not too bad for a bunch of white guys" comment. LOL I thought you were black until the "not too bad for a bunch of white guys" comment. LOL

BB: I am black (a handsome light skinned brutha at that). I was referring to the rest of the cast.



---


OK gang, I've gotta bounce. But once again, thank you all for supporting Sealab 2021 over the past 4 seasons. It's been fan - **bleep**ing - tastic and I'm psyched that you guys came by to talk with me. Make sure you tune into whatever Matt and Adam and the rest of the 70/30 crewcome up with next. Because it will rock!! As for me, I'm out. Good luck and God bless!

Respek knuckles!!!

Brett Butler AKA Dr. Quinn



---



Pretty cool of him to do that, huh?
For all your Sealab 2021 needs, check out the
Pod Six fansite
, and head over to the
Toonzone site
for Adult Swim-related downloads. Really gonna miss all those characters, but I'm glad the show went out on a high note.
"Pudding can't fill the emptiness inside me... but it'll help!" -
Murphy