This week brings a newly-converted 1995 soundboard tape from Club Toast in Burlington, Vermont of a set by
Will Oldham
(aka Palace, aka Palace Brothers, aka Palace Music, aka Bonnie 'Prince' Billy) and his band. At the time I was working for a little record store up there, and was semi-responsible for convincing
Drag City Records
that Burlington would be a good place for Palace to make a tour stop. I was at the peak of my Oldham-appreciation, was obsessed with the
West Palm Beach / Gulf Shores
7'' that summer, and couldn't stop listening to
Viva Last Blues
, the newest Palace Music record. To bring him to town, and to somehow end up with my band opening up the night, was something of a minor dream come true.
At the time I remember being pretty disappointed in their set... it seemed more like the first practice of his (new?) backing band than it did a full-fledged performance. A guiding rhythm track started every song, the musicians looked semi-lost, many of the songs I knew by heart were drastically changed (and even out of tune). It felt like an experiment, and given how much I was looking forward to the night, I could only be let down.
Ten years later and I've got plenty of perspective... I don't think I'd listened to this tape since then, but there's definitely some redemption in the distance. Some of the structural changes work pretty well, and I especially dig the cover of the Liam Hayes (from Plush) song 'O Street', which I wasn't familiar with at the time of this show.
So here's the 16 song set...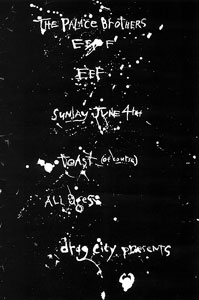 The Palace Brothers
live at Toast
Burlington, Vermont
June 4th, 1995
1.
All Gone, All Gone
2.
The Mountain
3.
Come In
4.
(Thou Without) Partner
5.
New Partner
6.
More Brother Rides
7.
You Will Miss Me When I Burn
8.
Oh How I Enjoy The Light
9.
West Palm Beach
10.
I Am A Cinematographer
11.
Pushkin
12.
The Brute Choir
13.
Untitled
14.
O Street
(Liam Hayes cover)
15.
Agnes, Queen of Sorrow
16.
Old Jerusalem
The usual audio info: Recorded via soundboard to chrome cassette, imported to pc as .wav files, edited in Soundforge, and converted to 192kbps mp3s. And they'll be up for a few weeks, as usual.
Labels: livemp3s