So I'm not much of a music festival-goer. Lack of spare travel-time, discretionary funds, and mild enochlophobia usually keep me away from any major multi-day events. Sure, I've been to some over the years, but the ones that have drawn me are few and very far between: down the coast to D.C. for the
Teenbeat Records 20th anniversary fest
last year; 3000 miles to London for
4AD's 13 Year Itch
in '94; a couple block walk in my old hometown of Burlington, VT for Sub Pop's
Vermonstress
back in '92 (fests were such a rarity up there, we were inspired to just
do them ourselves
).
There've been more than enough bloggers (and not enough bands I deeply love) at the Coachellas, the Bonnaroos, the later-day Lollapaloozas. I could semi-experience them all vicariously through the wealth of photos, audio, and video coverage that appeared online shortly after each. But there was one fest, from the moment it was announced last summer, that I
knew
I had to be at:
The Touch & Go Records 25th Anniversary Celebration
. Didn't matter if cash was tight, if vaca-days were scarce, if hotels were either full up or too expensive... free will simply didn't factor in. Too many beloved bands were playing, some reuniting after years apart, musicians I thought I'd never get to see on a stage together again. I've got more
Touch & Go
discs on my shelves than nearly any other label, and I wanted to be part of the crowd that celebrated their existence. So air travel was booked, couch space was found, and off to Chicago I flew on Friday morning, September 8th, 2006.
32 acts performed over three days, and I was there for every one of 'em, from the warm Friday evening start to chilly Sunday night finish, from the first notes of
Shipping News
straight through to
Calexico
's overtime encore. It was both exhausting and exhilarating, I ate far too little for the beers I downed, and by the end my feet hurt like holy hell. And how to describe what it was like to see some of my favorite bands in one place, playing so many songs that have made up the soundtrack to my fanboy existence? The hyperbole (or 'hyper-bowl' said Mr. Crow) could come easy, but so much of what I'd write was said over and over again from the festival's two stages, by the musicians themselves.
By the time I flew home, I'd spent almost 30 hours standing in the Chicago municipal parking lot adjacent to
the Hideout
, the bar that was also celebrating its own anniversary of 10 years by hosting this huge block party. Thanks to the two-stage setup, there was very little between-band downtime, with some acts starting up as others faded out. Even grabbing food or a bathroom break meant you might miss something... the whole event ran that smooth. As an audio archivist, I had to make a few decisions: Check out a band I kinda like, or score a good spot on the other end of the lot for one I really love? Get stuck in the back for
Shellac
, or miss
Man or Astro-man?
In the end, I managed to capture sounds from all but two of the appearing acts, and I'll be offering up some songs over three posts during this last month of 2006, one for each day of the fest. I've given a lot of thought on how exactly to share this stuff, how best to honor the label without stepping on their toes. Asking around at the anniversary, I was told that official audio recordings weren't being made, but that videographers were recording as much as they could for later (eventually to be posted on
T&G's website
?). Since some artists only played for a few minutes, others performed songs I couldn't identify, and some random technical glitches, I've decided to share a couple tracks from each act I saw.
And so here's the first night of the
Touch & Go 25th Anniversary Celebration
, recorded on September 8th, 2006 in Chicago, Illinois. The sound quality of this particular day's mp3s isn't as good as the other two, thanks to a faulty mini-disc setting and the general difficulty in capturing outdoor aural action, but it's still more than worth a listen. Things get much better on day two and three. I'm going to keep my commentary on each band to a minimum, or I'll never get this post finish. Oh, and head to the bottom for a fest-related giveaway...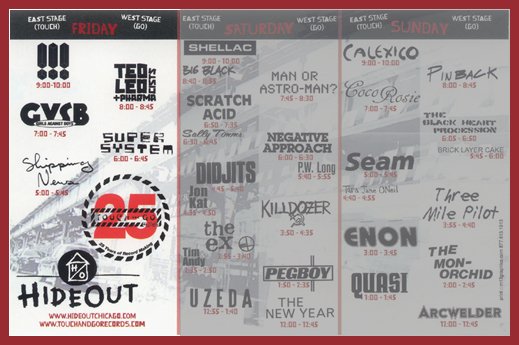 Tim Tuten from
the Hideout
, our endearingly talkative
host for the entire weekend, kicks things off by introducing...
---
Shipping News
Mp3
:
"(Morays or) Demon"
(live)
Mp3
:
"Axons and Dendrites"
(live)
A perfect start to the whole event, Shipping News had a new limited edition single ("
Claws
") specially made for the festival, and gave them out free to attendees. Nice touch.
(
T&G band page
/
Southern site
/
MySpace fan site
)
---
Supersystem (R.I.P.)
Mp3
:
"Born Into The World"
(live)
Mp3
:
"The Pinnacle of Experience"
(live)
I hadn't heard much Supersystem before they took the stage, even in their previous incarnation as Dischord band
El Guapo
. Unfortunately for fans of either band, they've just called it quits according to
this message
on their website...
"Friends,

After 10 years, the members of Supersystem/El Guapo have decided to disband. From the bottom of our hearts, we would like to thank everyone at Touch and Go, Dischord, Flower, Locusta, and others too numerous to name here for all your help over the years.

Most of all we would like to thank everyone who supported us, saw us play, listened to our music, set up a show, played a show with us, or otherwise participated in making our time as a band really awesome. We appreciate it and will miss you!

Love,
Supersystem
(
Official site
/
T&G band page
/
Album stream
/
MySpace
)
---
Girls Against Boys
Mp3
:
"Rockets Are Red"
(live)
Mp3
:
"Super-Fire"
(live)
The first jaw-dropping performance of the fest, GvsB played their entire 1993 T&G album "
Venus Luxure No. 1 Baby
" from start to finish as the sun went down, then threw a few faves on the end of the set for good measure. Loaned out and lost long ago, I re-bought the album immediately after they left the stage at the
Reckless Records
tent.
(
Official site
/
T&G band page
/
MySpace fan page
)
---
Ted Leo & the Pharmacists
Mp3:
"Sons of Cain"
(live)
Mp3:
"Suspect Device"
(live
Stiff Little Fingers
cover)
"
Sons of Cain
", which has made the rounds in both demo & live form over the past year, is likely to be one of the highlights of TL/Rx's upcoming album, "
Living With The Living
", the band's first for Touch & Go. I can't get enough of the song... not just the killer guitar line, but the way the bass holds off for the first minute or so, the drum accents that last just a little longer than expected, the rising walk into the bass/drum breakdown, and Ted's unrestrained "Heeeeey!"s near the end. So good. Pray for his voice, kids: We never want to see the "Great Vocal Chord Inflammation of '03" happen again. Guy's got a lot more songs to sing for us next year...
(
Official site
/
T&G band page
/
MySpace
/
Lookout page
)
---
!!!
Mp3:
"Must Be The Moon"
(live)
Mp3:
"All My Heroes Are Weirdos"
(live)
The first night ended with a set of self-described "live dance music" from
!!!
(Chk Chk Chk). Not exactly my thing, but they do what they do very well, and treated a fairly enthusiastic crowd to songs from their upcoming disc "
Myth Takes
", which will be out in March on
Warp
. Studio versions of both songs above will be found the album, along with eight other new tracks.
(
Official site
/
T&G band page
/
MySpace
)
A whole lot of fest-related links...
And lastly, a holiday gift for making it to the end of this post: a copy of the instantly-out-of-print
Shipping News
single "Claws" that the band had pressed and available for free at the festival's
Reckless Records
tent. If you live in North America and want one of your own, send an email (subject: Claws!) with your mailing address to giveaways[-at-]bradleysalmanac[-dot-]com before midnight on Wednesday, December 13th. I'll pick one random entrant and send it along soon after.
Mp3s from the second day of the Touch & Go 25th Anniversary Celebration should be posted next week. Key word:
should
. Lots to be done between now and then...
Labels: livemp3s, touchandgo