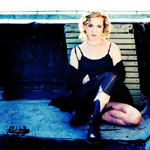 One of my all-time faves,
Throwing Muse
and
50 Foot Wave
r
Kristin Hersh
, returns to the Boston area this weekend in support of her latest solo record,
"Learn To Sing Like A Star"
. But this visit isn't just your average (well, K is never average) girl-n-guitar show, rather a full-blown, full-band affair with strings (!). And not just any band: it's the two gents who make up her 50 Foot trio, bassist (and fellow Muses member) Bernard Georges and drummer Rob Ahlers. And it's not just any string section, either: it's the freakin'
McCarricks
, the very same UK-based married couple who've contributed their beautifully arranged sounds to a wealth of notable projects (including their gorgeous work with Dead Can Dance, and on 4AD's This Mortal Coil albums). See how I started three sentences with conjunctions right there? That's how excited I am for this show. Writing etiquette be damned.
But (see?) my excitement is slightly tempered by
last night's news
that the McCarricks are being held up in their home country with the ever-increasing visa troubles (hooray for 'homeland security'), and it looks like they'll miss the first few dates of the tour, which starts tonight in New Haven. If we're lucky, and I mean truly lucky, the couple will make it stateside and meet up with the tour here in Boston for their show at Arlington's
Regent Theater
on Saturday night. Now, I'm not going to complain
too
much if they don't make it... it's no one's fault (well, some anonymous paper-pusher, perhaps), and any Kristin show is one worth seeing. But I can't say I won't be a little disappointed. As I've said many times, I'm such a sucker for strings, and the McCarricks appear more often in my collection than any others. The magnificent
"Strings" EP
that Kristin put out years ago (which has some of her "Strange Angels" songs arranged for just strings and K's voice) has had me hankering to see them play with her, and I never thought I'd get the chance. My fingers are so tightly crossed that they're starting to hurt...
When the new album was released in January, Kristin did a string of acoustic in-store appearances around the U.S., including one here in Boston at the Newbury St. location of Newbury Comics. It was a tight fit, but a few dozen of us fans squeezed amongst the aisles of DVDs for a rush-hour set on a snowy Monday evening. And here are the mp3s...
Kristin Hersh
Solo acoustic at
Newbury Comics
on Newbury Street in Boston, Massachusetts
on Monday, January 22nd, 2007
01.
Day Glo
02.
Winter
03.
Nerve Endings
04.
The Thin Man
05.
Gazebo Tree
06.
Your Dirty Answer
Some added Kristin Hersh content...

the fine print...
Recorded with a Sony ECM-719 mic and a Sony MZ-RH10 minidisc, converted to .wav and then edited to 192kbps mp3s. Mp3s are made available for a limited time, and are not reposted once removed.
Labels: livemp3s