Two years ago today, Janet and
J. Robbins
welcomed son
Callum
into their music-filled world. To Cal, Janet and J. are just mom & dad, but to the rest of us, he's got veritable rock stars for parents, with J. having played in the seminal
Jawbox
,
Burning Airlines
, &
Government Issue
, and alongside Janet in
Channels
. Hanging around the recording studio will surely feel completely normal to the little guy, as J. spends much of his days in his Baltimore-based
Magpie Cage
studio, tracking and mixing a whole bunch of damn good bands.
As recounted
here
, 8 months or so after Cal was born he was diagnosed with the genetic disease
Spinal Muscular Atrophy
, or Type 1 SMA. While research into a cure is ongoing, right now it's incurable, and those who live with it are in for costly therapy and assistive medical devices. That's why, as word spread of Cal's diagnosis, the Robbins' friends and fans
rallied
with
benefit
shows
, the excellent
"For Callum" compilation
, and even a benefit disc of
Jawbox covers
performed on cello.
One of those benefits, which took place over two nights last summer at Somerville's
PA's Lounge
, brought a bunch of Boston-area (and one NY) bands together for Cal's cause. And regardless of reason behind it, the shows were easily in my musical highlights for the year: Solo sets from
Mark Robinson
(
Teenbeat
/
Unrest
/
Air Miami
/
Flin Flon
) and
Drew O'Doherty
. Duos in the form of Dan & Liz from
Ida
, benefit organizer
Geoff Farina
(
Karate
/
Glorytellers
) & Jodi Buonanno reunited as
Secret Stars
, and
Chris Brokaw
with Geoff, dusting off some old-tyme covers. Then the full band performances: the mighty trio
Helms
, who were absolutely on fire that night, the noisy
Neptune
, who gave us a bunch of new songs, and an admittedly ramshackle but rockin' set from
Thalia Zedek
and her band, with Hilken Mancini (
Shepherdess
/
Fuzzy
) guesting on a song or two.
Ida served up some old faves, new ones from their almost-out "Lovers Prayers" album (one they played, "
Lolo Sang
", is the vinyl-only closing track), and a couple children's songs for Cal. Secret Stars gave us magical versions of their best work. Drew played stuff from his "Starts", along with the track he contributed to the "For Callum" compilation. And Mark Robinson even sang us the seldom-heard Lowell, Massachusetts theme song. All in all, eight performances over two nights filled with special moments, appreciative fans, and many warm vibes for a worthy cause.
So here's the deal: I'd like to let those benefit performances keep on giving. As a present for their growing boy, I'm offering up this
"Happy Birthday Cal"
Mp3 compilation, with 18 live songs from most of bands who played at last summer's Somerville shows, with their permission. And if you download it, or have ever downloaded and enjoyed any of my recordings here on the 'Nac, I'd be psyched if you'd consider dropping a few dollars for the Robbins family in the Paypal bucket (by clicking the button below), or send a check if Paypal isn't your thing (info at
DeSoto
). I've just kicked things off with a donation of my own, so as you spend time listening to all the great songs below, pretend you were there at the shows with me, and send a cover charge their way...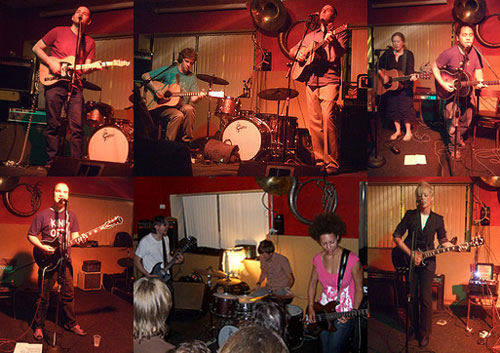 Happy Birthday, Cal...
Recorded on July 13th & 14th, 2007
at
PA's Lounge
in Somerville, MA
Update 1/29/08:
A number of very cool benefit items are starting to appear
on eBay
, the proceeds from which will all go to Cal's cause. So far, you can bid on items donated by Kristin Hersh (a Toby Snax pack), Geoff Farina (a guitar lesson), Zach Barocas (a drum lesson), and Dan McCarthy (a gorgeous rare screen print). More should be added soon, so keep checking
here
.
Labels: livemp3s