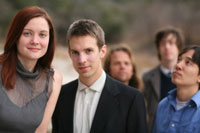 This Friday, June 20th,
Shearwater
brings their
"Rook"
tour to the Boston area for a show at
TT the Bears
in Cambridge's Central Square with openers
Frog Eyes
,
Evangelicals
, and a solo set from Carter Tanton of
Tulsa
. When Matador signed the Austin-based band and re-released their gorgeous
"Palo Santo"
, I'm sure they expected a solid follow-up, but to my ears they went and surpassed any expectations with the release of "Rook" earlier this month. While the band played Boston earlier this spring for an opening slot at the Paradise, it will be a true treat to see these songs on the far-smaller TT's stage.
To make a reader's attendance less costly (and to allow you to spend more money on merch), I've got a couple of guest list spots for this Friday's show to give away. Just email your full name to
giveaways [at] bradleysalmanac [dot] com
, throw
Rook!
in the subject line, and send it before 9AM on Thursday. I'll select a random name out of all entrants, and let the winner know that morning that they'll be on the TTs guest list with a +1. Easy as pie.
Labels: giveaways