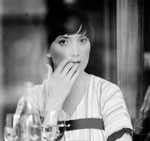 Another day, another giveway.
This Saturday night, former
Concretes
vocalist
Victoria Bergsman
visits the
Museum of Fine Arts
here in Boston for a performance by her solo project,
Taken By Trees
. If you somehow missed out on her many years with the Concretes, you've no doubt heard her voice as the non-whistling counterpart to Peter Moren in
Peter, Bjorn, & John
's ubiquitous "
Young Folks
". Boston is one of just a handful of North American cities getting a Victoria visit this time around, and the other fortunate stops include NYC the night before, Montreal next week, and three West Coast shows to wrap it up.
Regular 'Nac visitors know that I regularly rave about seeing shows in the MFA's Remis Auditorium, so I'm very glad to have a couple list spots for this show to bequeath to a random reader. Want 'em? Before Noon on Thursday, drop an email to
giveaways [at] bradleysalmanac [dot] com
, put "TBT" in the subject line, and let me know your name and the city you live in. I'll pick a winner, let you know that day, and you and a guest will be on the list for Taken By Trees at the MFA on Saturday, that's February 23rd.
Bonus: The chosen one will also get sent a copy of the gorgeously designed, limited edition tour 7" that Victoria is bringing around with her, which includes a cover of "
Sweet Child O'Mine
" (yes, you read that right) and her own "
Above You
". Turntablists of the world unite!
Labels: giveaways