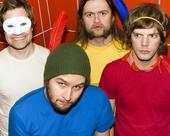 A brutal couple of work-weeks has me too burnt-out to blog in my free time lately, so I'm trying to make up for lack of content with some contests. Here's another for tickets to check out a band that I'm very happy to see return to Boston...
I first caught Norway's
Syme
back
in October
at
TT the Bear's
on the strong recommendation of an Almanac reader, and was I ever glad I took his advice. They were on their way to play CMJ at the time, so I was rightly thrilled to learn that they're back so soon, this time en route to
South By Southwest
.
Unfortunately, their last-minute addition to a three-band bill this coming Wednesday night at the
Paradise Lounge
has this return under-heralded, and an 8pm start time probably won't help the crowd size much (they're not even listed on the 'Dise schedule yet). They deserve more than a few pairs of ears in that room, but don't just take my word for it - hit up their
MySpace page
or check out the
live mp3s
I shared up last fall. I don't know much about the other three bands playing (
Modern Skirts
,
Jukebox the Ghost
,
Annie Lynch & the Beekeepers
), but I'll be changing that in the next few days.
I've got a pair of guest list spots available for the Wednesday, March 5th show, so if you and a friend would like to join me front and center for
Syme
, drop an email to
giveaways [@] bradleysalmanac [.] com
with
Syme!
in the subject line, and include your name and the town you live in. I'll pick a random winner from all entries received before Noon on Tuesday, March 4th, and let the chosen one know that afternoon. And even if you're not that chosen one, remember: Arrive early, applaud often.
After their Boston visit, Syme plays Toronto the next night, back down for four shows in the NYC area over the weekend, and a stop in Philly before hitting Austin's
SxSW
the following week. Catch 'em if you can.
Labels: giveaways