I've got a small window of free time to fire this one off, so advanced apologies for inevitable typos. Speed trumps accuracy today. Artists and items linked or mentioned below include
Under Electric Light
,
City Breathing
,
Mark Kozelek
/
Sun Kil Moon
,
Death Cab For Cutie
,
Bob Mould
,
Hallelujah the Hills
,
Miki Berenyi
from
Lush
,
Seinking Ships
,
David Bazan
,
Six Finger Satellite
,
Travels
,
The Breeders
,
Joe Jackson
,
Thalia Zedek
, the
Joy Division documentary
,
Billy Bragg
,
Okkervil River
,
Walter Schreifels
,
Ida
,
the Sixth Great Lake
,
the Essex Green
,
Boredoms
, the
AltCom! Alternative Comedy Fest
,
Watchmen
,
the Wire
,
James Jean
,
George R.R. Martin
,
Stratford Projects
, and this Thursday's
Tourfliter
DJ Night at
River Gods
.

I am truly happy to have just discovered the music of (and by "discovered" I mean "been sent an email from") Danny Provencher, aka
Under Electric Light
. The Montrealer (I prefer "Montrealist") has been self-releasing his own EPs for a couple of years, and it's fantastic stuff. Brings to mind the best of the current bunch of
Labrador
pop bands (Radio Dept., for one), mid-era New Order ("
Age of Consent
", "
Leave Me Alone
"), with a healthy dose of the catchier shoegaze forefathers. In other words, it's like the songs were custom-built for my ears.
You can stream lots of them, including ones from his most-recent
"After the Blue" EP
, over at
his MySpace page
, or better yet, buy them inexpensively at
Bluetracks
. All three of his short-players are offered digitally, and the two latest are also available in physical form (yes, mine are already on the way).
Here's a taste, compliments of Danny, in the form of two tracks from "After the Blue"...
Mp3

: Under Electric Light - "

This Moment

"



Mp3

: Under Electric Light - "

Your Rainy Days

"

Another recent (as in yesterday) and now highly-recommended find is Brooklyn's
City Breathing
, a three piece who will be playing here in Boston in just two short days. They'll open a four-band bill at
TT the Bears
in Cambridge on Wednesday night, March 19th. So if you dig this track (or the others up
at MySpace
), arrive extra-early and enjoy...
Mp3

: City Breathing - "

Rain and Revolution

"

As a devotee of all things
Mark Kozelek
, yesterday was a very good day indeed. I picked up
tickets
to his June 11th solo show at the
Museum of Fine Arts
, and pre-ordered a copy of his limited edition
"Nights of Passed Over"
hardcover, which was just made available yesterday afternoon. The book collects all of Koz's lyrics from his
Red House Painters
,
Sun Kil Moon
, and solo songs, along with setlists, handwritten notes, and a new preface. The preface is noted as "new" because the collection was previously released in Portugal in 2002, and has been completely updated for this re-release. Possibly the best part? It will come with a
12-track bonus CD
that includes live and rare tracks. Yeah, forty bucks plus shipping is fairly steep, but that included disc seals the deal. Order from his own
Caldo Verde Records
, and do it soon, as it's limited to 2,500 copies.
And this morning, things got even better for Koz fans: The entirety of
Sun Kil Moon
's upcoming album "April", which isn't available for another two weeks, is now
streaming at MySpace
, but only until Thursday. Order it
here
, and you can get it early in digital form.

The
2008 WFNX Best Music Poll Concert
has just been announced, and it'll be happening on Saturday, May 10th at the Bank of America Pavilion on Boston's waterfront. So far, the lineup includes
Death Cab For Cutie
(who will release "Narrow Stairs" just a few days after the show),
Bob Mould
, the Dresden Doll's
Amanda Palmer
, and the
Presidents of the USA
, with more to be announced. Tickets will be available
here
this Saturday at 10am.

Boston's
Hallelujah the Hills
is finishing up their latest tour this week, and have just announced a new digital release that will be available for free download on April 8th: The
"Prepare To Qualify" EP
will collect five non-album tracks that the band has shared through various online outlets over the past year (including, I assume, "
Nurses Five Float Past
", "
Let It Wave
", "
Don't Take The Law...
", "
Cataloging Candy's Demise
", and maybe "
Monster Eyes
"?), along with a couple previously unreleased songs. And for those with a tangibility habit, they'll also assemble some copies for sale at shows and via
Misra Records
.

Well, this was nice to learn: We'll soon get to hear the voice of
Miki Berenyi
from
Lush
on some new music, as she has contributed vocals to the first fell-length from Ohio's
Seinking Ships
(aka
Eric Matthews
&
Christopher Seink
). The album, which follows the duo's October '07 debut EP, should be out this year on
Empyrean
. Keep an eye on the band's
MySpace page
for an update.

The live debut of
David Bazan
's Black Cloud live band has a date: May 24th at the
Sasquatch Festival
in George, WA. While we wait patiently for David's first full-length for
Barsuk
, pass a little time by watching
this live video
of one of his excellent new songs, "
Curse Your Branches
", or grab
a few Mp3s
from his recent appearance on
My Old Kentucky Blog
's
Sirius Satellite Radio
show.

Typing out this next sentence makes me giddy: The return of
Six Finger Satellite
is upon us. From their MySpace page:
"Mixing is complete on the new Load Records release. This 8 song album is slated for Spring '08. Need some rock in your life? Help is on the way."
Yesyesyes, I say.

Somerville's own bedroom duo
Travels
is in the midst of a month-long European tour, and they're keeping a
road trip diary
. This week: Vienna, Warsaw, Berlin, Hamburg, & more. Boston's gray March days have me very jealous of their world travels, but at least I can read along. Help me welcome them home to Somerville on April 5th when they play
PA's Lounge
with
the Broken River Prophet
,
Redtag Rummage Sale
, and
White Horses
.

Tickets
to
the Breeders
' June 5th show at
the Paradise
here in Boston are unsurprisingly sold out already, and their
"Mountain Battles"
album isn't even out until April 8th. If you haven't heard the first available track, download it here...
Mp3

: The Breeders - "

Bang On

"
More tracks can be previewed in the form of some YouTube videos:
"

We're Gonna Rise

"
,
"

Overglazed

"
, and
"

Bang On

"
. Kim & Kelley Deal's recent
appearance
on the BBC's "
Culture Show
" has also been YouTubed, and along with an interview, they do an acoustic version of the song "
Here No More
".

Despite high hopes, I'm not diggin' so much on the new
Joe Jackson
album
"Rain"
. There are a few solid songs, and while it does feature some great work from Joe's original rhythm section, there's a sore lack of guitar. I shouldn't be surprised, as Joe is first and foremost a piano-man, but I sure do miss
Gary Sanford
on the six-string.
I'm getting that fix a different way, though, thanks to
Wolfgang's Vault
. The live concert repository just shared up a
full 1979 NYC Joe Jackson show
, with great performances of songs from both "I'm The Man" and "Look Sharp".

Welcome news: Allston's own
Thalia Zedek
is releasing her next album, titled
"Liars and Prayers"
, on April 22nd via
Thrill Jockey
. And just as 2004's "
Trust Not Those In Whom Without Some Touch Of Madness
" had a song titled "
Bus Stop
" (after a neighborhood bar), the new album has one named "
Lower Allston
". Represent.

I'm still hankering to see Grant Gee's
Joy Division documentary
, but there's not yet an official U.S. release date. Here's
the trailer
, which does nothing but increase my impatience. I was just thinking... the lineup for April's 6th Annual
Independent Film Festival of Boston
is due to be announced soon, and the timing would be perfect for the documentary's inclusion. Could we be so lucky? The magic eightball says: "
Signs point to yes
".

Billy Bragg
's first full-length in six years,
"Mr. Love & Justice"
, comes out in a few weeks here in the U.S., but you can see him perform live acoustic versions of songs from it on
the album site
. There are clips for 4 tracks available so far, with a total of 15 being unveiled as the release date approaches.

Okkervil River
's February 9th, 2008 live performance at
the Paradiso
in Amsterdam can be viewed in its 16-song entirety over
at Fabchannel
. Excellent video & audio quality abounds.

From his adopted home in Berlin,
Walter Schreifels
(Quicksand/Rival Schools/Walking Concert) continues to throw random solo demos up on
his MySpace page
, and the latest is a cover of
Agnostic Front
's "
Society Suckers
".

Ida
appeared recently on NPR's
Bryant Park Project
, and you listen to the entire
interview & performance here
(which includes an acoustic "
See the Stars
"), or watch Dan, Liz, & daughter Storey perform
"

Green Green Rocky Road

"
. So, so sweet.
Brainwashed
also reminds us of their 2005 38-minute
Ida video feature
, which includes an interview and live performances of songs from the just-out "Lovers Prayers" album. The whole thing has been YouTubed in four parts, so go
here
for the links.

It's been a few years since
the Sixth Great Lake
released their
"Sunday Bridge"
album, and while we wait for a follow-up (yes, one is coming), we get a newly-released song: The track "
Tips for Teens
" appears on a new compilation from
Royal Rhino Flying Records
called
"Build Your Army with Potatoes"
. The Sixth Great Lake track, which features the original lineup of Zach and Mike with
Essex Green
members Jeff, Sasha and Chris), joins contributions from
The Lilys
,
Volcano the Bear
, and
the Mendoza Line
, among
many others
. Paypal pre-orders are happening now at the
label's MySpace page
, and the release is imminent.
And speaking of
the Essex Green
, they've just shared
the news
that they've begun work on their next record, a follow-up to 2006's
"Cannibal Sea"
.

Infamous Japanese noise-artistes
Boredoms
are in Boston at the Paradise on Saturday, March 29th, and I'm surprised to see that it
hasn't yet sold out
. The show gives me a reason to
finally
link some video from last summer's massive 77 BOADRUM rhythmic experiment. A
video-featurette
was done for (almost) every single drummer that participated, including some of my faves:
Chris Brokaw
(an interview with his dad),
David Grubbs
(yes, normally a guitarist), and
Miggy Littleton
(ex-Ida, current-
Blood on the Wall
). Sadly, there's no video evidence of Unwound's
Sara Lund
being there, but it's nice to think she was part of it.

Moving on to some non-musical content...

Tickets are on sale for something called the
"AltCom! Alternative Comedy Fest"
, which is two nights of comedy happening at the Somerville Theatre on Friday & Saturday, May 9th & 10th. The Friday lineup:
Emo Philips
,
Eugene Mirman
,
Todd Barry
, &
doktor cocacolamcdonalds
. The Saturday lineup:
Patton Oswalt
,
Morgan Murphy
,
The Walsh Brothers
, &
Jim Jeffries
. Solid stuff, although I'd have liked to have seen Patton & Eugene on the same bill. Each night is pretty pricey, selling for $32 per ticket before all the Ticket#$@%er convenience charges, but you can get them for $24 if you
go here
and use the special offer code of "OSWALT" (all caps).

As a total
Watchmen
freak, I too was fairly excited by the reveal of some
characters in costume
from next year's movie adaptation (minor complaints: Ozymandias looks a bit too 'dark', and Nite Owl may not be schlubby enough). But I have to admit, I almost got just as much of a kick out of these
custom Watchmen Lego figures
. Check out the rest of that guy's amazing collection
here
.

As someone who believes
James Jean
to be the best cover artist, and perhaps best artist period, working right now, it thrills me to know that there will be not just one, but two collections of his
Fables
work made available at some point relatively soon. The first will be released as one of his beautiful
Process
Recess
portfolios,
the other
will be an official
DC/Vertigo
book.
If you don't have Jean's
Process Recess
art blog bookmarked or RSS-subscribed, do yourself a favor... his creation process is fascinating, and the finished results are always no less than gorgeous. And by the way, there's also a bit of info in
that news piece
about how James Jean's work is being used in the opening scene of the Watchmen movie (and what that opening scene will be).

So I had my own private marathon of
the Wire
's fifth and final season on Friday during a day home from work, and it's still sinking in. At last, I'm finally able to dive into all the reviews, write-ups, and discussion threads that have been happening over the past few months, and while it's all tumbling around my brain, the last thing I'm going to do is contribute my own thoughts on the finale... the internet just doesn't need it. As a last link from me, check out creator David Simon's
thank you letter
for the fans, written eight days ago.

Behold
! Our
first look
at the cover to the loooong-awaited next installment of
George R.R. Martin
's brilliant "A Song of Ice and Fire" series...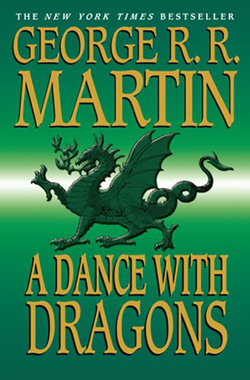 According to
this post
, Martin is still working on it, and
hopes
to have it done by June, in which case we'd get our hands on it this fall. I remain, as ever, cautiously optimistic.

And I'll end with a couple slightly self-serving plugs...

Next Tuesday night, March 25th, I'll be on stage behind my shiny new drum kit (for the first time since becoming a dad) as part of the of the newly-christened
Stratford Projects
. Yes, this is the quintet's debut, a vehicle for the songs of my longtime friend, current
Sixth Great Lake
and former
Guppyboy
/
Essex Green
member (and fellow proud father)
Michael Barrett
, and includes his wife Anna on keys, Mr.
Neil Cleary
on guitar, and former
Jumprope
frontman Adam Boc on bass. We're playing waaaaay late, batting cleanup on the last night of
St. Helena
's March residency at the
Abbey Lounge
, and took their invitation as motivation to put this little project together. So thanks for asking, St. Helena. Looking forward to it...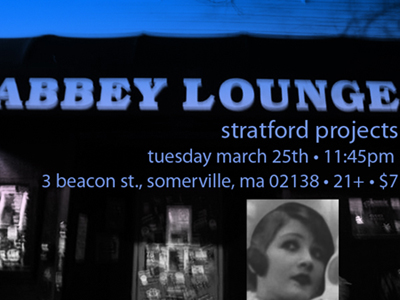 And lastly, I'd be remiss if I didn't remind you that my every-other-monthly appearance in the DJ booth at
River Gods
is just two days away, on Thursday, March 20th as part of the regular
Tourfilter DJ Night
. Starting at 9pm, I'll be exclusively playing songs by bands performing live in the Boston area within the next month or two, and I spent a chunk of last weekend building the perfect setlist. Not only will you get to hear some great music, but Chris from
Tourfilter
and I will be giving away tickets to see some of the very bands we'll be playing. Introduce yourself if you end up coming by...