Various and sundry, with a bunch of info on music in our shared futures. Bands mentioned include The New Year, Mary Timony, Pinback, Editors, the New Pornographers, the Hero Cycle, Pilot to Gunner, Portastatic, Ola Podrida, Belong, Minus the Bear, Idaho, T.W. Walsh, Caspian, & more...

Good news for fans of
The New Year
, who've been relatively quiet since the release of 2004's excellent "The End Is Near" album: According to a new
interview at Bandega
with singer/guitarist Bubba Kadane, the band will start shaking off the dust this year, starting with a few west coast dates in June, after which work will begin on their next disc. He adds: "We plan to have the record come out mid-2008 and we hope to do more US touring than we have done in a long time. It may literally become a world tour, with the whole US, Europe, Japan, etc.". Can't wait. I was fortunate enough to catch the band live a couple times last year, one of which was at the Touch & Go 25th Anniversary bash in Chicago, so keep an eye on the
Touch & Go site
for the eventual video featurette on the band.

Awhile back I mentioned the May 8th release of
Mary Timony's
next solo record, "The Shapes We Make", and on the eve of its arrival, she's shared up two of the ten songs on
her MySpace page
. Stream "
Rockman
" and "
Sharpshooter
" over there, and head to
You Ain't No Picasso
or
Spin
to download "
Sharpshooter
". Check out the full tracklisting and pre-order "The Shapes We Make" at
Kill Rock Stars
.

Pinback's
next album has a title and a release date:
Rob Crow says
"Autumn Of The Seraphs" will be out in the second week of September on
Touch & Go
. Crow's been busy, what with his solo tour and the release of the first
Other Men
album (a collaboration with some former
Heavy Vegetable
bandmates), so I'm glad he fit some Pinback work in there. Check out the
Pinback list
on Yahoo, where Rob's been wondering if, and how, the band should add to its stage show when they start playing larger venues this September.

Editors
are back in two short months with their sophomore album, titled "An End Has A Start". They've just posted
the tracklisting
and some in-studio footage on
their website
and
their MySpace page
, and it's scored with what I assume is either the title track or "
Smokers Outside The Hospital Doors
", which is both the lead-off track and first single. As a fan of many songs on "The Back Room", I'm hoping this one measures up. From this initial taste, doesn't sound like they've strayed from the forumla too much, which is prolly a good thing.

The New Pornographers
provided their mailing list subscribers with a first taste of the Neko Case-designed artwork for their next album, "Challengers", which arrives August 21st on Matador. Here it is...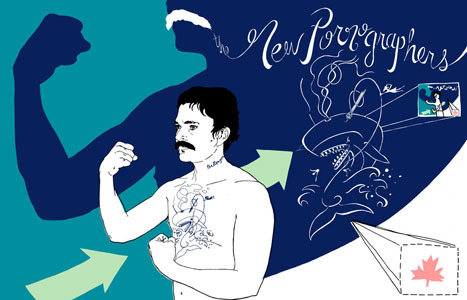 According to the band, mixing is "...underway at the moment, and going better than expected!", and they note that while it's not the final version of the album art, it will be what appears on a limited edition screened poster that they're selling at their summer shows. Even better: Every print has a special code on it that, when emailed to the band, will score you a free mailed copy of "Challengers" when it comes out. Any Coachella-goers wanna pick me up one of 'em?

Brooklyn's
Pilot To Gunner
has a new demo up on
their MySpace page
for a song called "
We Die Today
". Not sure if that means those
lazy
busy bastards have a new album in the works or not.

Discovered via comics writer & novelist
Warren Ellis'
blog, of all places: I completely missed when, early last year,
Indie MP3
shared up
both complete sides
of the famed NME-compiled
C86 cassette tape
. It included early tracks from bands like the Pastels, the Wedding Present, Shop Assistants, Mighty Lemon Drops, and Primal Scream, and some say the tape christened a musical movement. Nice to find those songs all in one place. After posting the songs, Indie MP3 asked readers to suggest tracks for a contemporary version of the same compilation, and
the shared "C06"
is what they came up with.

We're getting closer and closer to the May 8th release of
Elliott Smith's
second posthumous collection,
"New Moon"
, and I'm pretty damn anxious to hear it. Yeah, I've got most of the songs already, but not in these remastered forms, and any new Elliott is precious Elliott.
Pitchfork
shared up the track "
High Times
" awhile back, and
Neiles Life
adds "
Georgia, Georgia
" and my favorite non-album Elliott song (which longtime 'Nac readers will recognize), "
Angel In The Snow
". Question: Could the "Central Square" that Elliott sings of in "
High Times
" be Cambridge's very own? Pre-order the double-disc "New Moon" from Kill Rock Stars
here
.

Thanks to a comment at
my Last.FM page
, I was made aware of some
live Portastatic performance video
courtesy of
Schedule Two
. The clips showcase the stripped-down version of the band, with just main-man Mac & violinist/keyboardist/vocalist Margaret White, and were recorded at the 7th Street Entry in Minneapolis, MN back on February 10th.

NYC Popfest 2007
is just one month away, and all the details are up at
their MySpace page
. My Vermont pals
the Smittens
, who are at
PA's Lounge
in Somerville this Friday, will be playing the fest on May 27th. Check
this post
at
Skatterbrain
for more lineup deets.

Some Mp3s that have grabbed me lately...
Mp3

: Ola Podrida - "

Cindy

"
aka composer David Wingo, who has soundtracked David Gordon Green's almost uniformly excellent filmwork. Wingo pulled together a band (including American Analog Set's Andrew Kenny on bass) for his debut disc, which came out this week on Plug Research. For more, head to Ola Padrida's MySpace page.



Mp3

: Belong - "

I Never Lose, Never Really

"
I checked out some Belong after learning that they'd be coming to Boston with the Album Leaf next month. This track comes from their debut disc, "October Language", on Carpark Records.



Mp3

: Minus the Bear - "

Dr. L'Ling

"
Brand new from Minus the Bear, thanks to Suicide Squeeze, who shared up this track from their out-in-August next album, "Planet Ice".

Yesterday saw the arrival of the 100th official release from Indiana label
Secretly Canadian
, a compilation titled, what else,
"SC100"
. The gimmick? Bands who've appeared on Secretly Canadian cover songs by other SC bands, and the team-ups were drawn out of a hat. The two-disc affair has been in the works for three years, and while the first disc exists in physical form, the second is available from only from digital outlets. SC has offered up two mp3s to tempt you into a purchase...
Secretly Canadian
site for yet another SC-covers-SC song that's not on the compilation, Marmoset's take on Jens Lekman's "
Black Cab
". Order up "SC100"
here
.

Because I can never resist a chance to blog about
Idaho
: Jeff Martin shares the news
via MySpace
that he'll be re-releasing the out-of-print 1997
"The Forbidden" EP
and the 1998 full-lengther
"Alas"
on one disc, along with a DVD that will include a never-before-seen Idaho documentary shot around that time. Before he puts it together, though, he's invited fans to submit their own videos "...reflecting on these records", or "talk[ing] about a song or two or if you have a story about how you first heard of idaho....just anything really." That's both very cool and potentially bizarre. The fan-made results should be... interesting, at the very least.

I had the unexpected pleasure of catching
T.W. Walsh
on stage for the first time since his return to Boston from Seattle, when he jumped up to play bass (and handheld keys) with
John Vanderslice
last Friday night at
the Middle East
. Unfortunately I had to miss T.W.'s first solo show the night before due to my DJ action, but I damn well won't be missing
this one
- On Thursday, May 24th, he'll be appearing at
TT the Bears
, and will be performing his 2001
"Blue Laws"
album in its entirety. Yes, it's Cambridge's own special version of the
"Don't Look Back"
full-album-live series. Also appearing at TTs that night will be
Elijah Wyman
, who coincidentally also hopped up on stage to do a song with Mr. Vanderslice on Friday. For audio of that team-up, check out
Mobile Man
.

I've got a fairly sizable space in my heart for
WRUV
, the student-run, open-format, ad-free radio station at the University of Vermont. I spent more time hanging out in the booth there than I ever did in the UVM library, and probably learned more than in any classes (Especially those senior year schedule-fillers. I'm looking at you "Stress Reduction" and "Forestry"). Doing the DJ thing at River Gods last week got me thinking lots about my 'RUV days, and so did this new video: The
"Stuck In Vermont"
vlog (which happens to feature a theme song by the aforementioned
Smittens
) has a
new feature
on WRUV's long-running
Exposure program
, a usually-weekly show that brings in an area band for a live performance. Having run Exposure for a little while, I got all nostalgic watching the current crew host Burlington band
The Hero Cycle
.
Head here
to watch the video, where the band performs the first chunk of their song "Breathing In". And in theory, Exposure is supposed to archive their live sessions
right here
, but the page seems to be down at the moment. Even though there's now an actual computer in the DJ booth, it seems that things at 'RUV haven't changed all that much since I was there: something was always broken somewhere. But at least this time it's virtual and not physical. Hopefully the site will be back at some point, as I'd like to hear me some more live
Hero Cycle
.

Caspian
has officially embarked on their
month-long national tour
to support their debut disc,
"The Four Trees"
, and they're keeping an oft-updated
tour blog
to share stories and such.
Yesterday's post
includes some quick video clips, so have at it. Nice to see the guys can even rock out
sideways
.

I'm a fan of Boston-based photographer
Kelly Davidson
, especially her work capturing area bands and their live shows, so I was happy to discover that there's
an exhibit of her photos
titled "Shot Live" over at
Christopher's
in Porter Square, Cambridge. It runs through May 15th, and I think I may stop by tonight after I hit the opening night of...

The 2007
Independent Film Festival of Boston
(which I wrote about
here
) kicks off tonight with a screening of Hal Hartley's
Fay Grim
at 7pm at the
Somerville Theater
in Davis Square. We've got our tickets, but even though you can no longer order online, there's still a chance you can make it in if you haven't yet: a certain number of standby tix are sold to fill any empty seats that remain just before the screening starts. So get there early, bring a book or a friend, and get in the ol' overflow line. I'm so ready to see a film a day for the next six days. Check out the festival's
full schedule
to get tickets now, because many, many of the screenings will sell out as the festival gets underway.