Things mentioned and linked below include
Swervedriver
,
Retribution Gospel Choir
,
Film School
,
The Night Marchers
,
Sea Wolf
,
The Jealous Girlfriends
,
Slowdive
/
Mojave 3
's
Neil Halstead
,
Rogue Wave
,
Nada Surf
,
Billy Bragg
,
Elbow
,
Sigur Ros
,
Ida
,
R.E.M.
,
New Radiant Storm King
,
The Mountain Goats
,
Sebadoh
,
Silkworm
,
"The Wire"
, and
Kids in the Hall
.

New Boston area shows of note, from ye olde left hand column...

Nada Surf
made an appearance on the Tonight Show last week to play "
Weightless
" (which, as Leno plugged, happens to appear on the
"Heroes" soundtrack
. Ah, sweet network synergy). The trio was augmented with an electric cello player and a keyboardist, filling out the sound nicely. Take a listen...
Mp3:

Nada Surf - "

Weightless

" (live on Leno)
The band also did an acoustic performance and interview session for the newly-christened
MySpace Transmissions
recently as well.

Another late night appearance last week was
Billy Bragg
's on Conan O'Brien, performing "
I Keep Faith
", off his upcoming "
Mr. Love & Justice
" disc. The performance was unlike anything you'll hear Bragg do again, as his backing band was Conan's own (minus regular drummer Max Weinberg), including the horn section. Here 'tis...
Mp3:

Billy Bragg - "

I Keep Faith

" (live on Conan)
In the wake of
Billy's recent opinion piece
in the New York Times about internet royalties for musicians, he shares further thoughts in a dialogue with commenters at
The Stalwart
. Well worth a read.

Also previewing tracks from an almost-out album was
Elbow
, who recorded a session at Maida Vale for BBC1, and stopped into
Zane Lowe
's show last week to share some of the results. Not sure how many songs they tracked in all, but two were played last Wednesday (stream
here
until tomorrow), and another Thursday (stream "
One Day Like This
"
here
for two more days). In addition to first single "
Grounds For Divorce
", they performed this one...
Mp3:

Elbow - "

The Bones Of You

" (live on BBC1)
Elbow's fourth album,
"The Seldom Seen Kid"
, is already out in the UK, and arrives on U.S. shores on April 22nd.

Music Slut
directs our attention to a
YouTube video
recording of a new
Sigur Ros
song that will likely/hopefully appear on their next album. Check out some new photos from the recording sessions of said album back in January
here
.

Ida
has shared a video for a song from their beautiful latest album,
"Lovers Prayers"
. Head
here
for the Megan Holmes-directed clip for the song "
The Weight of the Straw
".

I'm really enjoying
"Accelerate"
, the almost-out new
R.E.M.
album, now streaming at
iLike
. As I said awhile back, I've found something worthwhile in most of their late-era records, but haven't been this instantly struck by one in many, many years, and I'm happily surprised. Whenever I hear the phrase "return to form", I fear contrived emptiness, potential trying-too-hard insincerity, but this one really sounds like R.E.M. just being R.E.M.. The songs, the production, the brevity, it's all working for me. And I'm very glad to be able to write that in 2008. Stream the entire thing
here
, and you don't even have to register to do it.

Thanks to Jay @
Clicky Clicky
for the heads up that there's going to be another
New Radiant Storm King
album later this year. Their last one,
"The Steady Hand"
, was one of my faves of 2006, so I'm fairly eager to hear what they follow it up with. The band plays as part of a promising line-up at
PA's Lounge
on April 6th, with The Spanish Armada, Dr. Powerful (Ex-Polvo members within), and
Bullpen Catcher
(Ex-Kudgel within). Jay's update also allowed me to notice that the band shared an outtake from the "Winter's Kill" album on
their MySpace page
. Head there to hear "Doppelganger in Tow", along with three from "The Steady Hand" if you've never had the pleasure.

The Phoenix's
On The Download
shares up
three videos
from
the Mountain Goats
appearance at
Museum of Fine Arts Boston
a couple weekends ago: The title track from "
Heretic Pride
", a
Rodney Crowell
cover, and a brand new song called "
Sign Of The Crow
". Again, I must warn you... turn your volume down before you head to that page, as all three videos auto-start at the same time with an advertisement.

Back in August,
Sebadoh
's
Lou Barlow
said
on his messageboard
that the next reissue the band would be working on would be the excellent "Bubble & Scrape". Well, looks like the work's done, as a release date has been announced: The remastered and expanded "Bubble & Scrape" will arrive on May 5th via
Sub Pop
and
Domino
.
Jason Loewenstein
shared the full
tracklisting here
, and Barlow
adds
that the "Smash Your Head On The Punk Rock" reissue is planned, but that a reissue of "Weed Forestin'" is a bit up in the air.

Fellow
Silkworm
fans should be keeping an eye on the
production blog
for the in-progress
"Couldn't You Wait"
documentary, as new content is regularly added. Video clips and photos from the creator's recent trip out to California was added last month, and earlier this month
they shared interview video clips
with Steve Albini, Jeff Tweedy, Stephen Malkmus, Henry Owings, and Brian Teasley. Great stuff, which you can also
see here
. In case you haven't seen the 4-minute trailer yet,
have a look here
.
Click here
to help fund the thing, if you've got Silkworm love and some spare dollars.

Non-musical, but demanding the attendance of fans of HBO's now-ended, brilliant series
"The Wire"
: A Harvard-hosted lecture and panel discussion on Friday, April 4th titled
"HBO's 'The Wire': Racial Inequality and Urban Reality."
Panelists will include Wire creator
David Simon
, Boston Police deputy superintendent and liaison to the homeless community Nora Baston, Columbia University's
Sudhir Venkatesh
, and Geoffrey Canada, the president of
Harlem Children's Zone
;
William Julius Wilson
of Harvard University will moderate the discussion, which starts at 5pm on Friday, April 4th. No registration is necessary, just arrive early enough to get in at 79 JFK Street near Harvard Square, Cambridge.
And in case you missed it, read this interesting
article over at Time.com
titled "The Wire's War on the Drug War", written by Wire series writers David Simon, Ed Burns, Dennis Lehane, George Pelecanos, and Richard Price.

And on a
completely
different note, the no-longer-kids
Kids in the Hall
are touring again, and comedy saints be praised, one of their dates is in Boston. Yes, the Canadian quintet will be performing at the
Citi Center
(aka the Wang) on Thursday, April 17th, 2008, and I snagged myself 8th row tickets over the weekend. Get your own
here
, more details
here
.

If your appreciation for
Buffy the Vampire Slayer
remains despite its absence (unless you're reading
the comics
), you might want to have a listen to this
recording of last week's cast reunion
at this year's
Paley Fest
. You can also watch video interviews with the cast on the night of the reunion
here
. Links to more coverage can be found at
Pop Candy
, or
Whedonesque
, of course.

And lastly, for any Boston area readers, a reminder: If you're not doing anything tonight (aside from sleeping), I'll be on stage with four friends at
the Abbey Lounge
, playing the drums in
Stratford Projects
. It's the SP's first performance ever, and my first time behind the drums in quite awhile. Night owl's will appreciate that we hit the stage around 11:45pm, playing after
St. Helena
, who have been hosting a Tuesday night residency all month long.
A little info on Stratford Projects -- we're led by current
Sixth Great Lake
and former
Guppyboy
/
Essex Green
member
Michael Barrett
on guitar and vocals, and along with my rusty drumming, Mike's wife Anna will be playing keyboards,
Neil Cleary
plays guitar, and former
Jumprope
r Adam Boc is on bass.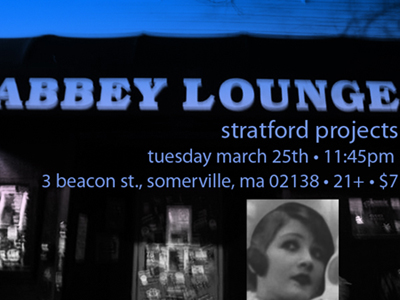 Needless to say, after waking at 6AM to listen to the first Japan-hosted Red Sox game of the season, I'll be taking a nice nap before hitting the stage almost 18 hours later...