It's with real pleasure that I'm able to play a part in helping
Saturnine
get their latest and last full-length offering out into the world:
"Remembrance of Things Past"
is the band's sixth and final album, and rather than release it through traditional (i.e. physical) means, they've decided to share it digitally, and free of charge, under a
Creative Commons license
. The entire eight-song, forty-five minute album is available for download below, as well as on the
Internet Audio Archive
and any other blogs who want to join in.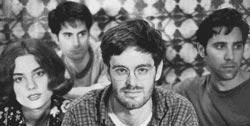 Saturnine circa 1997:
Original guitarist Jennifer Baron, Mike Donofrio, Matt Gallaway, & Jim Harwood
Since their formation in NYC in 1994, Saturnine has always had a literary element to their music, expressed in certain song titles, lyrics, and themes, but
"Remembrance of Things Past"
takes things a step further: It's a concept album, based on French writer
Marcel Proust's
famed work of the same name (titled in French, "A la Recherche du Temps Perdu", and also translated as "In Search of Lost Time"), with Saturnine singer Matt Gallaway playing Marcel's role of the narrator, and vocalist Frances Gibson of seminal Australian band
The Cannanes
as his lover, Albertine.
Saturnine circa 2000:
Jim Harwood, Mike Donofrio, John Pisani, & Matt Gallaway
Guitarist/vocalist Gallaway, bassist Mike Donofrio (
The New Year
), guitarist John Pisani (
Cookie Galore
), and drummer Jim Harwood recorded the music and Matt's "Marcel" vocals for "RoTP" in May-June 2004 at
The Echo Lab
in Denton, TX, with Matthew Barnhardt at the studio desk. After continued sonic tweaking, the songs were shipped off to Sydney, Australia, where Gibson added her "Albertine" vocals and sent them on their way back to the band. The mixed and mastered results are what is shared here. While the band is now geographically dispersed, and are viewing this as their final release, they're not ruling out a certain alignment of stars that would allow them to play these songs in front of an audience someday. It was originally conceived as a rock opera, after all, so some kind of eventual staging would bring it full circle...
---
Saturnine
"Remembrance of Things Past"Released on Victoria Land Records in 2007 under an
Attribution-NonCommercial-ShareAlike 3.0 Creative Commons License
01.
"Marcel Remembers The Summer He Met Albertine"
02.
"Later, At A Bar"
03.
"Albertine"
04.
"Marcel Remembers He Tried To Stop His Obsession For Albertine"
05.
"I Can't Shake Her From My Mind"
06.
"Some Months Later, At A Club In New York City,
Marcel Sees Albertine Dancing With Another Girl
(With Whom He Suspects She Is Having An Affair)
And Leaves, Jealous And Upset"
07.
"Later, On A Walk Together"
08.
"Later, Albertine Alone At The Apartment"
Download all eight 192kbps Mp3s
as one 58MB zip file
Download higher quality versions of each song at
the Internet Music Archive
---
Here's a list of all five of Saturnine's previous discs and their release years, along with an Mp3s of my favorite song from each...
Saturnine Album Discography...
---
Autoguider
(1994 Dirt Records, released as "Saturnine 60")

Mp3
:
"

Almost Impossible

"
---
Wreck at Pillar Point
(1995 Dirt Records)

Mp3
:
"

Ground Truth

"
---
Flags for Unknown Territories
(1996 Dirt Records)
Mp3
:
"

Palomar

"
---
Mid the Green Fields
(1998 Victoria Land Records)

Mp3
:
"

The Raven

"
---
American Kestral
(1999 Motorcoat Records)

Mp3
:
"

Old Flowers

"
---
Pleasure of Ruins
(2002 Motorcoat Records)

Mp3
:
"

The History of Cleveland

"
A final note for my fellow music bloggers: feel free to link to or share these Mp3s however you please...